Literary Boxes 2017
Monifieth High School help Monifieth Rotary to supprt Literary Box project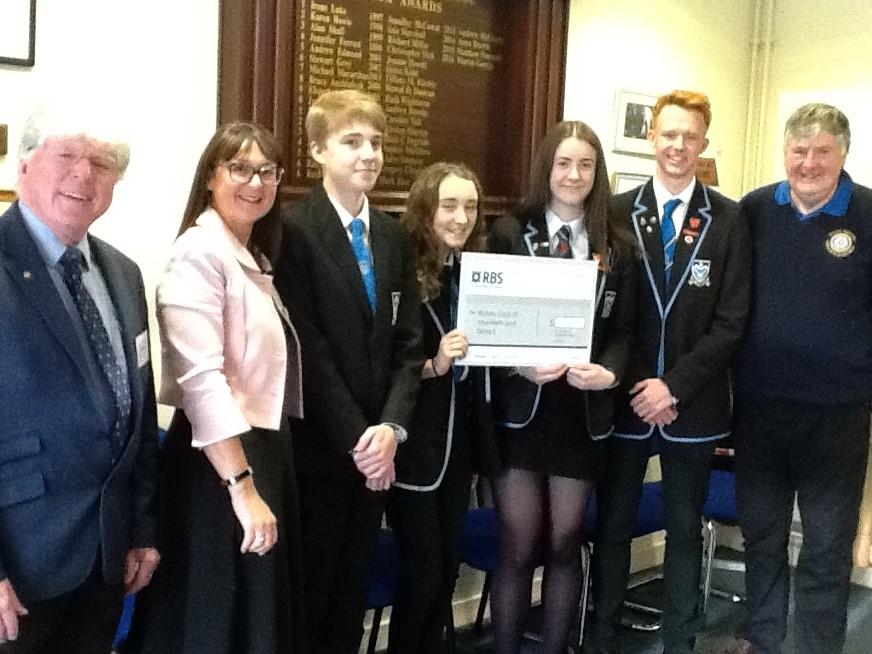 The efforts of pupils and staff of Monifieth High School will once again help the education of children in developing countries.
A recent charity "pop-up" shop organised by the school raised several thousand pounds. One of the principal beneficiaries is the Literacy in a Box Trust which provides teaching materials for schools in Africa and Asia.
The Literacy Box project is also supported by Rotary clubs around the world. This week Monifieth High School and the Rotary Club of Monifieth and District combined their efforts to spread this great educational initiative.
Pupils of the school presented a cheque for £975 to Ewen Jenkin, president of the Rotary Club, to fund three Literacy Boxes for Zambia. The club is financing another two boxes, which means over 125 children will receive books and other materials to aid their education.
This is the second time Monifieth pupils have raised funds for the project.
Ewen Jenkin commented: "This is another wonderful example of our local high school pupils and staff and the Rotary Club combining to help the education of children far away who have fewer facilities and greater need."
Both the school and the Rotary Club have been presented with certificates of commendation for their work on behalf of the Literacy in a Box Trust.
In the picture are (from left) Ewen Jenkin, president of Monifieth Rotary Club; Mrs M.-C. McInally, head teacher of Monifieth High School and a member of the Rotary Club; pupils Samuel McCrudden, Emily Lynch, Rachel Wanless and Duncan Fulton; and Stuart Robison, the Rotary Club's international convener.