World Polio Day 24th October 2017
Elgin Rotary and World Polio Day
World Polio Day, Tuesday 24th October 2017
As the Rotary Club of Elgin celebrates 90 years since it was established it is also marking historic progress towards a polio-free world by lighting up a number of prominent sites across Elgin and Lossiemouth. In Elgin, Anderson's Care Home, The Old Station and with support from Moray Council, the statues on the Castle to Cathedral to Cashmere trail and the Landshut Bridge will be illuminated. Thanks to the Covesea Lighthouse Trustees, the Lossiemouth Lighthouse will also be involved.
Help us raise the profile of our campain.
The Club are encouraging members of the public to take selfies at the locations and share them on social media with the hashtag #Purple4Polio or posting on Elgin Rotary Facebook Page.
(Posts on either of these may be used in a final photographic montage, please only post if you are happy for us to use these images for promotion.)
Moray Rotaract are also supporting the efforts by publicising the progress made to date and contributing financially to the project.
The lights will remain purple through until the 4th November when the Fireworks display at the Cooper Park will culminate in a Purple burst to celebrate the work done and the 90th anniversary of the Elgin Rotary Club.
Local Rotarians are among millions across the globe who are highlighting World Polio Day to raise awareness, funds and support to end polio – a vaccine preventable disease that still threatens children in parts of the world today.
We have never been closer to making history and fulfilling Rotary's goal of a polio-free world with just 11cases of wild poliovirus worldwide so far this year in Afghanistan and Pakistan.
To mark this, Rotarians across Britain and Ireland are lighting up iconic buildings purpleand holding other events for World Polio Day, as part of Rotary International in Great Britain and Ireland's Purple4Polio campaign.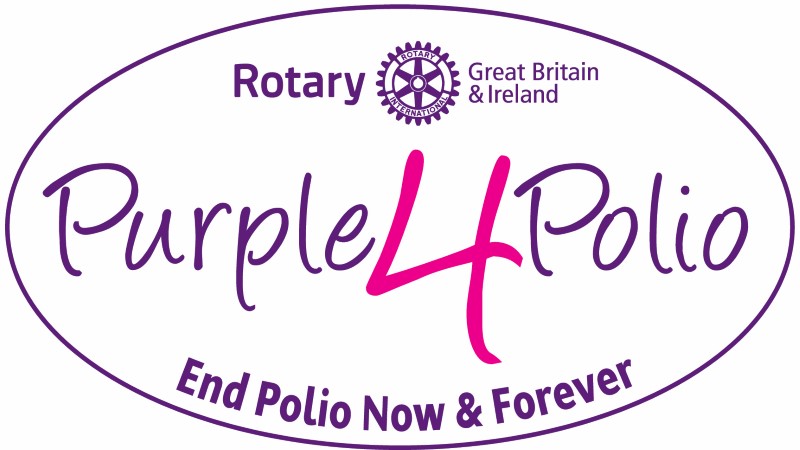 Purple is the colour of the dye placed on the little finger on the left hand of a child to show they have been immunised against polio, hence the name Purple4Polio. With millions of children to vaccinate, this makes it easier to see who has been protected and who has not.
Rotary International in Great Britain and Ireland is also joining forces with the Royal Horticultural Society to plant about five million purple crocus corms across Britain and Ireland, adding to seven million planted last year, as part of our Purple4Polio campaign to raise awareness and funds for End Polio Now.
Since Rotary and its partners launched the Global Polio Eradication Initiative nearly 30 years ago, the incidence of polio has plummeted by more than 99.9 percent, from about 350,000 cases a year in 125 countries to just 37 cases in three remaining polio-endemic countries, Afghanistan, Pakistan and Nigeria, in 2016.
To sustain this progress and protect all children from polio, Rotary has committed to raising US$50 million per year over the next three years in support of global polio eradication efforts. The Bill & Melinda Gates Foundation will match Rotary's commitment 2:1. Without full funding and political commitment, this paralysing disease could return to previously polio-free countries, putting children everywhere at risk.
At the Rotary International Convention in Atlanta in June, world governments joined Rotary and Bill Gates in pledging new money totalling $1.2 billion, towards filling the $1.5 billion gap in the funding that the Global Polio Eradication Initiative estimates is needed to achieve eradication. The British Government pledged £100 million toward the fight to eradicate polio in August.
Rotakids and Purple 4 Polio
New Elgin Primary School RotaKids are supporting these activities by holding school assemblies to raise awareness of Polio and the eradication efforts. They are also designing a costume for a superhero who would champion the efforts to eradicate Polio and will have a purple dress down day on 27th October to raise funds towards the cause. They are also investigating a prominent site in Elgin to plant crocus corms. RotaKids at Knockando will also be dressing in purple to raise awareness.
The efforts will continue after this time and the Knockando RotaKids are planning to raise funds by potting up and selling crocuses at their Christmas Fayre. In Spring 2018 we will see purple crocuses flower across the town and the Club will hold its Swimarathon event on the 24th February in Elgin & Lossiemouth to raise funds for End Polio. More details on this will be available soon on the website.