Fundraising jog/visit to Edinburgh's Dog and Cat Home
Sun 13th August 2017 at 09.15 - 13.00
You are invited for a 2.5km jog with Gobi! Who's Gobi? Well, read on for more details ...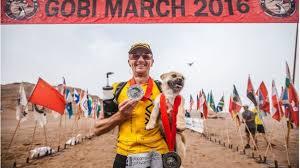 The story of Dion and Gobi attracted worldwide media attention when the seasoned ultramarthon runner took part in a 155-mile race through the Gobi Desert in China. A stray little dog, who would later be named Gobi, joined Dion for nearly 80 miles of his race and kept pace over the Tian Shan Mountains, across massive sand dunes and through the black sands of the Gobi Desert.
Dion's friendship with the little dog grew more each day and resulted in him carrying her across rivers, even knowing that this would put him behind in his race. On the final day Dion decided he had to take his new companion home with him to Edinburgh but this wasn't an easy feat and during the process Gobi event went missing.
With the help of strangers the world over, they managed to track her down and the journey began to bring her home. Dion and Gobi are now firmly on British soil and they are keen to help rescue animals across Edinburgh.
As a result that have joined Edinburgh Dog and Cat Home as Animal Champions and will put on a fundraising event on Sunday 13 August 2017.
The event will consist of a circular 2.5km walk, jog or run route along Portobello Prom, with Dion and Gobi leading the charge. Following the jog Edinburgh Dog and Cat Home will open their doors to our fantastic participants to give them a chance to browse the stalls and to meet the famous pair.
It is just £5.00 per adult and £3.00 per child (under 12) to enter and we ask that you reach out to friends and family to support you through sponsorship of your challenge.
Merchandise is available to purchase, including running vests, tshirts and dog bandanas.
For further information please contact Rebecca Bramhall via rebecca@edch.org.uk
Tickets from here: https://www.eventbrite.co.uk/e/jog-with-gobi-tickets-35231462252?aff=es2