Global Sight Solutions
Wed 9th May 2018 at 12.30 - 14.00
John Miles explained about the Guildford Rotary Eye Project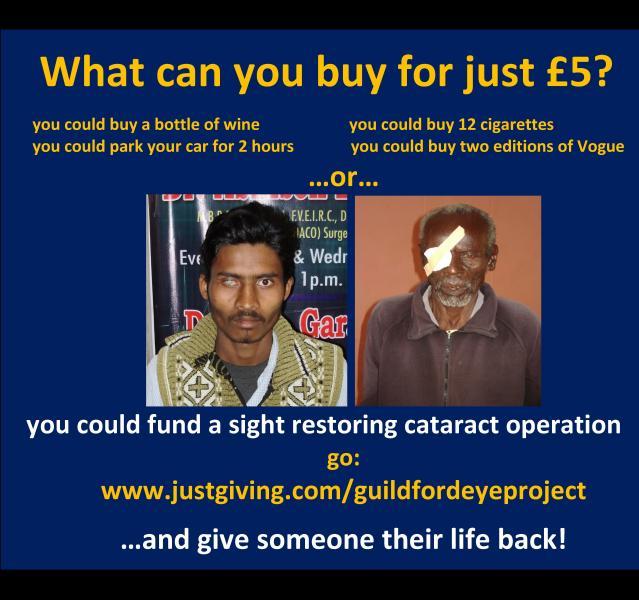 This week's lunch meeting focussed on the importance of sight.

Gordon Jackson explained that some 300 Rotarians will be in town next month for our
International Golf Week. A day has been set aside to raise money for a project to supply
Arclight opthalomocope diagnosis devices for ophthalmologists in Africa.

Significantly, our speaker's theme was "Global Sight Solutions." 
John Miles of the Rotary Club of Leatherhead highlighted the curse of avoidable blindness 
in the Third World. According to WHO and UN sources as many as 650 million people 
have sight problems.

He posed the question, " How would you feel if your sight deteriorated 
but you were too poor to do anything about it?"
By astute use of grant income from Rotary International a £5 donation can become £15 - 
enough to pay for a cataract operation.

Global Sight Solutions work with Rotary clubs in the areas needing help.
These clubs run Rotary Eye Hospitals. The brand "Rotary" is trusted. 
In ten years, eleven of these hospitals have opened in India where 1/3 of the world's 
poor live.  Others are planned for Bangladesh,Lebanon and Kenya. 

Further information can be found at www.globalsightsolutions.org

 
 


Kim Keble-White proposed thanks to a truly inspirational speaker.
Guildford Rotary work with Rotary clubs in Africa and India to help prevent blindness.
World Sight Day is on 12th October.