A trip back in time with Rotarian Alan Coombs JP
Wed 1st November 2017 at 18.30 - 20.00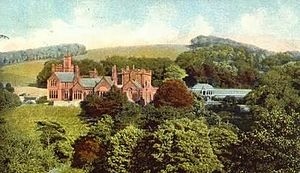 Abbots Wood, Alan was born on the Home Farm

At our weekly meeting on the 1st November at Barrow Golf Club, President Gordon welcomed guest John Calvert to our meeting and asked Peter Garwood to introduce our guest speaker who was one of our newest members who volunteered to fill for a speaker Peter had arranged who had been marooned on the Isle of Man !
Rotarian Alan Coombs a retired magistrate, former member of Dalton and District Round Table and former member of the Rotary Club of Barrow in Furness said it was a sure way to get on the top table and that was to sing for his supper !
Alan told us of his childhood in Dalton, he was born in 1937 at the Home Farm of Abbots Wood, then home of Sir James Ramsden, where his father from 1933 was Head Gardner. It was a tremendous place with an immense greenhouse where all sorts of exotic fruits were grown, peaches, grapes, tomatoes etc, all for consumption in the great house. Sir James as well as a founding father of Barrow in Furness was also managing director of the Iron Works and the Furness Railway.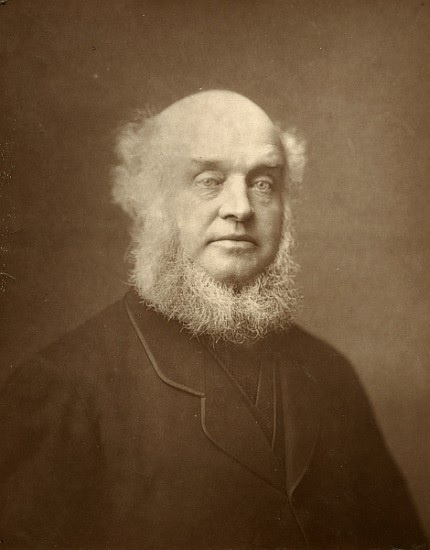 Sir James Ramsden
Alan brought with him many artefacts from that time, a census return showing the 10 occupants of the big house who came from all over the British Isles. He had a scrap book his father had created, using pictures cut from plant and flower catalogues, Alan estimated that it was 90 years old. He had numerous newspaper articles which told the story of Abbots Wood, from its time as one of the greatest houses in the area, to its days as an army camp during the war, after many years of deterioration, its eventual demolition by the town council and then the cold war bunker which was built on the site. That also has since been demolished.
Alan's family left Abbots Wood following the death of Sir James in 1941, Alan's father went to work as a Railway Policeman on the docks for the duration of the war after which he bought 3 acres of land at Green Lane in Dalton and began to build up his nursery. Alan had gone to the Green School and then on to Ulverston Grammar School, but unfortunately following the early death of his mother had to curtail his studies and help his father with the business. They wanted to build greenhouses, but timber was scarce, and they used decking from ships being dismantled in Barrow Docks by Wards. But with lots of hard work the nursery grew from strength to strength and in 1954 Alan met Marjorie they subsequently married and a year later their son David was born.
In the early 60's he bought the business from his father and developed from a market stall to having first a single shop in Scott Street and then more. Ever an astute business man Alan thought that marrying his florist business with a chocolate business would be an excellent fit. He approached Thornton's Chocolates and on the shake of a hand he opened a Thorton's franchise, this developed rapidly and soon he was able to open a new shop in Dalton Road, opposite Marks and Spencer. This became so successful, it was the 4th ranking shop in the whole of the UK, Thornton's invited him to be their sole franchisee for Cumbria. But Alan thought that a step too far, he preferred to be a local family business and declined the offer.
In the 1980's Alan was approached to join the bench of the local magistrates, something he did with his usual zeal and attention to detail for 27 years.
In 2003 he decided to retire and sold up his shops, David had opened his own business in Grange over Sands and was ploughing his own furrow. Marjorie unfortunately died in 2014 having suffered from Alzheimer's disease for several years during which time her family cared for her at home.
Several questions followed and then a vote of thanks by Peter Garwood followed by applause from all of those attending.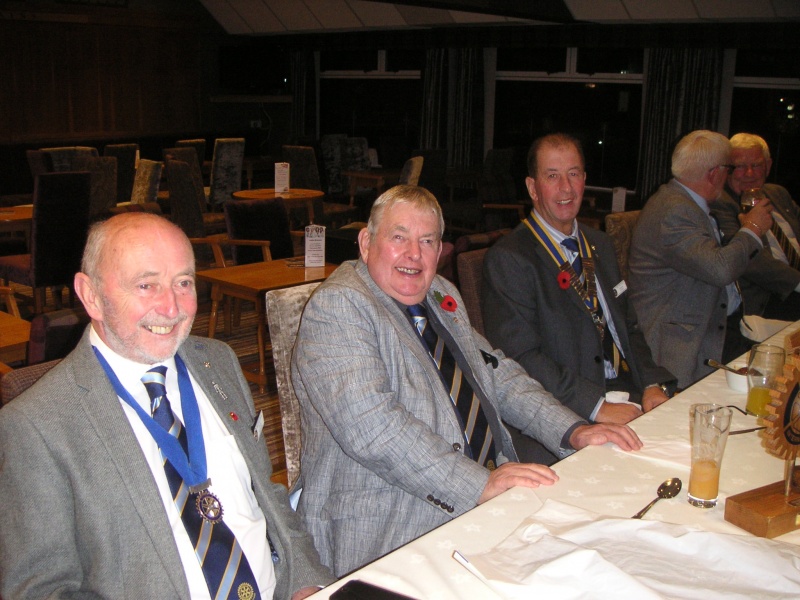 Alan with (left) President Elect Colin and (right) President Gordon