ROTARY PROMOTES STROKE AWARENESS
Do you know what your blood pressure is?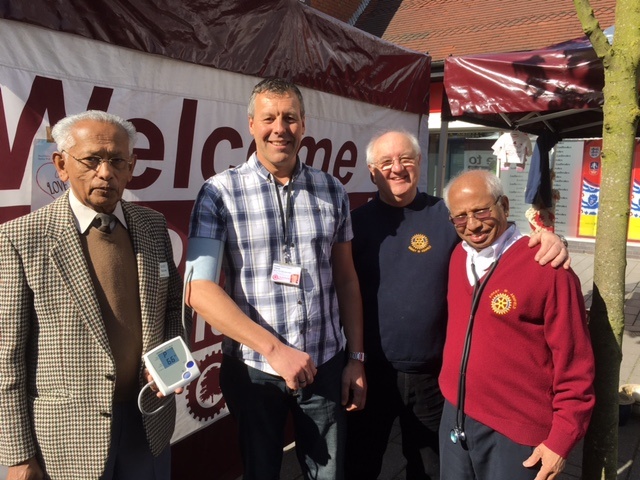 Kirkby residents recently had the chance to be better informed about their health as a result of the local Rotary club's "Know Your Blood Pressure Day 2017".
Last Saturday morning in the town market place, the Kirkby-in-Ashfield Rotarians provided free-of-charge blood pressure tests for members of the public.And the result gave an encouraging sign to the local community.Of the 59 people tested within three hours, almost all were found to have normal readings, though a few were referred to their GP. This was one of the annual Stroke Awareness Days held throughout April by Rotary clubs across the country, supporting the Stroke Association's on-going campaign.
Rotarians Drs Karl White and Koshy Matthew, both retired GPs, took the blood pressure readings, and everyone tested was given a note of their result.At the same time, as part of a postcode survey for the NHS, they were asked for their brief personal but anonymous details such as age, smoking, etc.
Alongside the blood pressure kiosk, Kirkby Rotary Club ran a bric-a-brac stall and raised £130 for their charity account, which is used to support local good causes and Rotary projects.The gazebo and stall were kindly provided by Ashfield District Council.
President Philip Hurt said: "This is a very gratifying part of Kirkby Rotary Club's commitment to supporting the community. The club welcomes new members to help with this kind of event, as well having the opportunity to take part in our programme of charity fundraisers, youth projects and social occasions."