Showcase for Young Artists
Six young artists received prizes last week in our art competition for schools.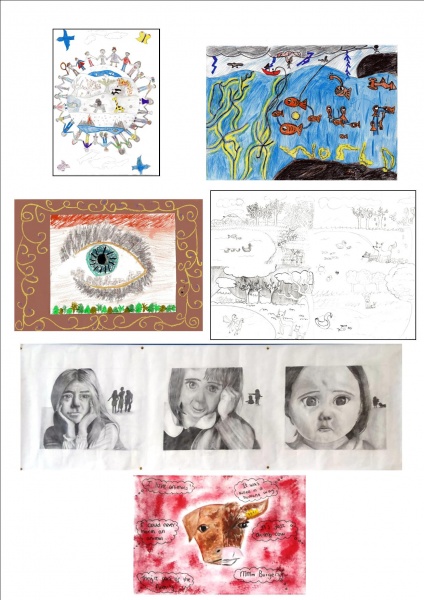 President Philip Hurt presented cash prizes to pupils from Orchard Primary School and Ashfield School at a special event in Kirkby Library on March 28th.The theme of the competition was "Our World" which attracted 90 drawings, paintings and collages from Orchard and six from Ashfield.They were judged by Matthew Palmer, the distinguished local watercolour artist, teacher and broadcaster.
Dillon Bottomore and Angelica Alexander were winner and runner-up in Year Five, and Emily Thompson and Rhia Staniforth in Year Six.In the senior section Leah Shillito was the winner and Ellie Kohut runner-up.All the winning artworks, along with a selection of other entries, are on show in an exhibition in the children's section of Kirkby Library during the Easter school holidays.
President Philip said to the audience of pupils, parents and grandparents: "Congratulations to the winners and runners-up and indeed to all the artists who entered our competition.It's extremely rewarding for Kirkby Rotary Club to have this co-operation with local schools and to see, as we do continually in our community programmes, the wonderful achievements of so many young people.Also sincere thanks to Kirkby Library for making this excellent exhibition space available."