FERRETS HELP FUND SCHOOLS' GREENHOUSES
Little furry animals helped us to raise funds to provide "home-made" greenhouses to local schools.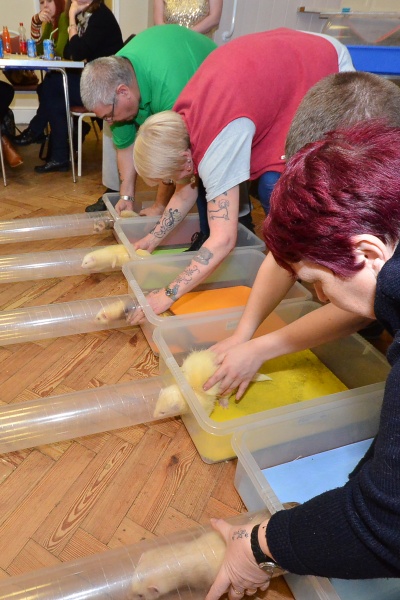 Our annual Charity Ferret Race Night at St Wilfrid's Church Hall raised hundreds of pounds for charity.Among the good causes that will benefit are an ecology project for Ashfield schools and a plan to build a water tower at a deprived school in Gambia.
Club President, Rotarian Philip Hurt, said:"It was a brilliant effort and undoubtedly even more successful than those we've run in the past, which is saying something!One of the main aims of Rotary, and especially here in Kirkby, is to do what we can to help the local community while not forgetting overseas charities, and this is another great example of just that."
In the ecology project, Rotary provides the basic wooden framework, and the schools then collect the plastic bottles and "glaze" the structure, which is used as a functioning greenhouse for vegetables and other plants.This encourages the pupils to learn about recycling, basic construction skills and growing food. Three Ashfield schools are currently taking part in the project.
At the ferret night, Rotarians staffed the betting "tote"; and the animals and race facilities were provided by the Krazy Ferret Ladies and friends, with all the conditions regulated according to strict animal welfare requirements.
Rotarian Neil Lancashire, the event organiser, commented: "We're delighted with the result, which has exceeded our expectation.Thanks to everyone who contributed to the success of the evening – Rotarians, friends and members of the public, not forgetting the ferrets and their handlers.