The Singing Teapot
A collaboration between Keighley Rotary Club and Dementia Friendly Keighley, the Singing Teapot is a social and singing group for people living with dementia, and their carers, which meets in the early afternoon of the first Friday of each month.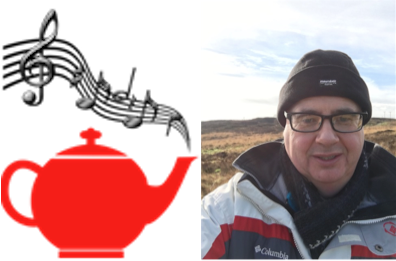 CHRIS ISSOTT'S WALKING CHALLENGE FOR
ROTARY CLUB of KEIGHLEY
Chris Issott, an accountant from BHP Clough & Co, is the newest member of the Rotary Club of Keighley having joined at the beginning of this year. He is taking his new membership seriously and has decided to tackle an ultra-walking challenge as a fund-raising effort. He plans to walk 52 kilometres to raise funds for the Singing Teapot, Keighley's singing group for people with dementia, which has been supported by Rotary Keighley since it began in 2014.
As a 'Friend of Rotary' Chris has also supported the singing group from the beginning. He freely admits to having no talent for singing but he has worked tirelessly behind the scenes to get funding for instruments, song-books, training etc. Now he wants to raise at least £500 to cover all the costs of running the group for the next 12 months.
Chris says "we've had funding from various sources over the past 3 years, including Community Chest, Craven Trust and, of course, Keighley Rotary and we are very grateful to them for their support. But I thought it was time I came out of the shadows and marked my full membership with a fund-raising effort of my own."
Members of Rotary volunteer regularly at the singing sessions providing home baking, welcoming the participants and facilitating the community singing. President Marie Hickman says "…singing is good for the brain, and I'm delighted that Rotary provides some happiness and stimulation for folk living with dementia through The Singing Teapot; and whether you have dementia or not the Singing Teapot is great fun."
President Marie is a regular supporter of the group along with volunteers from Dementia Friendly Keighley and Rotary Keighley. The Singing Teapot is organised by Maggie Marsden, who is a 'Friend of Rotary' as well as being treasurer of DFK. She says "The Singing Teapot is the result of a brilliant collaboration between two excellent organisations and is a great resource for people in Keighley living with dementia. We are all going to get behind Chris to push him on with this amazing challenge and secure the future of the Singing Teapot for another year at least."
Chris has been training by walking the hills and moors around Oakworth and Haworth, when the weather has been suitable. Otherwise he has covered many miles on the treadmill. For the challenge, which will be on Saturday 25th March, the walking will be mostly on the treadmill but will begin with a walk to the SportsDirectFitness gym in Cavendish Retail Park from his home in Oakworth and end with a walk back up the hill to finish.
In between Chris reckons that he will walk approximately 60,000 steps, burn around 8,000 calories and he is hoping to complete the full challenge in something around 9 hours.
"I must be mad!" he says. "But it is a great cause and one that is close to my heart as my Grandmother had dementia when she died two years ago. The challenge will be both physical and psychological and anyone who wants to join me for a few miles will be most welcome. I would especially be grateful to anyone who feels up to keeping me going as I make my way back home at the end of the day."
Anyone wanting to sponsor Chris can donate to his BT giving page at https://mydonate.bt.com/fundraisers/chrisissott1