THE CHRISTMAS FOOD APPEAL
Providing food to 261 families in Liverpool.
St Brides is a progressive church which is situated in the Georgian Quarter of Liverpool and serves the local community. It is a place where people can meet and feel respected and at home, regardless of sexuality, gender, race, disability, class or creed.

People can quickly find themselves in poverty for a variety of reasons and it is to assist these people that St Brides works in conjunction with Liverpool Cathedral and is an appointed donation and collection point which provides food, clothing and advice to people in need.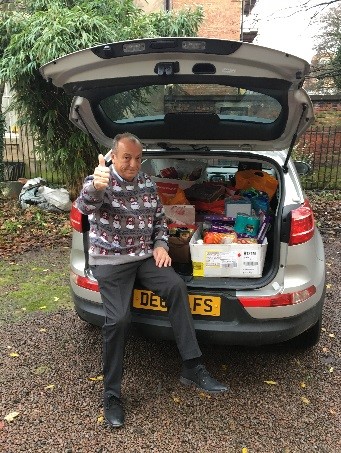 Having heard that the Food Bank was running desperately low on supplies, the Rotary Club of the City of Liverpool launched an appeal and, thanks to the generosity of our members and friends, we were able to fill two cars with food and toiletries which were then delivered to Saint Brides just before Christmas.

Following the delivery, I volunteered to assist at a Food Pantry distribution session and was assigned to shadow one of the volunteer workers.

Each family given support has previously been assessed thereby ensuring that everyone who receives assistance has a real need. The family, or individual, was then issued with a voucher and sent to the collection point. Each food parcel was made up to meet the needs of the recipient so that if for example, the family had young children, the correct size of nappy was included.

In a period of two and a half hours, the Food Pantry provided 261 families with food and toiletries.

Each member of the family also received a wrapped Christmas gift which was selected according to the sex and age of the family member. I will never forget the excitement on the faces of the children, some of whom had only recently arrived from such places as Aleppo, when they were handed their Christmas present.

St Brides needs ongoing help to enable them to help others in need. The City of Liverpool Rotary Club has made a commitment to Saint Brides to continue their support by making donations of food and money to enable them to continue with this vital work.

The work of the Food Pantry is a lifeline to many people and in the words of a Food Bank recipient:

"To me, the love that you share is greater than the food, so that when
I eat the food, remember the love that the food was given with, it make
the food taste better"
Sue Clements
January 2017