Youth Projects
One of many local school projects, Rotary Racer comes from the Greenpower team. What began as an initiative at Chipping Sodbury School to get 'Lads and Dads' working together now involves the whole family working to build electric powered cars to race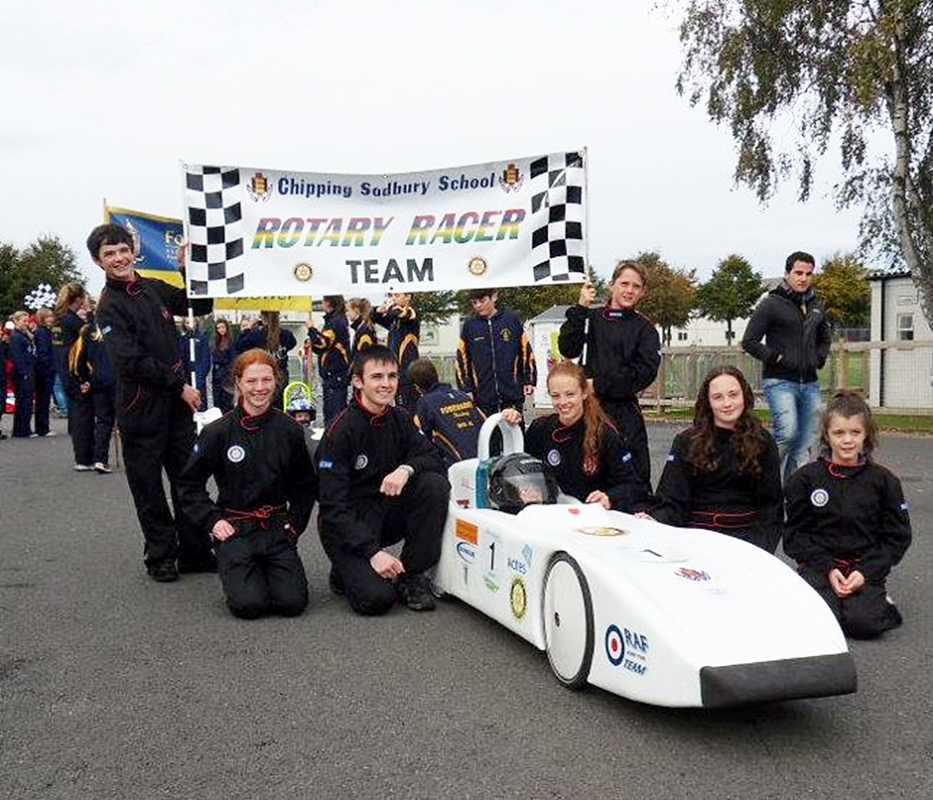 Made and raced by boys and girls, Rotary Racer is a car, built by the Greenpower club at Chipping Sodbury School, sponsored by Rotary.
Other projects undertaken:-
RYLA (Rotary Youth Leadership Award)
This year we are sponsoring 2 students from Chipping Sodbury on a week- long residential course to build personal and leadership skills
Kids Out
We arranged for 19 children from Culverhill School to join about 400 other youngsters with special needs from District 1100, to go to Cattle Country Park for Kids Out.
The Young Innovator Competition
The Young Innovator Competition is held annually at the Town Hall in June or July. It is for 15 to 17 year olds from Brimsham Green and Chipping Sodbury School . The aim is to encourage students to introduce innovation into a number of subjects. Each year we have about 60 students entering, and receive very positive feedback.
The projects judged represent two years of hard work by the young people, with the support of their staff.
The competition is in 6 categories with 3 winners in each section. Each winner is generously rewarded by the sponsors, Renishaws and Hanson.
As always, Rotary is extremely grateful for the assistance of Inner Wheel members who provided welcome refreshment for students, judges and spectators.
This email was received from one of the schools :-
"Please convey my thanks on behalf of the school to your colleagues in the Rotary Club for organising yesterday's event. As always the students gain considerable benefit from presenting their work formally to other people. I believe that this is a most worthwhile and beneficial experience.
As always your continued support is very much appreciated."
Green Power
We continued to support the Green Power project at Chipping Sodbury School and, in particular, the Rotary Racer car.
Young Chef
We support a 'Young Chef' competition at both Chipping Sodbury and Brimsham Green Schools.
Youth Speaks
A significant project is Youth Speaks, involving Chipping Sodbury and Brimsham Green Schools, both collaborating enthusiastically. Working with teachers from both schools. we have developed a programme that introduces young people to debating, a skill that is put to the test in a public competition.
Other Activities
In 2016/17 the Club gave over £5,500 for:-
· equipment for a local school playground refurbishment
· Girl Guides
· Youth Rugby Club
· Green Power
· youth club activities
· enhancing primary Schools' curriculums
· grants to individuals.
If you wish to apply for a grant for a Youth Organisation, click on the link below