Charity Events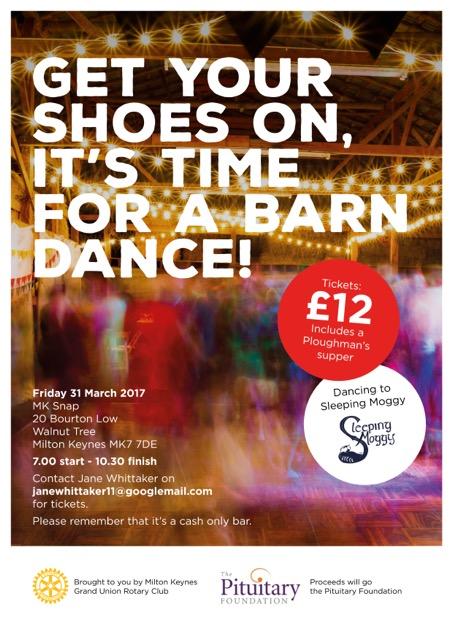 We run a number of charity events each year for good causes.
Each year our club president chooses a charity on which to focus our efforts. This year Susan has chosen the Pituitary Foundation which is a national support and information organisation for pituitary patients, their families, friends and carers. Find out more at https://www.pituitary.org.uk/
We run events like quiz nights, race nights and barn dances to raise funds for such local charities, allowing us and our guests to have some fun whilst doing some good. Our most recent event was a Race Night and we have a Barn Dance coming up on 31 March. Keep an eye on our homepage for our recent and upcoming events.
We also run an annual Golf Day at the Woburn Golf Club, which raises a huge amount specifically for the Rotary International fight to eradicate polio from the world.
Of course we mustn't forget the Extra Mile Cycle Challenge. This is a 500 mile relay for teams of 4 over two days in September through beautiful countryside on the continent. Organised in conjunction with Bedford Park Rotary Club, this event has raised around £1m over 10 years or so. Find out more at http://www.extra-mile.org.uk
Over the years we have donated hundreds of thousands of pounds to a variety of local charities
·We have helped to build a school in the slum areas of Nairobi
·We have given continuous support to orphans and an orphanage in Romania
·We have sent hundreds of shoe boxes full of all sorts of things to locations in Eastern Europe and beyond
·We have donated aqua boxes to assist in the provision of clean water
Contact Jane Whittaker about this page: