Macsween and Haggis James Macsween
Wed 11th January 2017 at 19.00 - 20.30
.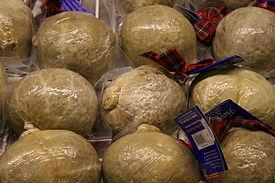 Our speaker was James Macsween, Managing Director of Macsween who spoke about the company whose name is synonymous with haggis! The company was formed in 1953 and had moved to Loanhead 20 years ago from its city centre location at Bruntsfield. Back in the fifties was a difficult time to set up a business and it started off as a butcher but progressed to being widely recognised as experts in haggis. Macsween is the largest manufacturer of haggis and the recipe has only changed once in the last 20 years.
The company's motto is "Trust us to be interesting" and is committed to not just stand still but continuously look at updating and introducing new products to their extensive range. James stressed that their most important asset was their staff.
In recognition of people's hectic lifestyles the company has introduced microwaveable products such as "haggis in a hurry", "vegetarian haggis in a hurry" and "black pudding in a hurry". They also produce a popular range of sauces such as "whisky cream" and "beer and onion". To celebrate the company's 60th birthday innovative products were produced such as "three bird haggis", "Morrocan spiced vegetarian haggis" and "chocolate and chilli black pudding". A premium sausage range has also been introduced including "pork and haggis", "smoky pork and beer" and "pork, bacon and black pudding".
James spoke passionately about the company and stressed its desire to involve the consumer and establish what they wanted to buy. They want to produce something different and basically take haggis to the world! The company continues to grow and its products are sold in a large variety of stores including ASDA, Tesco, Morrisons, Marks and Spencer, Harrods, Selfridges and Fortnum and Mason. An extremely interesting talk concluded with an enthusiastic selection of questions. The vote of thanks on behalf of the Club was delivered by Ron Maclachlan.