Highlights of the Rotary Year 2016-17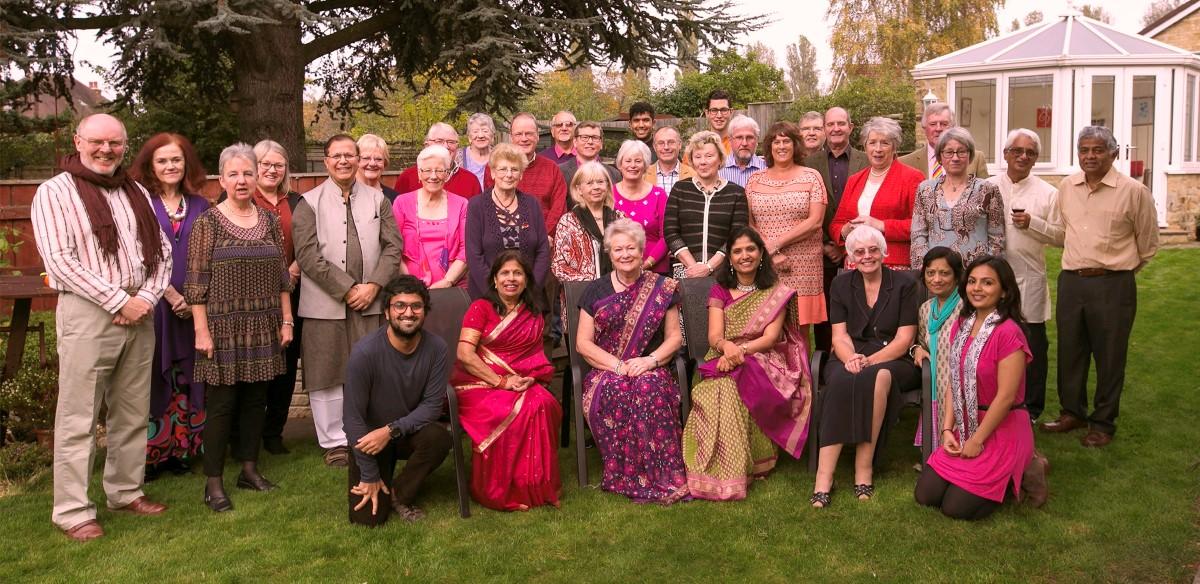 Details of what we have been doing in the Rotary Year starting 1st July 2016
This page will be updated over the course of the year to provide a record of what we have been doing in the Club.
Christmas Santa Collections - December 2016
Thanks to everyone who supported our collections this year. As well as our Santa Sleigh over three nights we also collected at the local B&M, Marks and Spencer Food Hall , and Tescos. Altogether we raised over £1550. This will be used as our funding for our Youth Projects in 2017.
Rotary Young Chef - Club Round November 2016
Five junior cooks from Northallerton School and Sixth Form College showed a fine range of kitchen skills in the latest Rotary Young Chef competition.
Jai Poole, Tia Bramley, Joseph Mableson, Julia Czechowska and Niamh Wheldon were tasked with cooking a two-course meal against the clock in the contest organised by the Club.
The students, who developed their own menus, prepared a sumptuous selection of main courses and deserts for judging by past and present members of the RAF Leeming catering team. The standard of cooking and presentation was so high that it was hard to pick winners, but Joseph and Niamh came out on top in a close-run contest and go through to the area cook-off at Knaresborough in December. The District Finals will be held at Betty's Cookery School in Harrogate early next year.
Nick Wright, who led the judging panel said: "We were hugely impressed by the standard of cooking from all five students and it was clear they had put a lot of thought and preparation into their dishes".

 


The young cooks with judges, L-R: Jai Poole, Tia Bramley, former RAF warrant officer Nick Wright, Sergeant Wayne Barron, Corporal Peter Monaghan, Julia Czechowska, Joseph Mableson, Niamh Wheldon
Update on our Barcode Collection for the Wheelchair Foundation - November 2016
Through barcode collections and cash donations so far our club has donated 11 wheelchairs through the Wheelchair Foundation UK.

The beneficiaries are..

2 to Namibia, 2 to Cape of Good Hope and 7 to Tanzania.

The certificate and photo below are in thanks for one of these donations.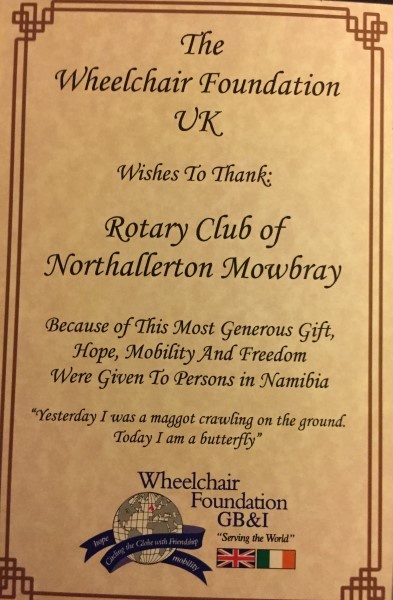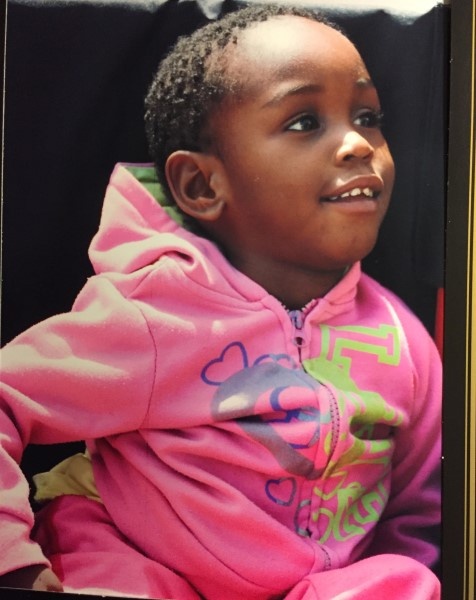 Supporting the Friarage Hospital MRI Scanner Appeal - November 2016
At our Charter Dinner the raffle was held in support of the Scanner Appeal, and President Anand was pleased to present a cheque for £225 to the Appeal Team.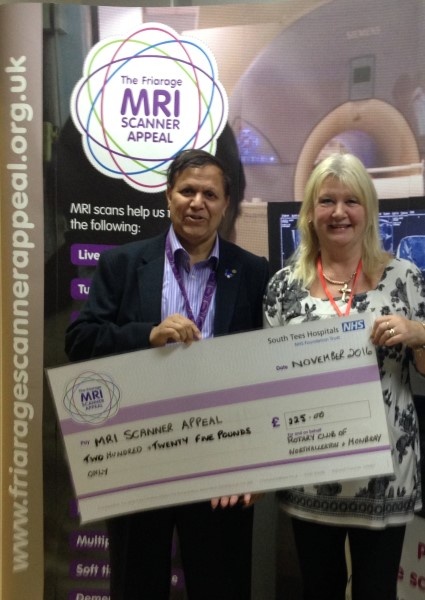 Planting Crocuses for Polio - November 2016
The Club has completed a project to plant purple crocuses to raise awareness of the international Rotary effort to eradicate Polio - and to bring a bit of colour to the town! Across the country Rotary Clubs have set a target of planting 5 million crocus bulbs for spring 2017 and this target looks set to be exceeded. In Northallerton our Club is planting at the entrance to the Friarage Hospital, including beds in the Zetland House garden, and on the Oak Tree Roundabout at the top of Lees Lane. In all we have planted around 10,000 corms towards the target. The first group of hardy planters at the Friarage site is pictured below. We look forward to updating our page next spring when the flowers emerge.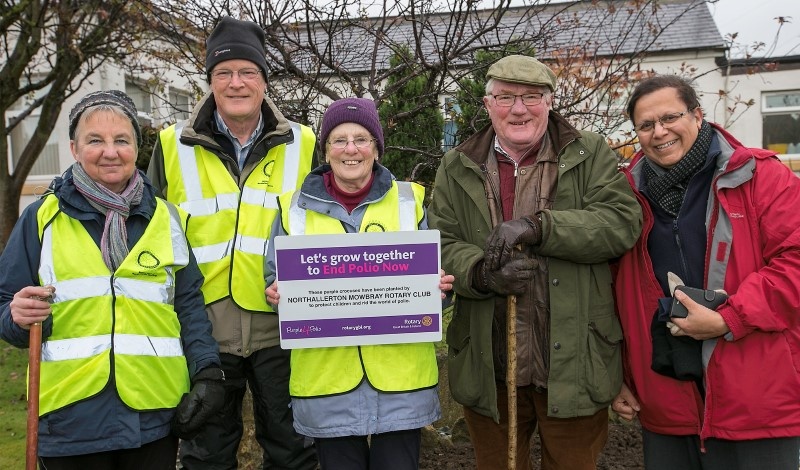 A Diwali Celebration - 30th October 2016
President Anand and Sandyha invited members of the club to join them, their family and friends at a Diwali celebration. A great time was had by all, with excellent company and some wonderful Indian dishes to eat. For those of us who had a limited knowledge of the beginings and meaning of the celebration of Diwali, it was also an opportunity to learn more. And with excellent early autumn weather, we were able to spend some time in the garden including a photo opportunity.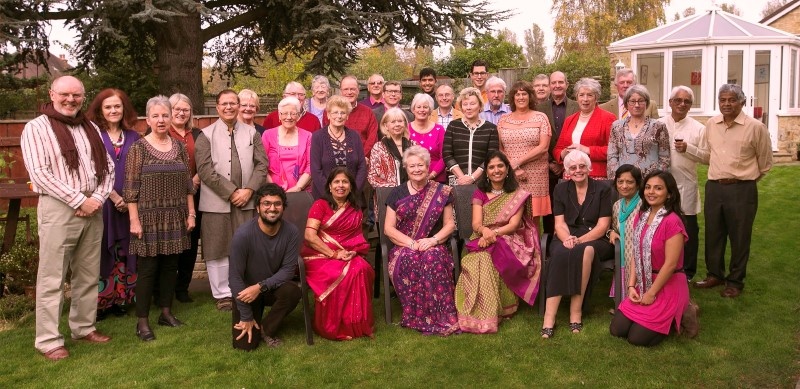 Kids Aloud - 19th October 2016
The Club held it's second "Kids Aloud" concert at The Forum in Northallerton. This brought together 6 Primary Schools from Northallerton and Brompton, together with musicians from Northallerton School and Sixth Form College to delight their sell out audience with selections from the Sound of Music. Together with raffle and programme sales, generous sponsorship from a number of organisations in the area, and other monies raised by the schools as part of the event, we expect to raise a significant sum for the projects chosen. These are both in Nepal and are aimed at assisting to rebuild after the devastating earthquakes in the area last year. The funding will go towards reistating a water supply in one of the affected villages, and assisting with a goat farming scheme to help rebuild the economy of the area.
Unfortunately we do not have the necessary permissions to show you a picture of the real stars of the evening - the children, so you will have to make do with this picture of one of our members selling the programme for the evening!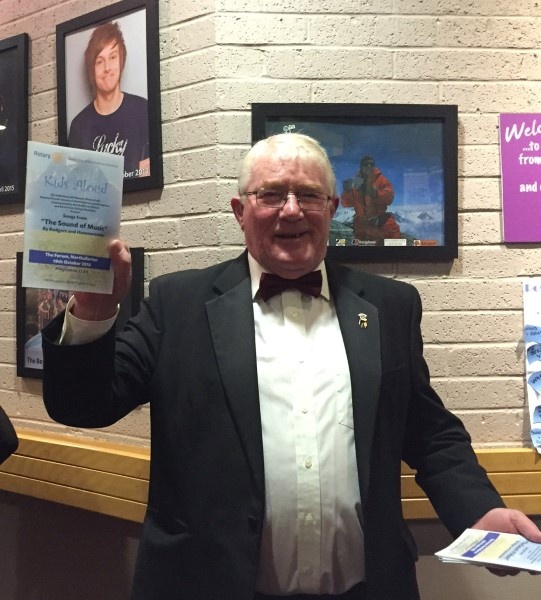 The Club's 22nd Charter Dinner - 15th October 2016
The Club welcomed friends and guests, including District Governor Phil Poole to the Club's annual Charter Night which was held this year at Romanby Golf Club.
Our guest speaker was former diplomat turned thriller writer Jean Harrod MBE, who gave us a fascinating insight into her life in the diplomatic service and how she has drawn on that as inspiration for her first two crime thrillers Deadly Diplomacy and Deadly Deceit, set in Australia and the Turks and Caicos Islands.
We were able to raise £175 from the raffle for the Friarage Hospital MRI Scanner Appeal.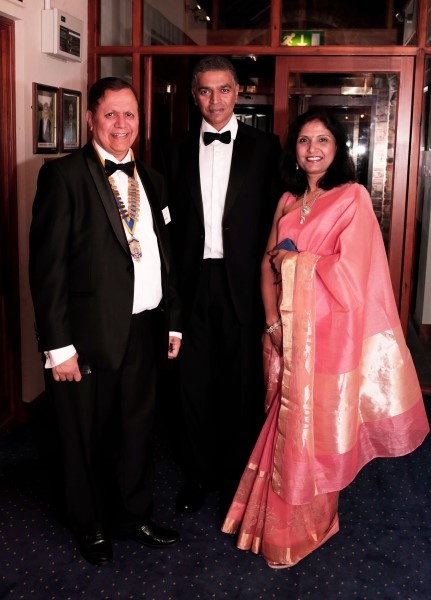 Pictured are President Anand Nadgir with his wife Rotarian Sandhya Nadgir, and their guest for the evening Amar Rangam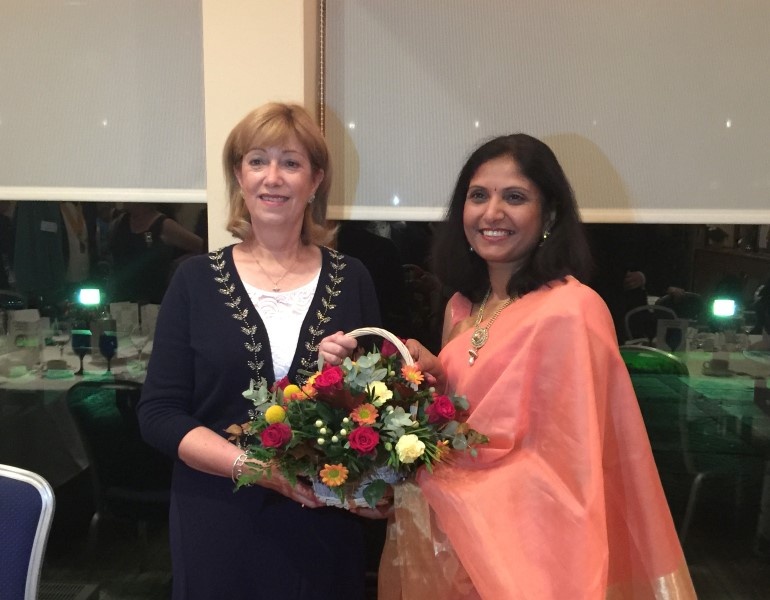 Sandhya Nadgir with our guest speaker Jean Harrod
New Members Inducted - 10th October 2016
The Club was pleased to induct two new members at our meeting on the 10th October.
Dianne Mousley has been a rotarian for some time, but following a move to our area has transferred her membership to our Club. Anthony Wood is new to rotary.
We all look forward to their fellowship and involvement with club projects.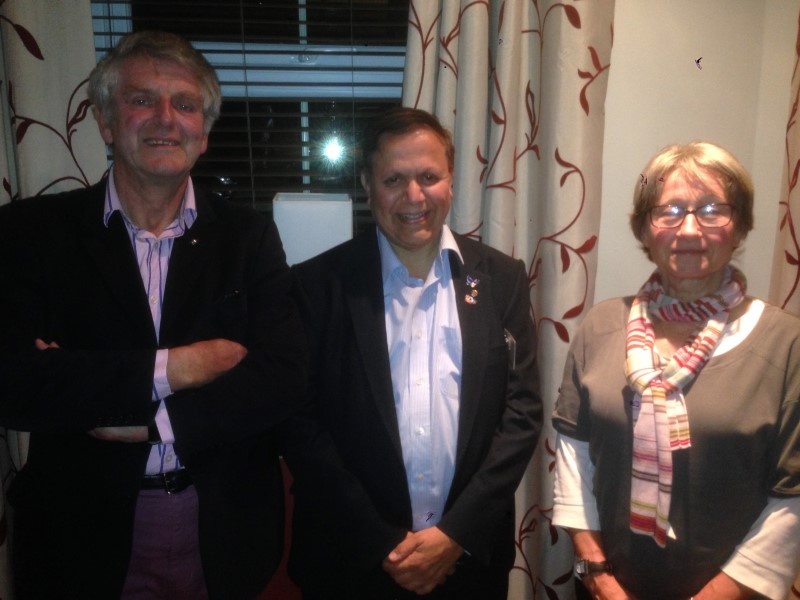 Fellowship Evening to see Kynren - 27th August 2016
A number of members, partners and Friends made a trip to Bishop Auckland to see Kynren. A fantastic sound and light show tells the story of Britain through the eyes of the North East. We were all whowed by the technical accomplishment of the piece, and by the obvious enthusiasm of the vounteers in the cast, and of those stewarding. A great event and a real feather in the cap for the town. It has a few more nights this year, but will be returning next year as we understand it. Highly recommended and enjoyed by all our party.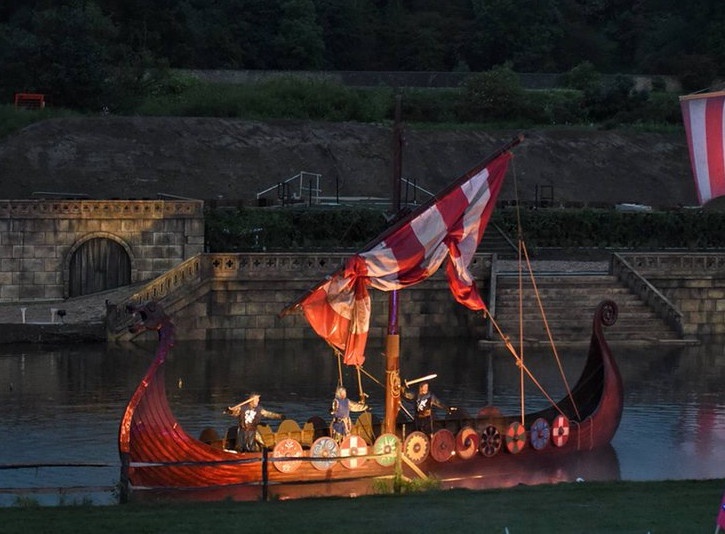 A night of "Posh Puddings" to raise money for the Wheelchair Foundation UK - 13th August 2016
Our first fundraiser of the year was a successful social evening where members and guests had a light first course before moving quickly on to a range of "posh puddings", one of which is pictured here. Over £500 was raised for The Wheelchair Foundation UK.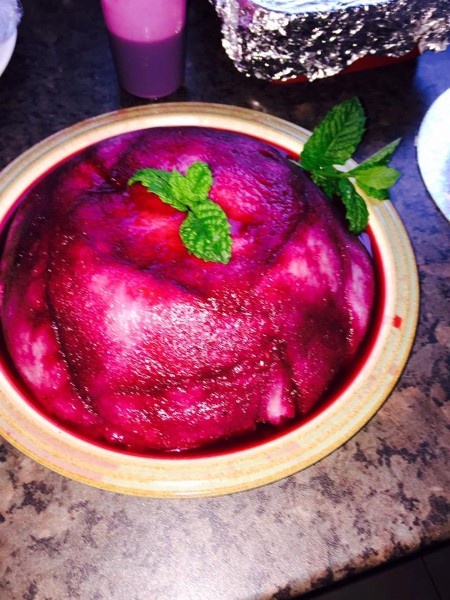 A trip to Castle Bolton 8th August 2016
The month of August is traditionally the time when we get out and about to make the most of the summer weather - and for once it is being kind. 24 members and guests had a trip to Castle Bolton and the evening sun was shining across the fells of Wensleydale. We all felt "on top of the world" - probably because part of the tour was to go up onto the walkway on the castle keep! We had an opportunity to look around this fascinating building and learn something of it's history and inhabitants over the years, including of course Mary Queen of Scots who had an enforced stay there with a huge retinue of staff. A good supper rounded off a lovely evening.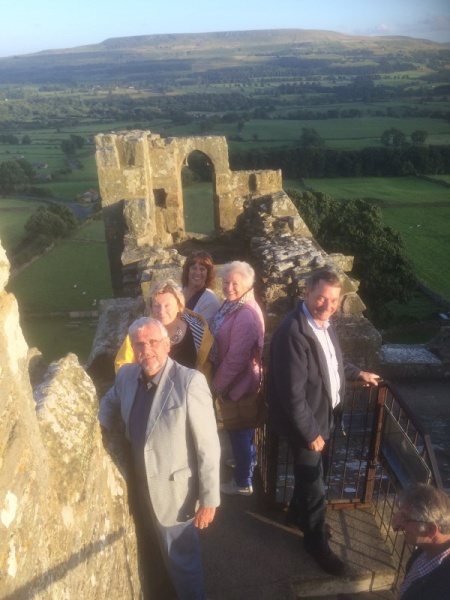 Helping at The Northallerton Carnival 10th July 2016
Members of the Club assisted in marshalling the parade that took place as part of this year's carnival. Whilst activities were held on the Applegarth, the parade took to the High Street, and helped to create a buzz that saw a good number of people attending an event that was enjoyed by all. And although the clouds look a bit threatening in this photo, the weather stayed fine as well!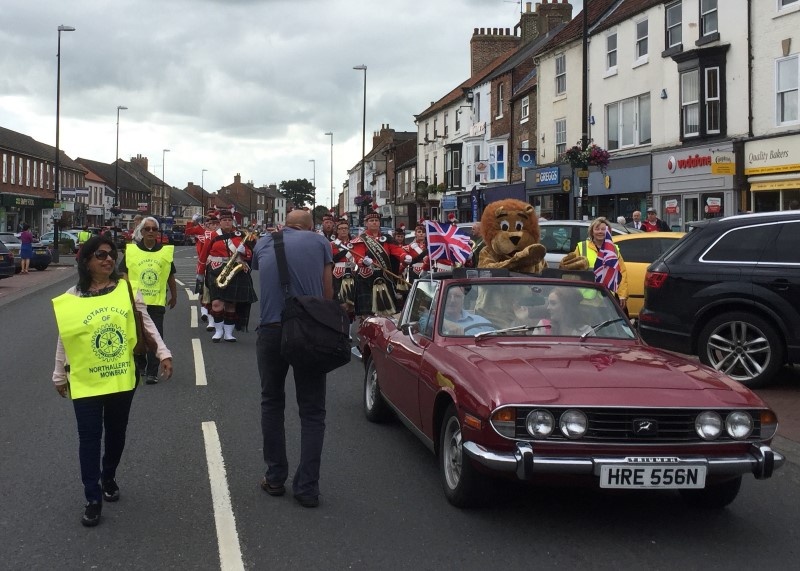 Presidential Handover - 4th July 2016
The start of our new rotary year sees President Anand Nadgir taking over the reigns from Alan Miller. Ian Parminter is our new President Elect and Janet Crampton is our new Secretary. Sue O'Grady continues as Treasurer.
As well as the exchange of chains and badges of office, the traditional handing over of the Rotary Teapot formed, as usual, an important part of proceedings. We are sure Anand will be able to give this pride of place at home for his year, and we wish him and everyone on the new team all the best for the next 12 months.