Kids Out 2016
Kids Out trip to Church Farm, Thurstaston, Wirral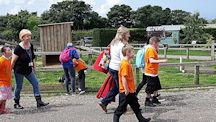 Kids Out on Wednesday 15th June - Church Farm, Thurstaston, Wirral.

We took 30 special needs Children age 7 to 11 years from Brookfields School, Moorfields Road, Widnes, who were accompanied by 18 Teachers and Carers.

The children brought their own picnic lunch but we supplied Ice Creams and goodie bags packed with sweets.

Rotarians Assisting - Geoff Slater, Joe Morris, Ray Hubbard, Peter & David Reeves, Keith & Pat Robertson.