Outside Visit - Equine Pathways
Mon 10th August 2015 at 19.15 - 21.30
Equine Pathways UK followed by meal
Show related pages
Rotary Club of Birstall Luddites
Outside Visit - Equine Pathways UK - Mon 10th August.

Following the club talk by Paula Godfree at Healds Hall by Equine Pathways UK the club members followed up the talk with a visit to EPUK centre at Carr Hall Farm Gildersome.
Luddites met at 19:30 at the farm suitably shod and were then charmed by the "Team" of horses.
Carole Taylor the owner of Yorkshire Equine Clinic, qualified riding instructor, and professional horsewoman gave the club a lesson in how to handle Goochy a horse that has been traumatised
giving confidence to the horse and seeing the horse respond to her guidance
had all the Luddites enthralled as she walked and trotted Goochy around the stable exercise ring. John and Helen were invited to meet Goochy in the ring.
Carole and Paula with Michelle and Carole Rimmer then showed us around the stables answering questions and finally Pablo was led out to receive a supper of carrots that we had brought.
After a very interesting visit Rotarians partners and friends moved on to the nearby pub
The Old Brickworks for an evening meal.
Big thanks to Paul for organising and arranging the visit also
thanks to Joanna for help with the photos.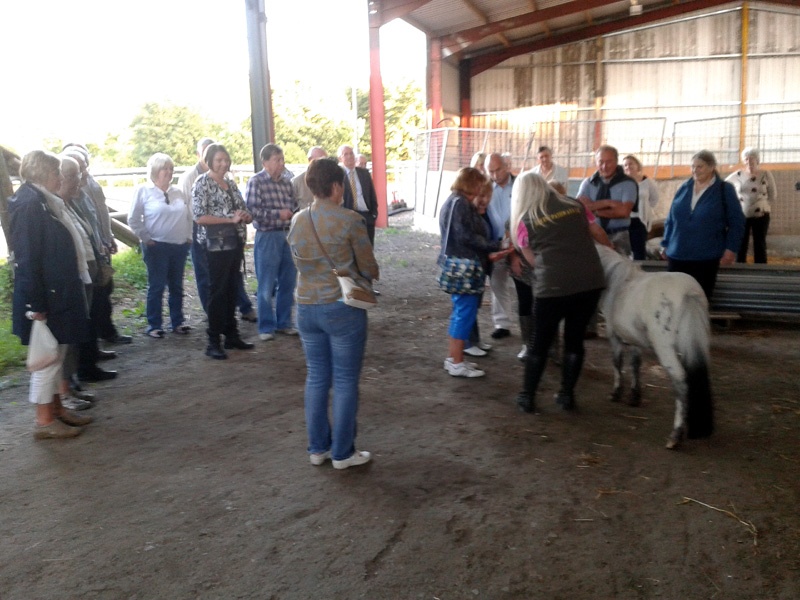 Luddites gather around Pablo.

Equine Pathways UK is a registered charity Reg. No. 1160850, with a board of Trustees and is situated in Gildersome, Leeds, West Yorkshire. Providing free equine assisted therapy sessions to people suffering with depression, adults and children with disabilities and additional needs, our troops suffering with Post Traumtic Stress Disorder and children who may have been bullied at school and need their confidence and self-esteem rebuilding.
LINKS Equine Pathways UK