Boules in the Square 2014
Sun 29th June 2014 at 10.00 - 16.55
An Annual Boules Tournament for local Newbury Businesses and Community Groups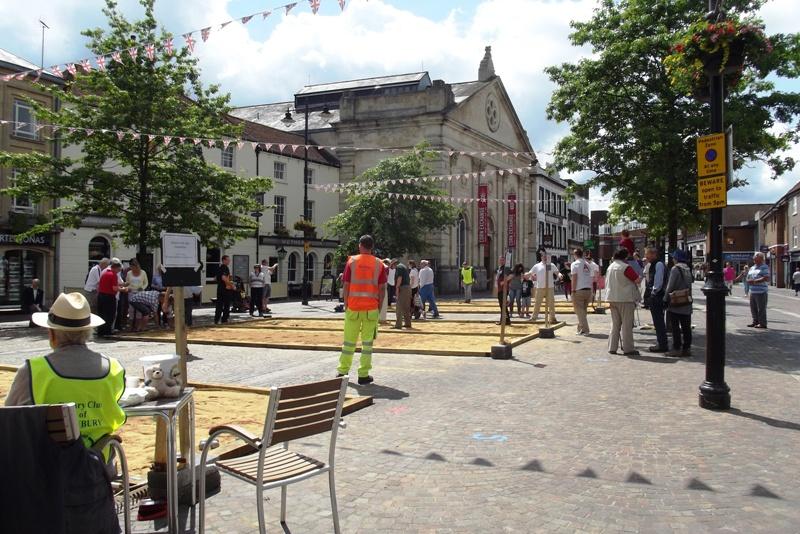 'Boules in the Square' 2014
Sunday 29th June
Yes! Boules Pistes in the centre of Newbury.


This is a new Annual Event for the Newbury calendar organised by Newbury Rotary Club.
A Boules Tournament of local business and family+ friends teams was held on Sunday 29th June 2014 in the Market Place, Newbury. The Tournament started at 10am and continued throughout the day.
There were 4 Tournament Pistes plus one piste reserved for a "Closest to the Jack" competition, open to all.
Members of the Petangue Wallingford Club were on hand to demonstrate technique and make sure everyone from company teams to family groups had a really great time.
The Life Education Thames Valley mobile classroom was on site and available for viewing.
The winning team, Newbury Rotary Team 'A' was presented with the 'Boules in the Square' Trophy, kindly donated by Dunedin Sports and Promotions. The Rotary team won every match they played and were really worthy winners. Runners-up were Team Regents Lettings with the Prestige Network Team coming a close 3rd.
Over £2000 was raised for the benefit of End Polio Now and other Rotary supported charities.
View the media coverage on Newbury Today