Eccleshall Festival 2016 Open Art Awards Competition results
Eccleshall Festival 2016 Open Art Award Competition Results
Eccleshall Festival 2016 Open Art Award Competition Results
Group 1 under 6 on 31 May 2016 First Noah Fortune 'Spotty'
Group 2 6 and under 10 on 31 May 2016 First Faith Harris 'Our Sinning House'
Group 3 10 and under 13 0n 31 May 2016 First Emilia Coghlan 'Fair Ground'
Group 4 13 and under 18 on 31 May 2016 First Jake Bond 'Football'
Group 5 Over 18 First Mac McCoig 'Untitled'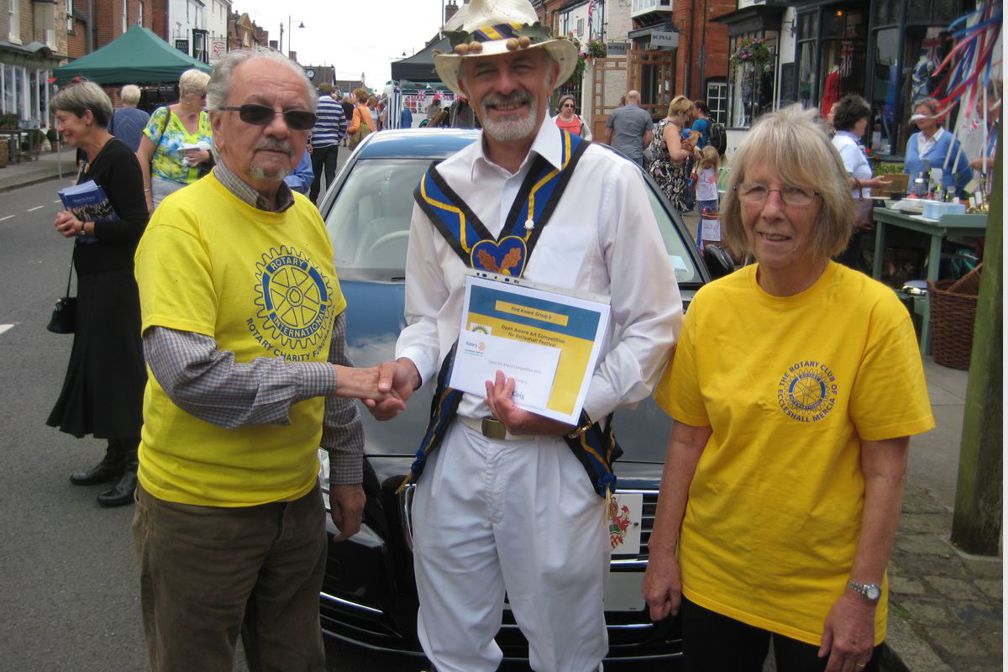 Mac McCoig with Alex Cairns-Lawrence, Rotary Club President and Hilary Ball, competition organiser
Update 21st June 2016:
The First Awards of each group in the Open Art Award Competition are now on display in Gallery at 12, Eccleshall High Street where they will remain until Friday afternoon, 24 June. They will then be on displayed together with all entries in the upstairs room at the Library until it closes at 4 pm on Saturday 25 June.
All the Awards in each Group together with certificates for all entries will be presented at 12.30 during Saturday's Street Market from the control caravan. Every entry will receive something.
Entries can be collected from the library from opening time on Tuesday 28 June.
Many thanks to all participants who made the job of judging very difficult for the members of Gallery at 12.

Organised & Sponsored by The Rotary Club of Eccleshall Mercia together with Galleryat12eccleshall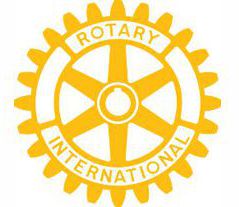 Competition Information:
Eccleshall Festival 2016 Open Art Awards Competition
The Rotary Club of Eccleshall Mercia together with the Gallery at 12eccleshallare sponsoring this Second Open Art Competition for the Eccleshall Festival 2016.
The competition is open to anyone who lives, works or belongs to a club within Eccleshall, Woodseaves, Swynnerton, Croxton, Tittensor, Yarnfield and the adjacent settlements.
There will be Awards for the best artwork in the following age categories:
· Group 1 Under 6 years on 31st May 2016
· Group 2 6 years on and under 10 years 31st May 2016
· Group 3 10 years and under 13 on 31st May 2016
· Group 4 13 years and under 18 on 31st May 2016
. Group 5 Over 18 years
Artwork can be in any media, on the theme of 'rotary'. Paper or fragile entries should be framed (not clip frame) or mounted to prevent damage. Entries should be no bigger than 50cm x 60cm, including the frame or mount. Free standing objects must be stable and no bigger than 25cm x 25cm x 30cm, including any stand.
Artwork must be delivered to James Du Pavey Estate Agents, Eccleshall High Street by 31st May 2016.
Judging will be by members of Galleryat12eccleshall. Award winning entries will be displayed during the week, 20 -24 June 2016 at Galleryat12eccleshall, High Street Eccleshall. Awards in each group will be presented during the week leading up to and including the Street Market.
All entries to include the Award Winning Entries will be displayed on Saturday 25 June in the Upstairs Room at the Library, Eccleshall. Non Award Winning Entries will be displayed in the library from Tuesday 21 June until Saturday 25 June 2016
Artworks must be clearly labelled on the back/base with the artist's name, age, title of the artwork and telephone number. Unlabelled entries cannot be accepted.
Enquiries to Rotarian Hilary Ball 01782 791080, jandhball@aol.com