Christmas Collection 2018 - Total Amount Collected
Very pleased to announce we have raised the magnificent sum of £14,563.74.. This follows our tour of the community with our Float and collections at Tescos Farnworth & Walkden and Walkden Town Centre.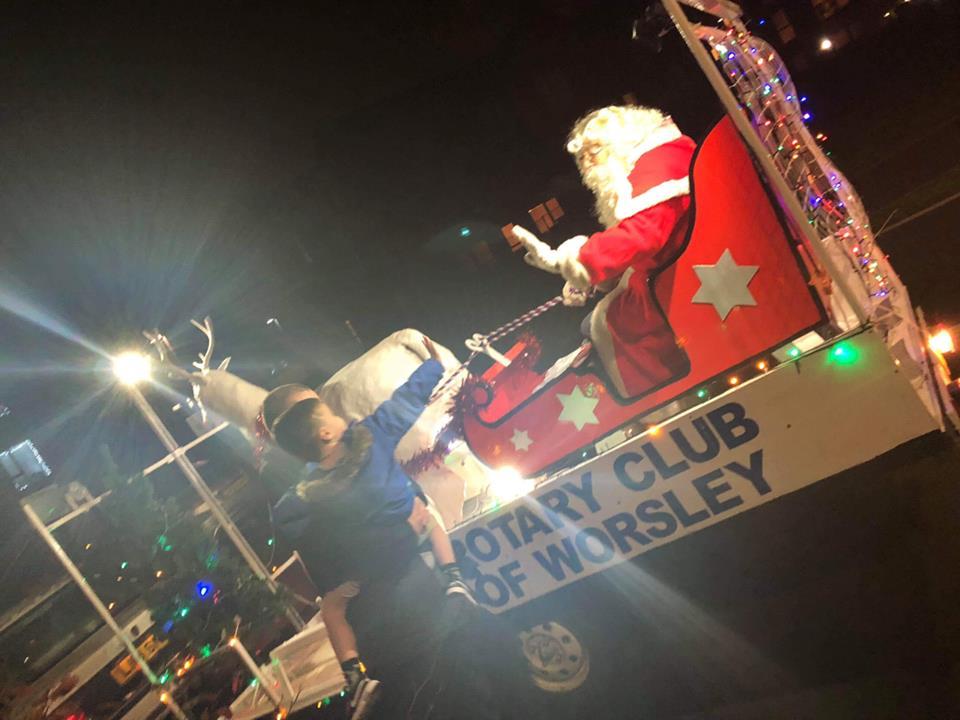 Christmas Collections December 2018
We are very pleased to announce this year that the magnificent total of £14,464.88 has been raised by Worsley Rotary Club.

The Street tour of the local community with our two Floats covered Worsley, Walkden, Little Hulton, Wardley, Ellenbrook, Boothstown, Roe Green, Ringlow Park, Moorside, Winton and raised a total of £9,380.50.
The Floats toured 17 local community areas from 28th November to
20th December.
Collections taken in Walkden Town Centre from 3rd December to 15th December raised a total of £3,288.83. During this period choirs from local schools gave daily performances of Carols.

Our collections at Tesco Farnworth and Tesco Walkden raised a further £1.795.55. We are very grateful to the Tesco Management and staff at both stores for their continuing support.
We also received separate donations totalling £88.86 giving a grand total of £14,553.74.
During the course of the coming year we will be distributing the proceeds mainly to local charity organisations. As in previous years we intend to hold our own version of "Dragons' Den" during May 2019 to distribute much of the proceeds. The amount distributed will follow the payments of grants to the local groups that helped us with the collection and deduction of Float running costs. Details of the Dragons' Den and how to apply will in due course be published on our web site and Facebook pages.
In the meantime to register your interest please send an email to tonjac@hotmail.co.uk.
Our thanks go to all the groups who assisted us with the collection – Salford Sea Cadets, Salford Dadz – Little Hulton, City of Salford Schools FA, Friends of Springwood Primary School, Eccles Special Needs Stay & Play, Worsley Road United Reformed Church, Worsley Business Lounge, 1st Boothstown Guides and Scouts, Kenyon Residents Association, Childflight, Worsley Bridgewater Rotary, St Marks Church Worsley, Darwen Aldridge Community Academy, 2 mm's Junior Youth Club, Salford Imagination Library, Wharton & Cleggs Lane Church, The Launch Project Swinton, the Inner Wheel Club of Worsley, Friends of Worsley Rotary and members' families and friends.
We also thank Alan Clare and members of the Westhoughton Community Hub Workshop who provide us with an additional Christmas Float enabling us to cover three additional local areas- Whittle Street, Birch Road and Coniston Avenue/Eastham Way.
Regrettably we did receive a small number of complaints that the Float had not visited roads as published and as a result families and particularly children were very disappointed. In an attempt to remedy we did operate an additional run of the Float to revisit two areas where we had problems which in the main were caused by us simply running out of time. In this regard it should be noted that we operate the Float under licence from the City of Salford and only between the hours of 6:30 pm and 9pm each evening.
In addition to our normal schedule the Float also visited Springwood Special School, the Sylvan play group who meet at St Marks Church Community Hall and St. Vincent's Church, Over Hulton Carol Service. Also at the request of the Boothstown Residents Association we arranged, as we have done for a number of years, for Father Christmas to attend the Boothstown Churches Together Candlelight Carol Service.
Finally a very big thank you to all those who contributed to this year's collection, particularly to those families who responded to our knock on the door and lined the streets in all weathers to welcome the Float as it passed by.
A common remark we hear as we tour the streets is "The visit of the Float is the start of Christmas for us". For us this makes it all worthwhile.

Tony Jackson Worsley Rotary,
Community Service Chairman.