Ruffs In The Park
Our Annual Dog Show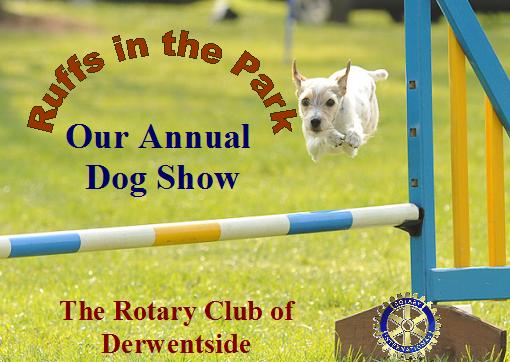 OUR ANNUAL DOG SHOW
RUFFS IN THE PARK
CONSETT AND BLACKHILL PARK
IN PARTNERSHIP WITH
PRINCE BISHOP VETERINARY HOSPITAL
Ruffs in the Park
FUN DOG SHOW
Sunday 30th April 2017


Our Dog Show was another excellent success that raised over £1,000. The beneficiary this year was Hearing Dogs for Deaf People. This falls in line with our tradition that the dog show supports working dogs that assist us. We are very grateful to all our canine friends and their owners who came out and supported this event and to Prince Bishop Veterinary Hospital for sponsoring the prizes.
Sunday 30th April 2017


Our annual Ruffs in the Park dog show this year will take place on Sunday 30th April at Consett and Blackhill Park. Entries from 10am, judging commences at 11am.
Our dog show in partnership with Prince Bishop Veterinary Hospital is always in aid of working dogs. This year we are pleased to announce that this year's dog show is in aid of Hearing Dogs for Deaf People.
To learn all about this excellent charity just click on the logo or click HERE
In aid of Hearing Dogs For Deaf People.
The event is done in partnership with PRINCE BISHOP VETERINARY HOSPITAL who sponsor all the prizes and help out on the day.
SCROLL BELOW FOR PICS
Hi! remember me from last year. I was the one in the pink tutu. I was gutted.
Look! Just don't even think about putting me in a tutu. OK?
We don't know who this lady is. She keeps coming to our events and getting in the photos. This is our catering corp preparing the burgers.
So if I win one of the rosette things I can have a burger yeah?
Hey pal, can you tell me when the most handsome dog is on?
We do not actually know what this is. We believe it is an intruder masquerading as a dog. He/she says she goes by the name of "Sausage". Yeah right.
Hey, who do you have to bribe to get out of here.
He's going in for the dog with the best rear end. What do you think?
OH NO!!! She's done it again! Not again! Not again!
Err boss, are we not meant to be chasing someone?
Oh blimey look at that. One of them is wearing a tutu. Why on earth did you bring me here?
I know it's difficult but try and explain this again please. This is about what exactly?
Look! I'm not bothered that we have won some prize or other. Just get me out of here please so I can hide in a dark cupboard for the next six months.