Meon Tidings No. 34 - January 2014
From Brian Ray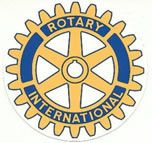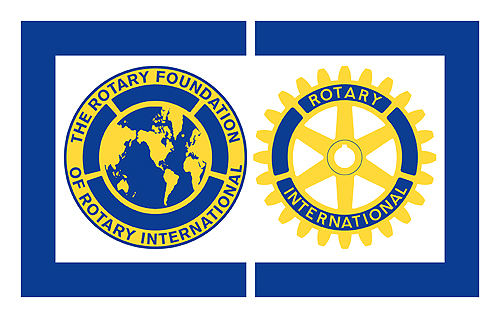 Meon Tidings No. 34 - January 2014
Future Events and meetings.
8th. Gammon steak ,fried egg, chips and peas.
Fellowship meeting.
15th Speaker Father Jonathon Jeffrey, Vicar of St.Francis at Leigh Park – "A Vicar's Tale."
20th. Club Council Meeting at Paul Jones's home.
22nd. Business Meeting
29th. Event organised by Com./Voc. Committee?
No menus available for rest of month. It will be a delightful surprise! (Ha Ha!)
Speaker on 4th December
Neil Hatch personal assistant to two past Governors of the Bank of England, Mervyn King and Eddie George, gave us a very detailed and interesting talk about his 25 years work with the bank. As a lad he worked in his holidays on Tom Houghton' farm and now that he has left the bank he has started a small holding in Somerset, presumably using the skills that Tom taught him!
Neil described the wonderful interior of the "Old Lady of Threadneedle Street" which can be viewed on the web site. There is even a Roman Mosaic floor in one of the sub-vaults. (Underneath the gold?)
After taking a degree in economics Neil joined the bank in 1987 so saw and took part in the major recent financial changes, latterly in a very senior role. Some of these such as the operational independence suddenly imposed in 1997 by the then Chancellor of the Exchequer Gordon Brown. This was a great surprise and caused working over a bank holiday weekend. The creation of the subsequently discredited F.S.A. also took place at the same time. For a time Neil was secretary to the bank interest setting committee. (M.P.C.).
Neil expertly dealt with many probing questions and agreed that although appearing to be baffling to most folk, the study of economics basically only boiled down to only 12 topics. Tom Houghton hosted.
Polio News
Sadly as at 31st December there were 369 cases compared with 218 atthe same time in 2012. Pakistan, Nigeria, Afghanistan have always given problems but is very worrying that Somalia, Kenya, Ethiopia ,Syria and Cameroon previously polio free have also had a total of 224 outbreaks. However there are encouraging signs as the numbers of cases in non-endemic countries, the latter five countries, have not changed for five weeks. The overall reduction is now 32% . So the fight against this disease, that started in 1987, must continue. However the evil of the Taliban knows no bounds as a total of 8 polio workers were killed by gun fire and many others were injured in Pakistan. 11 school teachers were also abducted in Pakistan and held for four days as they were mistaken for polio workers.
The Club Christmas dinner.
This was a most enjoyable evening held at the New Place De Vere Hotel Shirrell Heath. The food was good and the surroundings delightful. The President gave an amusing speech during which he outlined club successful events during his year so far. He of course thanked the members for their superb fellowship and support. It was a great shame that so many did themselves and partners no favours by not attending. It was very good value as the price included a welcome drink and wine with the meal plus party goodies and a disco. John Allen is to be commended for finding an excellent new venue. Here is one reveller trying to give himself a heart attack!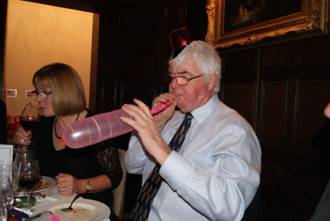 P.P. Graham Lawrence enjoying himself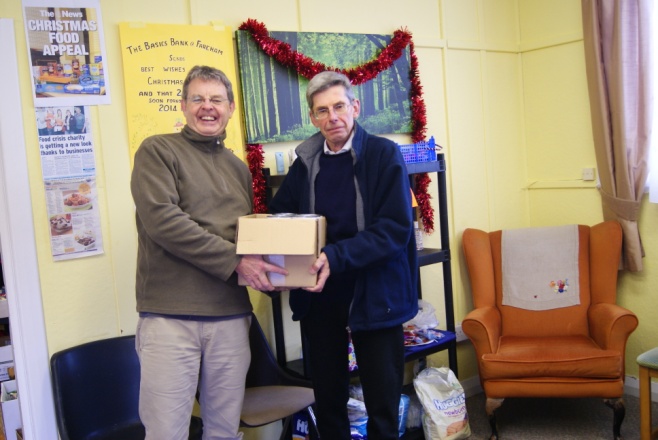 Collection of food for the Fareham & Gosport Basics Bank.
Phillip Rutt, a Trustee looks very happy to receive from Rotary club of Fareham Meon President John a large quantity of food, not all visible above. The Basics Bank is a Christian organisation which seeks to follow the example and teaching of Christ in reaching out in practical ways to people who find themselves in a short run crisis situation and has been running since 2003. It is a project set up by Friends of the Homeless in Fareham and Gosport. They are wholly dependent on donations and support from churches, schools and other organisations including Sainsburys, N.A.T.S amongst many others.
The organisation aims to provide practical help such as food, toiletries and some clothing in a welcoming, caring environment. They seek to encourage and assist homeless people in their search for accommodation and work in partnership with other local organisations, both statutory and voluntary, to improve facilities for the homeless and other people in need in our area. Whilst we were there we met a grateful client who helped unload some of our goods.
Over the past three years referrals have grown and in the year to September 2013 there were 1902 representing 3653 people (one third children) compared with 800 referrals
representing 1597 people in the same period to September 2011. I think we should try to provide some support throughout the year as clearly there is a great need that requires some action.
Sleigh Collections December 2013
It is encouraging that the total of cash collected was very similar to a year ago. It was also good that most able bodied members took part. The figures are as follows:-
| | | |
| --- | --- | --- |
| Tuesday 10 December 2013 | Catisfield Scouts | £273.75 |
| Wednesday 11 December 2013 | Sainsburys | £396.57 |
| Thursday 12 December 2013 | Asda | £434.18 |
| | Catisfield Scouts | £184.79 |
| Friday 13 December 2013 | Asda | £334.05 |
| Saturday 14 December 2013 | Asda | £420.04 |
| Sunday 15 December 2013 | Sainsburys | £327.21 |
| Thursday 19 December 2013 | Makro | £271.01 |
| | Catisfield Scouts | £262.88 |
| Friday 20 December 2013 | Makro | £269.55 |
| Sunday 22 December 2013 | sainsburys | £354.66 |
| | | |
| | Total | £3,528.69 |
The collections were very well organised by Peter Pollard and all the towing was done by President John and Peter Briscoe. Excellent co-operation was also seen with members changing shifts so that all slots were covered.
As arranged the collection on 12th has been rounded up and £450 will donated to Asda Fareham's charity "Charlie's Beach Hut" set up in memory of Charlie.
Mother Club collected £4,235 from Sainsburys and Fareham Shopping Centre. I do not know how many days they spent.
R.I.B.I. and District News.
A charity cycle race in aid of Prostate Cancer Research is planned for round the R.I.B.I. area for 21st June 2015.
The back of buses advertising campaign heralding Rotary is not to be continued! Has anyone seen any ads?
In place of the much regarded Group Study Exchange programme two vocational/ humanitarian visits are to take place this year. The first is due to go to Uganda in February to set up libraries in schools. The second will be in the summer when four Dentists will be going to an African country under the Dentaid scheme.
The provisional new Rotary club of Liphook is struggling to recruit enough members to apply to replace Petersfield club which closed late last year. Currently they only have a potential 12 members.
This year's Paul Harris Fellowship lunch will be held on Sunday 9th March at Oakdene Forest Park with the ticket price set at £19.50. More information will be available in due course.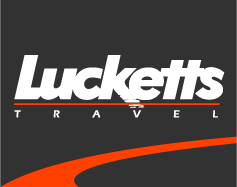 Please support our three remaining Business Partners. What are doing to help Vernon Clark add to the list? You must know someone in business with £100 (tax deductible) to spare.