Club History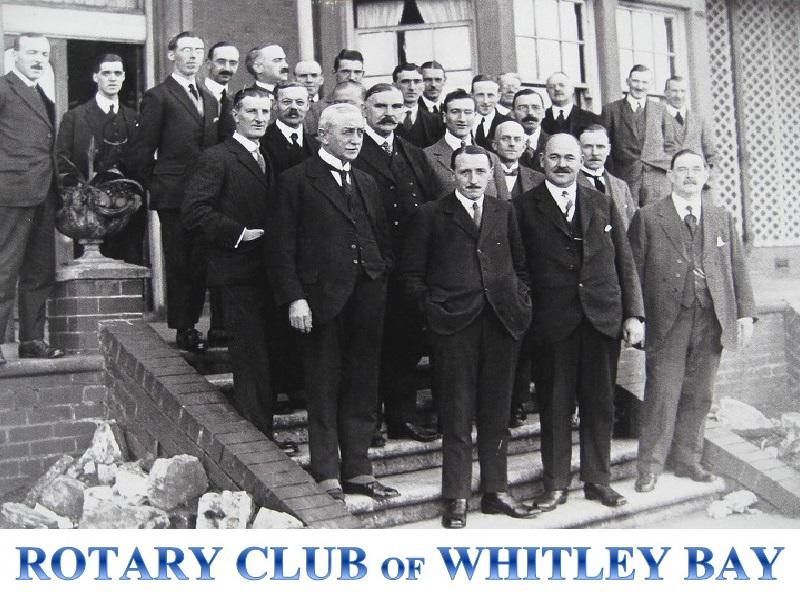 The first photograph of the Rotary Club of Whitley and Monkseaton
11.10.1923 Waverly Hotel ( Rex ) Whitley Bay
The picture was presented to the club by Mrs Charles Nicolson Widow of Nicholsons The Butchers in Whitley Bay
| | |
| --- | --- |
| Back Row | Standing in Front |
| | |
| Mr S A Smith | Mr J R Coates |
| County Alderman Albert Briggs ( Past President 1936 - 1937 ) | Mr H D Jackson |
| Mayor / Councillor A E Walton | Mr W S Rolls |
| Mr A J Rousell ( former County Borough Surveyor ) | Mr P Siger |
| Mr A Y Steel | Mr Stewart |
| Mr C Nicholsen | Mr J Dobson |
| Mr A McCaw | Mr A Barker ( Founder Vice President ) |
| Mr R Carling | Mr W A Barnett ( Founder President, Past President 1923 - 1926 ) |
| Mr R M Sharp ( Past President 1946 - 1947 ) | Mr R Bone ( Past President 1928 - 1929 ) |
| Mr T S Hetely ( Past President 1931 - 1932, 1941 - 1942 ) | Mr W A Laws ( Founder Secretary, Past President 1926 - 1928 ) |
| Mr Scott | |
| Dr J B Patterson ( Past President 1930 - 1931 ) | |
| Mr F Smith | |
Founder Members absent from the photograph ;

A W Golightly ( Past President 1929 - 1930 )

R H Newton

J W Slack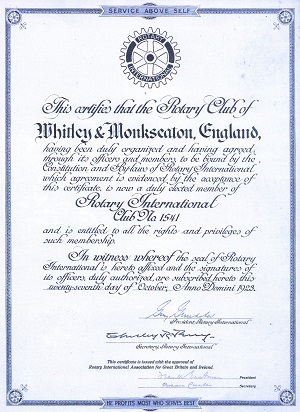 In August 1923, under the auspices of the Rotary Club of Newcastle upon Tyne, an interesting meeting was held at the Waverley Hotel in Whitley Bay ( now known as Rex Hotel ). After some discussion it was proposed that a Club would be formed in Whitley Bay, to be known as the 'Rotary Club of Whitley and Monkseaton'.
The first lunch meeting was held at the Waverley hotel on 01.10.1923 at a cost of 2s 6d, and the first Ladies Night was held on 04.12.1923 with a double ticket costing 7s 6d. the speaker was Miss Irene Ward MP.
In March 1924 the Club Charter was presented to the Club at a function attended by Rotarians and their wives, tickets 3s 6d.
The entrance fee to the Club was 2 Guineas and the annual subscription was 1/6 Guineas. Badges cost 2s 6d.
Twenty men from all walks of life were Founder Members of the Club, and since then many local business and professional men have been members of the Rotary Club and given service to the local community and served Rotary at District, National and International level.
To cover the history of the Club since its foundation would fill a large volume and some years had incomplete records, but the following highlights the past 90 years to give a flavour of Rotary in Whitley Bay ;
Over the years the Club has been involved in, and played an active part in, local, national and international projects - some