22nd May 2013 - Quiz night
A Quiz Night with an international theme!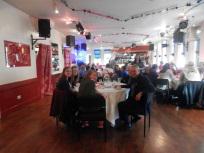 The International team led by Bob McDougall organised our inaugural quiz night, involving teams of young people from Cambuslang Universal Connections, Cambuslang Parish Church YF, the 150th Explorer Scouts and the 229 Boys Brigade Company. The young heads were supplemented by some slightly more senior additions from the Rotarians (we're not sure if we aided or hindered their performance!) The questions were set by local quizmaster Jonathon Cockayne and included general knowledge and a round with an international flavour. The evening was rounded off with a light supper of pizza and sandwiches. Congratulations to the winning team 'Let's get Quizzical' from Universal Connections and to all those who helped organise the evening.