Rotary Club helps Dan into new wheelchair
Dan Spencer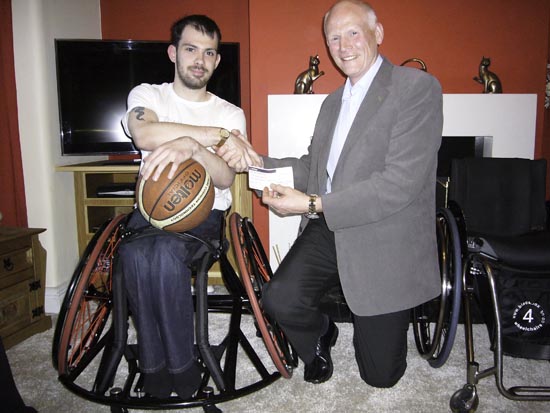 Prestatyn Rotary Club President, Alan Dewberry is pictured presenting Dan Spencer with a cheque to help pay for a specialist wheelchair for playing basketball. Dan is 23 years of age and has, amongst other things, spina bifida. Up until the age of 10 he was able to walk with the aid of crutches and splints and specially made boots. After surgery in 2000 things went awry and Dan ended up in his wheelchair full time. He was devastated. Everything he had been doing had to stop. He was no longer able to take part in his hobbies due to his wheelchair.
Just prior to Dan attending High school, he was informed of a disability sports fun day event in Denbigh and decided to go along and see what it was all about. There, Dan met a woman who would become his mentor and inspiration for the next ten years. Anna Jackson introduced herself to him and asked him if he had ever played wheelchair basketball, he said no but he would like to try. 13 years later, he has never looked back.
Wheelchair basketball turned Dan's life around for him in 2000 and in 2013 he is still as passionate about the sport as he was on the day he started. In the intervening years he has won 23 trophies and awards, he has played regionally for the Northwest Juniors under 15's & under 19's squads with many gold medal moments. He plays at league level in division 1 and last year he was selected to play in the under 23's Welsh National Squad. After completing his final season with the North West under 19's squad, he took his level one coaching qualification and passed, two years ago he became assistant coach to the North West Juniors under 15's squad. It felt good to be able to give something back.
This season Dan has had to sit the second half of the season out due to pressure sores caused by an ill-fitting wheelchair cushion. It set him back 4 months until the sores healed.
The season prior to that, Dan played for both the 1st division and the 3rd division teams for his Club, Vikings Wheelchair Basketball Club 2009. His club is based in St. Helens and he travels twice weekly for his training sessions and then weekends when he plays league games.
Last season he travelled to Northern Ireland with the Welsh National squad to take part in the Celtic Cup Tournament and Wales came home with Silver. Dan is trialling again this month to try and get selected once again for the competition being held in Cardiff. Being selected to play for his Country last year has been the proudest moment of his life, to play again for them this year and on home ground would be the icing on the cake.
Wheelchair basketball has given Dan so much more than a hobby. It rebuilt his confidence after it had been knocked out of him in 2000. It has given him independence; it has provided him with achievable goals. It has opened up a social network of friends that he would never have met any other way. It has instilled a determination to succeed no matter what.
Wheelchair basketball is a fast and furious game of thrills and spills and friendly rivalry. It is passionate and noisy, thrilling and high speed and it requires a serious level of commitment from both players and family alike.