Youth Activities
something for all ages
The club offers a range of opportunities encouraging young people to involve themselves in the local community.
Wood Green School Interact Club caters for pupils at the School, aged between 12 and 18, worklng together to help others in the community:
Wood Green School Interact Club Members Report September 2017

The annual Youth Speaks public speaking competition also helps to foster strong links with local schools.
Witney Rotary Club supports 'Kids Out' day each year, when a group of pupils, and their carers, from Springfield School are invited to spend an exciting day out at Legoland.
Also during the year a different group of pupils from Springfield School were treated to a visit to Crocodiles of the World at Brize Norton, the UK's only Crocodile Zoo
For those aged between 18 & 25 there's the challenge of participating in a week long residential course for the Rotary Youth Leadership Award, (RYLA).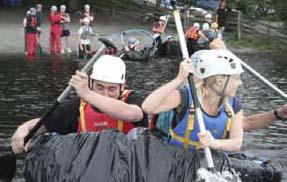 RYLA participants learning to steer their DIY Coracle
For further details about the Witney Rotary Club's involvement in activities for young people contact secretary@witneyrotary.co.uk