International
The club supports two worldwide projects and a third in Malawi - all designed to help people cope with disaster or live a better life.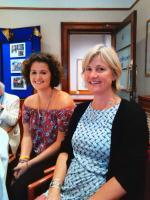 Lasta year, the club has completed a major project - raising £10,000 for End Polio Now, with Daniel's cycle ride from Land's End to John O'Groats in June.
Now, club members are focusing on Steka, which is a grass roots Malawian charity created by Godknows Maseko to provide a family home for (currently 54) very vulnerable children rescued from the streets, or from traumatic situations - more details here: https://supportsteka.wordpress.com/
His latest plan is to raise money to help build vocation skills centres, so that as the children grow, they can learn to support themselves, and this is where Portobello Rotary comes in.Club members are supporting Steka and working on applying for a grant - in conjunction with other Rotary clubs - to help Godknows' vision.

Another recent international initiative has been to purchase a Shelterbox - these boxes are sent to wherever people are suffering from natural disasters like floods, fires or earthquakes and provide all the material people need to make a home, albeit a temporary one - like a tent, cooking materials, solar panels, even pencils and drawing materials for children. The club had hoped that this Shelterbox would go to Colombia, devastated by mud slides and we'll be able to track it shortly, so will know for definite. The Shelterbox contact details are here: http://www.shelterbox.org
Finally, the club fundraises for End Polio Now and is planning an event for World Polio Day in October.