International & Foundation
The International & Foundation Committee is one of four committees of the Rotary Club of Preston (Torbay). Consisting of seven members, the committee has the responsibility of organising fund raising events when disasters strike anywhere in the world. In addition, the committee will work alongside other Rotary Clubs on various projects as described below. Click on the links below or on the pictures on the right to learn more about our projects:
POLIO ERRADICATION
Please click on the "End Polio Now" picture to the right to read updates
SHELTER BOX
Often working with ShelterBox (www.shelterbox.org), collecting and donating cash to purchase additional ShelterBoxes to send to disaster areas.
SAND DAMS
An innovative method of water collection and storage in areas where water is in short supply (www.excellentdevelopment.com).
ROLL-ALONG
Recently, we have donated money to purchase Roll-Along water barrels, again to be used in areas where water has to be collected some distance from where it is needed (www.rolloutthebarrel.org).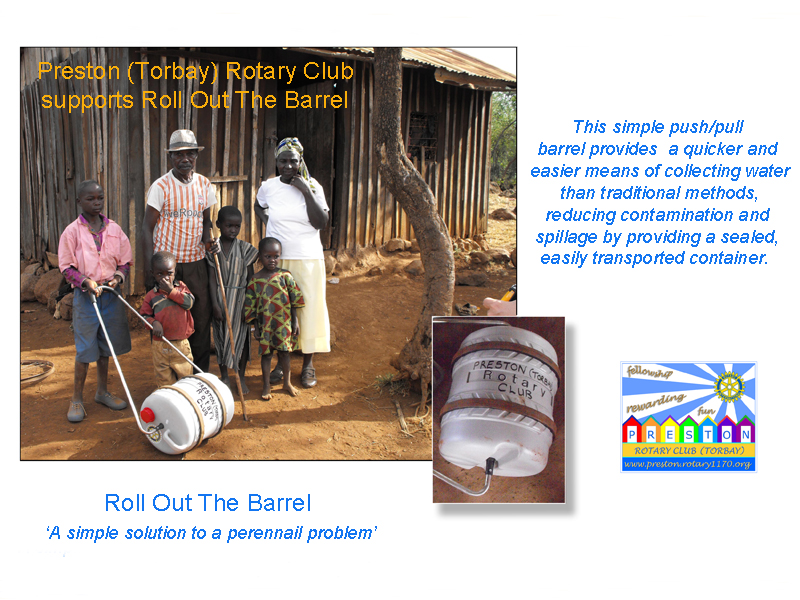 WATER AID
As a committee, we raise cash by organising events such as our sponsored annual coastal walk from Brixham to Torquay Harbour, which raises funds for Water Aid (www.wateraid.org/uk). See also our special page on "Supporting WaterAid" from our Homepage under the "What we do: ↓ " tab.
SUPPORT TO CLUBS ABROAD
During the second half of 2014 we established contact with the Rotary Club of La Cruz in Chile and we are currently supporting the re-establishment of a student exchange managed by this club and their twin club, the Rotary Club of Rodeo de La Cruz in Argentina. (Read more about how the support started)
SOCIAL EVENTS
We also organise social events for our Club, such as the annual International Meal open to all Club members and their partners, always at a local restaurant selected to suit the event's international theme and Club members' taste.
YOUNG PEOPLE
In the past we have also given young people the opportunity to take part in sponsored work experience schemes in other countries such as the Rotary Group Study Exchange (GSE). The programme is a cultural and vocational exchange opportunity for business people and professionals between the ages of 25 and 40 intended to help develop mutual understanding and the opportunity to assist each other.
SUPPORT TO OTHER CLUB COMMITTEES
We co-ordinate our activities in support of other Club committees and their fund raising activities as well as our Club's involvement with Rotary International, supporting as appropriate global initiatives, activities and fund raising projects.
ROTARY FOUNDATION
We also support and contribute to Rotary Foundation which as Rotary's general charity funds many measures and exchanges to aid international understanding.