Youth Service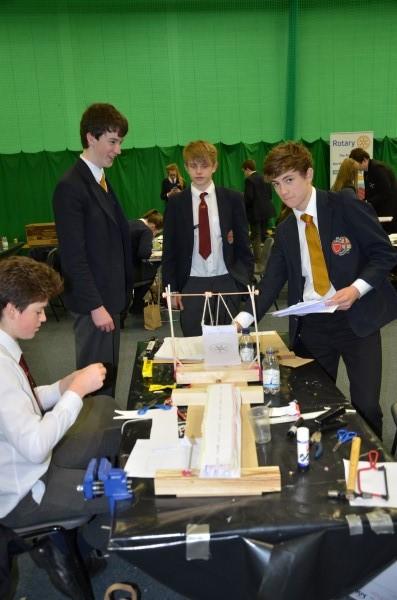 Rotary's programmes for young people can change the lives of those who participate.
Youth Service is the name that Rotary gives to its programmes aimed at young people up to the age of 30.
The Club has active involvement in a number of programmes that are organised on a District Level.
Each year the Club supports the following District or national initiatives:
Rotary Youth Leadership Award (RYLA). The District hosts a very successful programme held each year at Hebden Hey, near Hedben Bridge in West Yorkshire. Together with the Northallerton Rotary Club, each year we seek young people in the age range 16 to 17 attending Northallerton School and Sixth Form College to take up the 2 places offered on the programme (1 each funded by the Northallerton Mowbray Club and the Northallerton Club). A exciting and worthwhile week of leadership challenges awaits those who take part. Based on previous feedback, the young people who take part in this annual event find this a fulfilling experience, and something that stands them in good stead as they move on towards adulthood.
Rotary Young Chef. Another regular programme aimed at budding chefs - boy or girl. A Club round before Christmas leads to the successful young chef going on to regional competitions, and if succesful into the national final. And this is not just a pipe dream. Our first Club Young Chef did progress to that national final, and although he did not win at that stage this was a fantastic experience for him, and all who had been involved in helping him to that stage in the competition.
Technology Tournament. This annual event is held across the country and we join with other clubs from the immediate area to hold an event in Catterick, which is open to teams from schools across the area at all age ranges. Club members who assist in this event never cease to be amazed at the inventiveness and enthusiasm of the teams as they try to design and build a working solution to the challenge set.
The Club sponsors a young citizen award and an award for success at AS Level at Northallerton School and Sixth Form College
In 2015 we started a new project - Raising Youth Aspirations. This has been put in place with Northallerton School and Sixth Form College. Selected students attended the programme which took place at Carlton Lodge, in Carlton Minniot, and was jointly funded with the Northallerton Rotary Club.Feedback from the staff to a joint event for the 2 clubs suggested this was a very successful project, and we will be funding a similar programme in 2016
To raise funds for these projects our Committee organises one of the Club's main fundraisers - The Santa Collections at Supermarkerts and Santas Sleigh round parts of the town. This happens in the period immeadiately before Christmas. We started our collection this year at B&M, and the picture below shows Santa and his helpers ready to receive donations to start the ball rolling in 2015. Over the period over £1600 was raised.This should mean we have sufficient funds to be able to put on a full range of activities in 2016.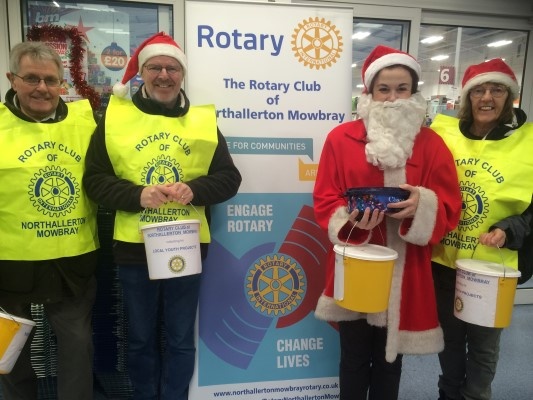 Contact Graham Bell about this page: