Fellowship & Luncheon
.
Fellowship is Rotary - much can be spoken; many a word is quoted, but in Rotary the true meaning will be found that is equal to all.
The club ;meeting is held on a Thursday - 12:45 for 1pm at Hamptons Sports & Leisure (formerly the Marconi Athletics and Social Club), situated off Beehive Lane, Great Baddow, Chelmsford, CM2 9RX, or at some other venue in the Chelmsford area. If you would like to attend one of our lunchtime meetings, just contact our Attendance Officer, Malcolm Hamlyn. We'll be pleased to welcome you!
President's Dinner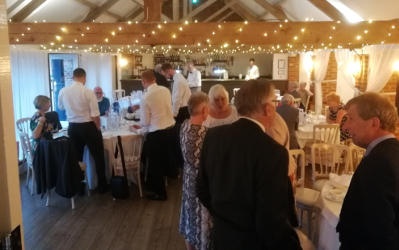 Our President's Dinner at Little Channels on Friday, 24 May 2019, was attended by members and their spouses and by numerous guests, including District Governor Lesley Sulley, Assistant Governor Ann Holmes and members of the other Chelmsford Clubs and the Rotary Club of Ingatestone (an "honorary Chelmsford Club" as President Anne described them). We enjoyed a very nice two-course meal, during which a magician toured the tables performing card tricks.
After the meal District Governor mentioned some of the achievements of President Anne's year and proposed the toast to the Rotary Club of Chelmsford. President Anne responded on the Club's behalf.
We then had a ten-minute "comfort break" before a short magic show, which included what the magician described as the two oldest-known tricks among others.
After thanking everyone President Anne proposed the Rotary toast before we all made our ways home.