Our Activities
Home : About Our Club : Our Satellite Club : Our Latest News : Our Memory Cafe : Our Polio Wood : KYBPD : Our Rotakids : Pavilion Night : North Durham Swimathon : The Rotary Foundation : Community projects : International projects : Youth Service : Joining Our Club : How To Find Us: Contact Us

Abseiling - Fire Walking - Sub-aqua Diving.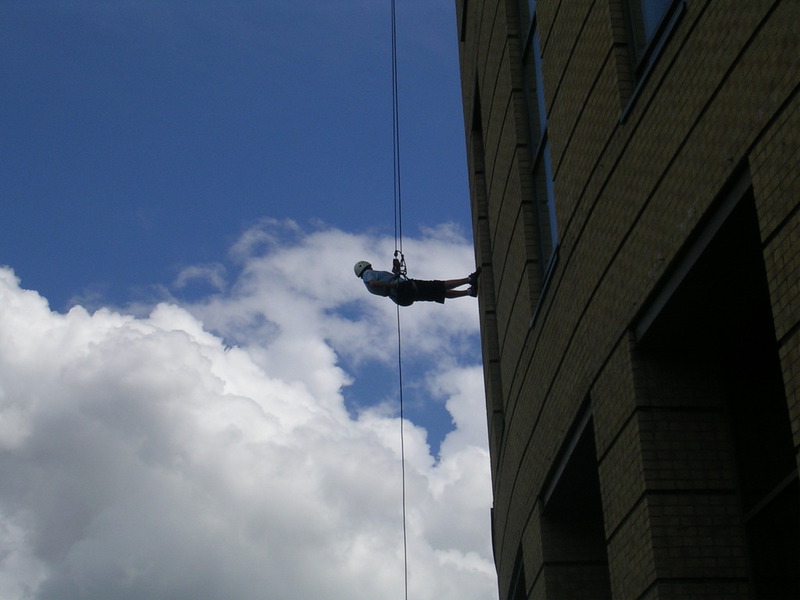 We've done it!
We like to do some things out of the ordinary occasionally. If you ever saw some strange people abseiling from the roof of the Gateshead Hilton Hotel, or walking barefoot over hot coals or indeed holding a meeting under water in full diving kit, that could have been us! Our abseil was for the Great North Air Ambulance and raised over 4500.00. (Pictured above is June, abseiling from the top of the Gateshead Hilton in July 2009.)
Of course, if this is not your cup of tea, you might like to get involved in the wide range of other safer activities that we do.
We are very proud of what we have achieved so far. Our members have travelled as far as West Africa, South Africa, India and Sri-Lanka carrying out the work of our club.
You can learn more about us here. So go ahead and browse our site and if possible, pay us a visit sometime.
Click on the links below to learn more about our club and our activities
Other activities have included
:
Murder Mystery Evenings
Charity Golf Days
Concerts
Our Annual Dog Show
Halloween in the Park
Nights at the dogs - Brough Park
Theme nights
Nights at the Pavilion Restaurant
Wine tasting evenings etc
Supporting Community Fun Days and other community events
Carol singing in residential care homes
We also enjoy a wide range of social events including:
Safari Suppers
Theatre Trips
Brewery trips
Meals out etc
Treasure Hunts
BBQs
Our members enjoyed a trip to the European Parliament in Strasbourg.
When planning our year, we aim to have a good mix of fund-raising and social activities. All ideas from our members are welcome and considered.
TO LEARN ABOUT OUR RECENT AND FUTURE EVENTS
SEE OUR LATEST NEWS