Our Club History
Mon 1st October 2012 - Sat 1st June 2013
An introduction to the Rotary Club of Worcester Severn in the words of Alwyn Davies, the Founder President of the Club.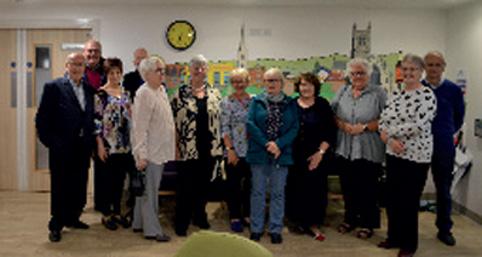 Alwyn Davies, the Founder President of our Club, writes: In 1981 there existed two Rotary Clubs within the Worcester City area. (Rotary Clubs of Worcester and Worcester South) Both met at lunch times and it became apparent that potential members were not prepared to meet at lunchtimes. Despite the need for an evening club being proved, the Worcester South Club were reluctant to change their lunch time arrangements but instead, kindly agreed to sponsor a new evening club. The District Extension Officer, Ted Whitehouse of the Worcester Club was asked to take up the cudgel and form this new club.
I was approached and met with Ted and we agreed that I should attempt to find four like-minded persons who would be prepared to join me in this venture. The four who joined me, as 'The Founding Five' were Derek Carmichael, Paul Westcott, Eric Dickinson and Dennis Ogle.
It evolved from our 'Steering Group' meetings with Ted Whitehouse that we would try to recruit two or three members at a time rather than attempt a large influx of new members. This process proved successful and over the next few months, having met on a variety of weekday evenings and at a variety of venues, we eventually agreed that our meeting night would be Thursdays and that the venue would be The Star Hotel, Foregate Street, Worcester.
To become a Rotary Club it was necessary for us to recruit a minimum of 25 members and so from September 1981 to February, 1982 we grew from 'The Founding Five' to 29 members. The inaugural meeting took place on February 25th.1982 at The Guildhall. The following officers were elected: -
President: Alwyn Davies
Senior Vice President: Donald Forbes
Junior Vice President: Eric Dickinson
Secretary: Derek Carmichael
Treasurer: Brian Jenkins
Between February and June 1982, the club established a structure of weekly meetings based on two short business meetings and two dinner meetings per month. This structure enabled the club to establish its Fellowship base and enable members to discuss Community Service projects. Charles Taylor oversaw our programme and Gareth Hughes became our 'Mr. Tick' Attendance Officer. As the officer responsible for 'House Affairs' Gareth also tried to keep Mr. and Mrs. Bennett of The Star hotel under control.
Our Charter was celebrated at The Guildhall on 11th. June 1982, when Peter Walker, Worcester's MP attended as our Guest Speaker. Our magnificent 'President's Jewel' was presented to us by Cecil Duckworth, President of the Rotary Club of Worcester South.
Our Club underway, we were already beginning to establish it in all spheres of Rotary both locally and within the District. The spirit engendered from our club's formation has continued throughout its lifetime. This is much appreciated by its members and visitors alike. It was a pleasure to have been there at the beginning and sometimes I reflect, "hasn't 30 years gone by quickly"!
Alwyn Davies
Founder President 1981/1983
Web Master's Footnote:
Thanks for writing this page– go to Paul Harris Fellow Alwyn who, not only largely responsible for founding the club, continues to be an active member. Our club was honoured when he was appointed District Governor, 1989-90.
For over 30 years the Club has worked to support local charities and community ventures, as well as national and international projects, such as the eradication of polio, worldwide. We organise a variety of events to raise the necessary funds often supported by our Inner Wheel Club and joining forces with the other Rotary Clubs of Worcester for bigger activities. Meeting on a Thursday evening at the Worcester Golf and Country Club we are always happy to welcome new members who are looking for fellowship, fun and providing service to the community both on a local level and worldwide.