Membership
What is Rotary and what do we do?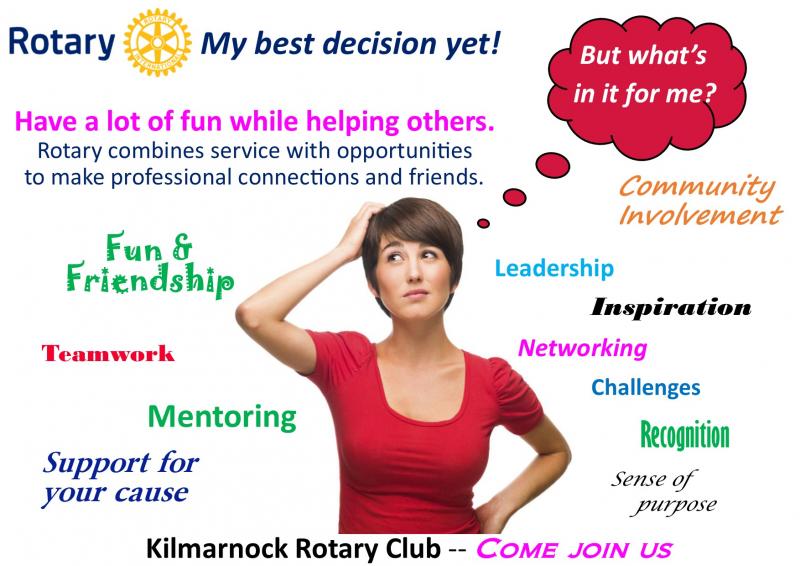 Our Membership Group deal with all matters to do with membership of Rotary International in the Kilmarnock area. They are led this year by Iain Shaw and include Tom McKellar, Willie Stewart, Bill McGregor, David Hill, Alex Steven and George Miller.
We are always looking for potential new members to swell our ranks. Could it be for you?
What is Rotary and what do we do? This Link will give you more information about Rotary in Great Britain & Ireland while this one will give you more information on the work of Rotary International.
If what you see there appeals to you and you know one of our members please speak to them for further information.
If you are based in the Kilmarnock area but do not know any of our members then please contact James using the link below and one of us will get in touch with you.
If you do not live or work in the Kilmarnock, Scotland area then please use this Club Locator to find clubs near you to contact.
The Membership Action Group is tasked with increasing Club Membership while ensuring that our meetings are always interesting and topical and new members are properly looked after. We acknowledge that people may not want to make an immediate to join us and we offer an Associate Membership to allow you to 'did your toe in the water' so to speak and get to know us.
We are also conscious that our time, place and style of meeting may not be everyone's cup of tea so we have started an online satellite club in the West of Scotland (www.ewsrotary.org.uk) giving them full control of where, when and how they meet while providing the benefits of membership of the Rotary International organisation.