Membership
If you would like to find out more about the benefits of Rotary Membership, please contact us.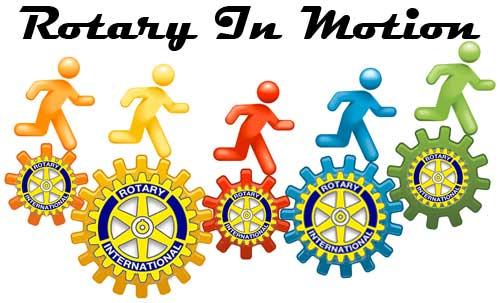 Committee Convenor: Margaret Tait
Rotary Month - August
Club Membership
Every Rotary Club operates independently within a common RI constitution. Membership is drawn from the local community.
Meetings
At Tranent we meet on a Tuesday Evening at 18:45 for 19:00. Business often includes a talk on a subject of general interest by an outside speaker.
Every Rotarian has the right to attend the meeting of any other club and Rotarians may invite non-Rotarian guests to their own club meetings.
Weekly meetings promote fellowship and acquaintance. Through this fellowship Rotarians find the inspiration to serve the community.
Service to the community requires Rotarians to devote their time, energy and professional skills to particular projects. Although funds are often raised for charity this is not a Rotary club's first aim. The emphasis is on service by each individual Rotarian.
Why Join Rotary
Fellowship/Friendship: In an increasingly complex world, Rotary provides one of the most basic human needs: the need for friendship and fellowship. It is one of two reasons why Rotary began in 1905.

Personal Growth and Development:

Membership in Rotary continues ones growth and education in human relations and personal development.

Leadership Development: Rotary is an organisation of leaders and successful people. Serving in Rotary positions is like a college education. Leadership: - learning how to motivate, influence and lead leaders.

Enjoyable, Fun:

Rotary is fun, a lot of fun. Each meeting is fun. The club projects are fun. Social activities are fun. The service is fun.

Public Speaking Skills: Many individuals who joined Rotary were afraid to speak in public. Rotary develops confidence and skill in public communication and the opportunity to practice and perfect these skills.

Citizenship in the World: Every Rotarian wears a pin badge that says "Rotary International." There are few places on the globe that do not have a Rotary Club. Every Rotarian is welcome, even encouraged, to attend any of the 29,000 clubs in 194 nations and geographical regions. This means instant friends in both ones own community and in the world community.

Family Programs:

Rotary provides one of the world's largest youth exchange programs; high school and college clubs for future Rotarians; opportunities for spouse involvement; and a host of activities designed to help family members in growth and the development of family values.

The Development of Ethics:

Rotarians practice a 4-Way Test that governs ones ethical standards. Rotarians are expected to be ethical in business and personal relationships.

Cultural Awareness: Around the world, practically every religion, country, culture, race, creed, political persuasion, language, colour and ethnic identity is found in Rotary. It is a cross section of the world's most prominent citizens from every background. Rotarians become aware of their cultures and learn to love and work with people everywhere. They become better citizens of their countries in the process.