Young People
Our Youth Service Committee is involved with several projects each year, some of which are carried out on an annual basis. Our work is aimed at providing opportunities for young people in our area.
Our Youth Service Committee is involved with several projects each year, some of which are carried out on an annual basis. Our work is aimed at providing opportunities for young people in our area. Some projects are described below
RYLA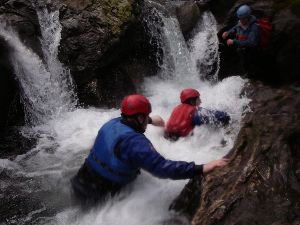 Rotary Youth Leadership Award is Rotary's training programme for young leaders. This is designed to promote leadership, citizenship, and personal growth. RYLA was officially adopted by Rotary International in 1971, and is still one of the fastest growing programmes of Rotary service. RYLA programmes sometimes lead to the formation or strengthening of Rotaract and Interact clubs. RYLA participants may go on to become youth exchange students or ambassadorial scholars.
RYLA aims to:
Demonstrate Rotary's respect and concern for youth.
Provide an effective training experience for selected youth.
Encourage leadership of youth by youth.
Enable young people to render service to their communities.
RYLA is available to students aged 16 or 17 whilst on the course.
RYPEN
This course is highly motivational and is based upon adventurous activities and team building exercises including conservation exercises, hiking, canoeing, climbing and a two day self-supportrd expedition. It is aimed at young people who are yet to discover their untapped potential. It is specifically designed to develop self-belief and confidence. Students must be aged 14 - 16 on 31 August.
Calvert Trust
The Club also send people who are disabled either physically or mentally to for a week's course at the Clavert Trust in the Lake District where the many activities are supervised and led by fully-qualified instructors who are specially trained to work with those with even the most severe and profound of physical, sensory and/or learning disabilities.
All of the activity courses are led by designated group instructors who remain with the group throughout the whole of the week. The instructors thus gain detailed knowledge of the abilities of each client, and can therefore help everyone to achieve a measure of success. The courses are custom-designed to fulfill the specific aims and objectives of those taking part on the course. The course will typically include a range from activities such as sailing, climbing and abseiling, riding and trap driving, water sports and activities
'hill walking, archery, orienteering caving and many more!
The following is a quote for someone who recently attended the course:
'If you can do this activity programme, you can do anything! I have realized that I can achieve much more than I thought possible. It has been a trip that I will never forget. It helped me to see past my disability.'
Over 1,400 students from around 100 schools in Lancashire and Cumbria enter the Rotary Technology Tournament at ten regional venues which has been sponsored for the past few years BAE Systems. Our regional tournament is held at Hollins College Hollins Lane Accrington and our Club co-ordinates the organisation of the event.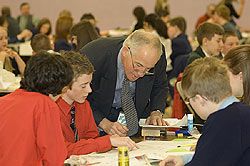 From Preston to Carlisle, over 350 teams of students, as well as many teacher teams, spend the best part of a day tackling the 'design and build' task for the year. Each team is given an identical set of materials with which to work and then having considered a number of designs to satisfy the written criteria, the teams then set about building and demonstrating their model to a panel of judges.
The judges then test the models and select the winners and runners up in each of three categories - foundation, intermediate and advanced - depending on the school year of the students concerned. Teacher teams are also entered.
In their selection, the judges consider the use of time and resources, team organisation and management, design analysis, design development, and then the skills, use of materials and final testing of the solution.