Maggie's Cheltenham Gold Cup Day
Fri 16th March 2018 at 12.00 - 18.00
The Rotary Club of Thornhill and District host "Maggie's Cheltenham Gold Cup Day" Friday 16th March 2018 @ The Friars Carse Hotel
UPDATE 08/03/2018
Deadline for payment of uncollected tickets is Tuesday 13th March 2018 this is so we can give final numbers to Friars Carse Hotel. If anyone has any queries or questions please dont hesitate to contact Alastair or Brian direct.
UPDATE 04/03/2018
Raising a Gold Cup for Maggie
BACKING MAGGIE'S: Rotarian Alastair Sillars and his wife Brenda are getting ready for the off.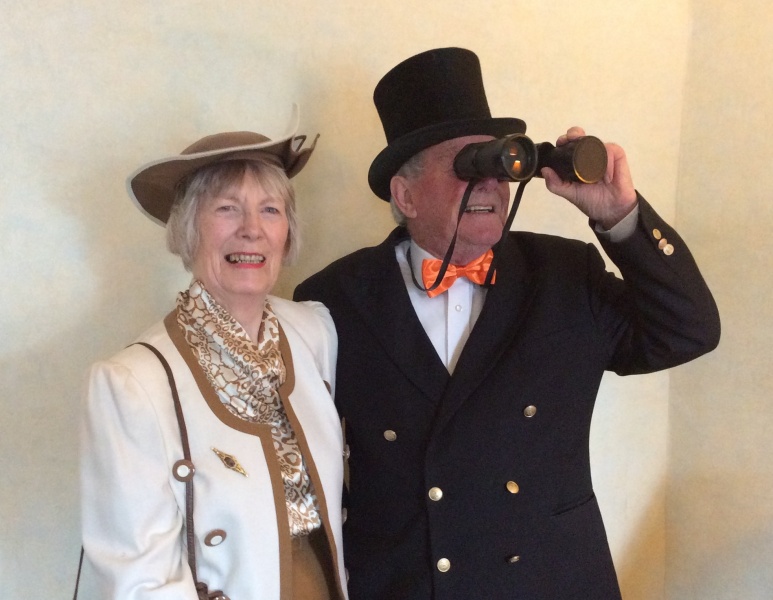 "Maggie's Cheltenham Gold Cup Day"
The Rotary Club of Thornhill and District are hosting a charity race afternoon in aid of "Maggie's" at The Friars Carse Country Hotel, to be be held on Cheltenham Gold Cup Day, Friday 16th March 2018.
The Cheltenham Festival is the highlight of the Jump season with thousands of enthusiastic racegoers descending on the small spa town to soak up and enjoy the special atmosphere generated throughout this week. But now in a clever and imaginative venture the Thornhill and District Rotary Club is bringing the excitement and drama of Cheltenham's Gold Cup day to Dumfries and Galloway, all in the aid of charity.
On Friday, March 16 you can experience the exhilaration and drama at Friars Carse Hotel where its marquee has been transformed. "Racegoers" will be cocooned in an environment matching the members' enclosure with the races being shown live on giant screens.
The Rotary club is raising funds for the Maggie's Centre and thus the event has been named Maggie's Cheltenham Gold Cup Day. Rotarian Alastair Sillars has been significantly involved in the organisation of this special day for Maggie's: "Our club has been involved with Maggie's over the years and we believe it is fitting that we recognise the inspiration of local woman Maggie Keswick in creating a blueprint for cancer care centres.
"Since her death in 1995, Maggie's Centres have opened all over the country with many more currently in development. Its work has been praised by leading doctors who recognise the importance of meeting the practical, emotional and social needs of people with cancer and as Maggie's local Rotary club we want to help as much as we can."
The day will commence at 12.30pm with a Prosecco reception prior to the first race at 1.30pm (the last televised race is at 4.10pm). Afternoon tea will be served and the Creative Whisky Company will offer samples of its gin and whisky products while Moniaive Chocolatiers will sweeten the event with its Tartan Chocolates.
In true Cheltenham Festival tradition, it is hoped that racegoers will get in the spirit and dress up for the occasion. A fun day is promised for everyone with Maggie's benefiting from all of the proceeds of the day.
The cost per ticket is £40 and should you wish to be part of the drama while helping an excellent charity please send a cheque for ticket/s along with your name and address to:
Mr B Hunter, Dunnit Knowe, Corstorphine Road, Thornhill, DG3 5NB.
email: hunter387@btinternet.com
Cheques should be made payable to "Thornhill and District Rotary Club"
For further information telephone Alastair Sillars on 07881 930635.
A huge thank you goes to Nick Brown (General Manager) of The Friars Carse Hotel for allowing access to this fantastic venue.
A.M./A.S. 04/03/2018
---