WELCOME TO THE HOME
PAGE OF THE RIPLEY AND
SEND ROTARY CLUB
---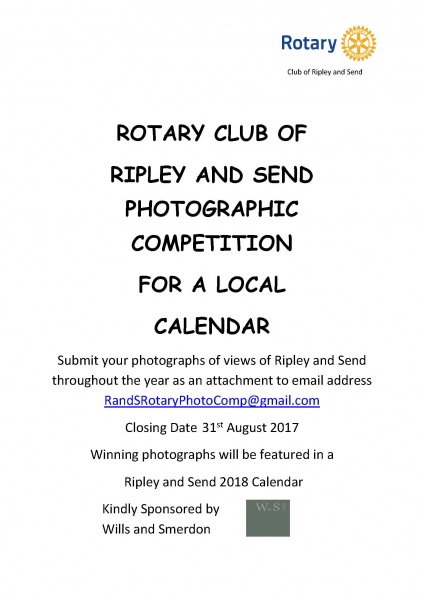 THIS YEAR IN CONJUNCTION WITH WILLS & SMEARDON WE WILL BE
PRODUCING A CALENDAR BASED ON YOUR IMAGES
ALL PROCEEDS FROM THE SALES OF THE CALENDAR
WILL GO TO LOCAL GOOD CAUSES
WHY NOT APPLY FOR YOUR ORGANISATION?
ENTRIES CLOSE ON 31ST AUGUST 2017
---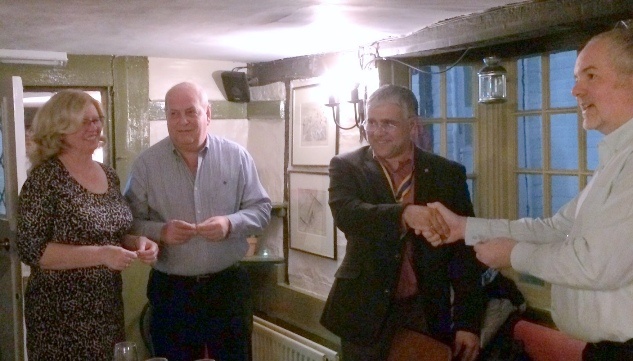 At our first Meeting in March 2016 we were pleased to welcome three new Members to our Club. Seen above are Gill Barr-Colbeck and her husband David who were both wecomed by President Michael as Full Members. Joining them was Associate Member Neil Freeman who has been helping us out now for a number of years.
We look forward to working with them in the forthcoming years and trust they will get as much Fun and Fellowship as our present Members have.

2016 PLANS

Last year we were able to distribute over £4000 to Local Charities. Unfortunately due to a last minute cancellation we were not able to collect at Sainsbury's in Burpham.
However due to the generosity of the Villagers of Ripley and Send and West Byfleet Waitrose Shoppers we still managed to raise just over £2500, which we will be distributing later on this year.
Our Major Fund Raising efforts this year ares going to be to help with the fitting out of the Woking and Sam Beare Hospices who are not only relocating to new premises, but also enlarging their catchment area to include the Villages of Ripley and Send.

In order to acheive this we are by joining forces with other local Rotary Clubs and hopefully will be further increasing our Joint Collection with a "Matching Grant" from Rotary's own Charity - The Rotary Foundation.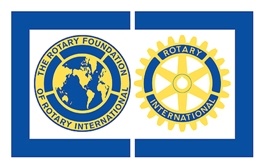 This was the approach that we were able to follow for the restoration of the Ripley Bus Shelter.
If you believe that this is an activity that you would like to get involved in, please contact our Malcolm on 01483 573274 or come along to one of our Tuesday Evening Meetings at the Talbot Inn.
If you would like to help, contributions can be made by sending cheques made payable to the Rotary Club of Ripley and Send Trust Fund c/o our Hon. Treasuer Tony Finn @ 39 Send Road, Send, Woking, GU23 7EU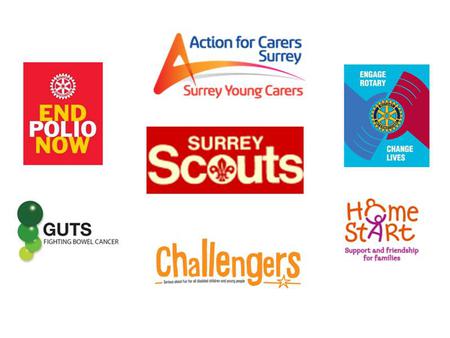 ---
The Rotary Club of Ripley and Send was founded in 1975 by a small group of businessmen keen on supporting both the local and International Community, yet at the same time enjoying each other's companionship. Since then we have raised over �400000 for various causes and provide on going help to both the young and the elderly both Internationally and within the Local Community.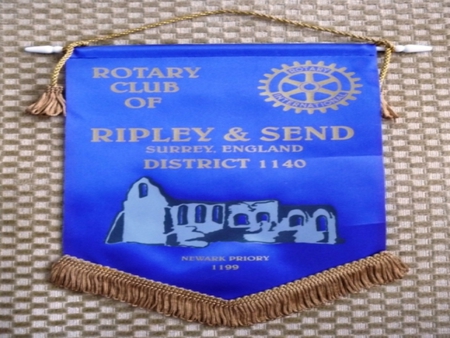 We are twinned with the Confolens Club in France with regular exchanges taking place. We meet on a regular basis at the Talbot Inn in Ripley. Our main event is leading the organisation of the Ripley Event, a Fair which reputably has been going since Edward II's time.

However we are also very keen to support smaller local Charities and Organisations not having the Corporate Infrastructure to organise their own dedicated Fund Raising activity.

For those readers of this having a wider International Vision we are also very active in raising funds for International Disasters - such as the recent West African Ebola Crisis and Hurricane Katrina in Phillipines. Rotary International is also committed to "End Polio Now" and we are pleased to announce that Nigeria has now been POLIO FREE for the past twelve months

We are always pleased to have visitors at any of our meetings. Please spend a while and look through our web site to find out more of who we are, what we do; and what we are planning.
---
---
---
---
If you are still interested - then take the night off and visit us at
The Talbot Ripley - at 1930 for 2000 hours
Details of the Friends of Rotary Programme can be found on the Membership Page
Meeting Details
Interested in joining Rotary
In the next 30 days...
Social Media...
https://www.facebook.com/Rotary-Club-of-Ripley-Send-714818378652417/
https://www.facebook.com/Rotary-Club-of-Ripley-Send-714818378652417/
Meeting Information...
We meet on Tuesdays at 1930 for 2000 (No Meeting following a Bank Holiday) From 29th October 2013
Talbot Hotel,
High Street
Ripley GU23 6BB tel: 01483 225188