About us
Message from the President, July 2019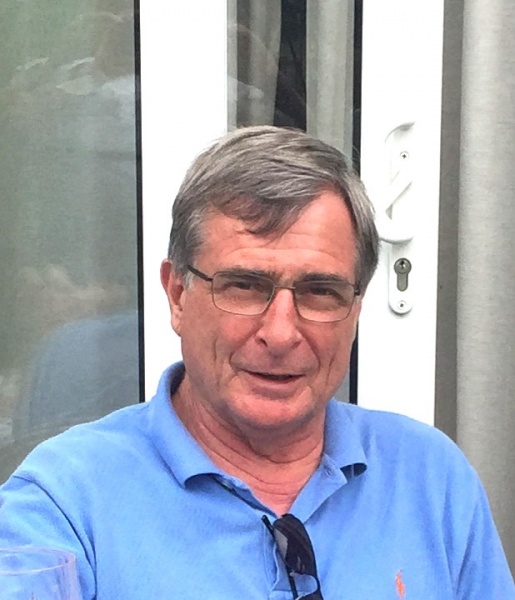 My membership at the Rotary Club of Morden since June, 2013 is relatively brief compared to that of many of my colleagues. I therefore see it as an honour and a privilege to have been elected as the president in this Rotary year, 2019-2020.
The Rotary Club of Morden has happily served the communities of Morden and Lower Morden since 1935. We enjoy a strong bond with our communities. Meeting at the Morden Brook every Thursday evening has been a regular mainstay in an otherwise hectic life. The partnership and fellowship we share makes for an enjoyable, friendly evening mixing business and communion for a very pleasurable hour and a half (or sometimes a little more!).
During this year we face many challenges not the least of which is our membership. I hope to redouble efforts this year such that at this time in 2020 we have a strong, healthy and inspired membership.
Amongst our many connections with our communities I trust we can continue with our very successful annual Rotary Young Chef competition at South Thames College, Merton Campus. Under immediate past president Margaret's stewardship each year this has proved a very popular event.
We also enjoy the annual Christmas Collections and will continue with these again this year. This is at once a cheerful occasion and a mainstay for us in our annual fund-raising effort. We have, on a number of occasions heard people say Christmas starts in their homes when the Morden Rotary Christmas float comes knocking!
We hope also to continue with Dictionaries 4 Life, where beautifully illustrated dictionaries are donated by RC Morden to three of our local primary school 6th graders. Each year, colleague Phil Watson does a sterling job and manages to store all the dictionaries until it is time for us to distribute them. On yet another venture, Phil has enjoyed and will, we hope, continue to extend our support for the Wimbledon Sailing Club.
Rotary Kids Out, where many Rotary clubs around Britain and Ireland sponsor a day out for disabled children remains yet another successful venture for us. Colleague Tony Hunn will hopefully continue with his successful stewardship of this event and we thank The Levers Trust for their continuing support.
In terms of fellowship and entertainment we often invite inspiring speakers who happily share their experiences with us, mostly for fund-raising for whichever charity they support. We recently hosted Alan Spencer, a disabled veteran who pedalled around the World War graves in Northern France to raise funds for Haig Homes, providing housing for veterans. Colleague John Telford always manages to invite engaging and entertaining speakers from all walks of life.
We also enjoy a number of fellowship celebrations at Cuddington Golf Club where we celebrate special occasions. We continue to thank our Fellowship secretary, Tony Hunn.
Finally, RC Morden extends its support on an international level to my own charity, ABCDreams (UK). Here we have supported just over 100 vulnerable school children in Northern Tanzania with a food planting programme and in one year with school uniforms.
While on the international theme we also support Shelter Box, a charity that sends shelter and utensils to relieve victims of natural disasters worldwide.

I look forward to a year of challenges and accomplishments,
John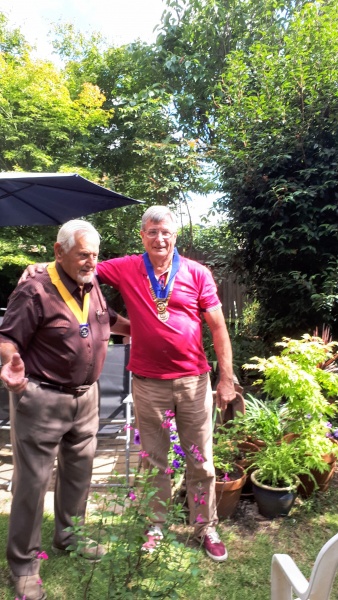 Message from the President, June 2019
What a fantastic month of May for Rotary. A small group of Rotarians visited the Tadworth Children's Trust. We gathered in the magnificent building and learned something of its history before our guide walked with us through amazing gardens that house the living quarters of many of the children. The children are looked after so carefully often on an individual basis. Most of the children are too incapacitated to live at home and the Trust is able to provide private quarters for parents to visit and have their child live with them for short periods. The gardens are maintained by mainly volunteers. We all felt pleased that we were able to hand over a cheque to support such a worthy charity.
It was a great surprise to be invited to attend the Mayor Making ceremony at Crown House. Mayor Mary handed over her chain of office to our new Mayor – Janice Howard. We wish her well in her new role. Mayor Janice is supported by Deputy Mayor Edward Foley. Edward stepped into his new role when he represented the Mayor at Dogwatch the following weekend. I enjoyed showing him round.
We have had some really interesting speakers during this last year and we were pleased to welcome Alan Spencer back to tell us about the Veterans cycling group adventure to Mons to mark D Day. Alan gave such an interesting talk and we have asked him to visit us again.
Well done to Joss and his team who set up the Rotary tent at Cheam Rotary Fair. Morden Family Funday, this year will be Sunday, 14th July when we need lots of support.
Sadly, very soon, I have to relinquish the tenuous hold that I have on the Rotary Chair – just as I am beginning to get the hang of it. John will step in on 1st July. Hope to see you all at the IN/OUT party on 30th June. Fab food from Phil and the Greenhouse Bar will be in full swing.
I thank you all for your amazing support over the year and I am sure you will extend the same support to John. Meanwhile I am looking forward to Cuddington when our speaker is Dean Dawn.
Margaret
Message from the President, May 2019
This has been another busy month. I attended Club Assembly with President Elect John and Rotarians Tony and Jim. An interesting morning. I joined the community chair group and the general consensus was that there was a greater need for care in the community. Either running a weekly get-together for the elderly to give them a cooked meal and some entertainment or helping the homeless. We certainly have pulled together in a big way to support Faith in Action with our donation of clothes and blankets and Joss and Brian collecting spare food from Asda to help with the Wednesday and Friday meals.
Thank you to all Rotarians for the huge amount that you do to help in our community.
My thanks also to John Telford for the really good speakers he arranges for us. I am glad we were able to get a speaker from Cancer in Children. I realise this is a sad subject but this is a charity I choose to support and I am glad we were able to offer a donation.
I hope you all enjoyed a good Easter – wonderful weather. Andy Butcher had organised an Easter Egg Hunt on behalf of the Mayor's charity. This was enjoyed by many children who all went away with an Easter egg after their hunt. We are always hopeful for good weather however, this time the weather worked against us. There was one big problem – how to keep the Easter Eggs from melting. It was such a warm day. We ended up having to eat one or two before they melted completely. They still tasted good!
Sadly William will be leaving us at the end of June owing to conflict of work and meeting times. We will miss William. He will always be welcome at our club and he has promised to come back and visit us.
Finally, many congratulations to Philip on becoming President of the Rotary Motorcycle Fellowship. I am sure he will be a really good President and enjoy his time in office.
Margaret
Message from the President, April 2019
I am very pleased to hear that John de Ronde has reported that building of the water tank and hand wash facilities in Tanzania are well underway. The first part of the financial support we agreed has been made. We were also pleased to report that John has managed to raise the majority of funds from a sister rotary club in Callington, Cornwall. It's good to see clubs working together. This is a project we are very proud to support and we look forwardto hearing more about progress and the next stage of the project when John returns. John will be back with us on 11th April.
We celebrated Stan's 90th birthday in great style. What a fantastic evening. Great friendship, lots of food courtesy of Cath at the Morden Brook and a wonderful birthday cake made by Jeanne Watson. Stan provided another cake the following Thursday.
As President I have had the opportunity to accompany the Mayor of Merton, Councillor Mary Curtin to the Houses of Parliament. What a great experience. The occasion was a discussion regarding setting up a Rotary Peace Park on the border of India with Pakistan. Rotary has been involved previously in setting up a Peace Park on the border of Canada with America.
District Council is to be held this coming Saturday at Reigate. I am unable to attend as I will be presenting, together with Tony Hunn, the Rotary cup at Little League.
We move forward into April ready to attend District Assembly and gather our thoughts for the new Rotary year. John de Ronde, Tony Hunn, Jim and myself will be attending. Which makes me realise that I am now two thirds of the way through my term as President. Time is going by so quickly!
Morden Funday is to be held on July 14th and of course, we will need all hands on deck. A precursor to Funday is Cheam and Sutton Rotary's May Fair on 27th May. We have the opportunity to take a stall at this event. Please note the day in your diary.
We have had two very interesting speakers this month. Tina Harvey, Head teacher at Perseid School and Erica Bishop who runs the Sailing Club at Wimbledon Park - a club we have always supported and who provided very welcome collectors to help us at Christmas. A huge 'Thank You' to John Telford who has arranged such a great programme of speakers.
Sadly, William Rhind, our secretary has decided to leave us to join the Rotary Club of Putney. It will be more convenient to him. He has been a great help and support to us and we will be sorry to see him go. We wish him well with the proviso that he returns for the occasional visit!
Margaret
Message from the President, March 2019
February has been a busy but exciting month. Morden Rotary hosted the District Semifinal of Young Chef closely followed by District Final. There were ten entrants for the final, all of whom had lots of supporters. Our Mayor and the District Governor were there to give support. Merton College were splendid in their help with hosting this event - we are so fortunate to have such a great venue for this competition.
The event ran smoothly and efficiently thanks to all Morden Rotarians who make sure that this is so. Everyone knew their role and gave full support. It is good to have an occasion that runs well and is special –special for the parents and supporters and most importantly, special for the competitors who all put in such a huge effort and produce such amazing food.
The Regional Final of Young Chef will be held at Orpington College - so we can now relax and let them take the reins.
Morden Funday is to go ahead this year, 14th July – please note the date firmly in your diaries and watch out for our Morden Rotary stall. Any event that we attend gives us the chance to showcase Rotary and to do something to support the community.
We are a small club but every member is involved in everything that we do. This makes for a successful and healthy club - working together to achieve our goals and playing a useful part in the community.
Rotary South recently held a meeting, 'Thinking Differently', to look at ways to refresh and reinvigorate Rotary. So sorry I was not able to be there but some highly interesting and provoking ideas emerged from the meeting. I feel that it is the spirit of support and friendship that come not only from our regular meetings that is worthy of note but the automatic expertise and support we are immediately able to offer when we run any event. A valuable asset to our community. Barry will arrange a special membership meeting to give us the chance to discuss the results of the 'Thinking Differently' meeting and how we can respond to this.
Margaret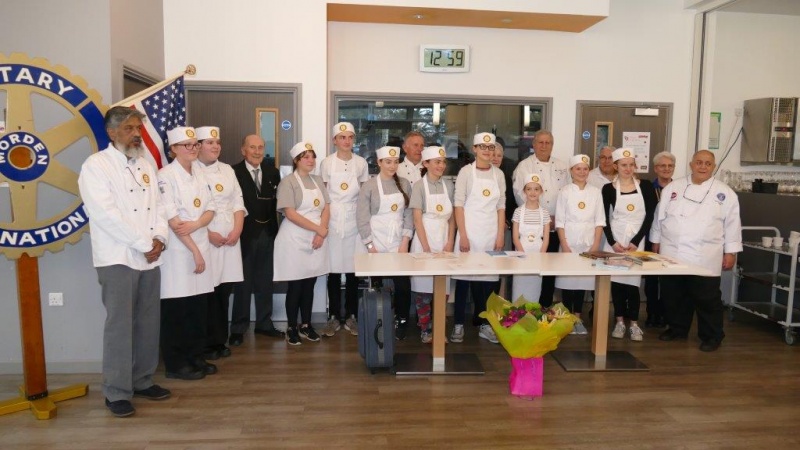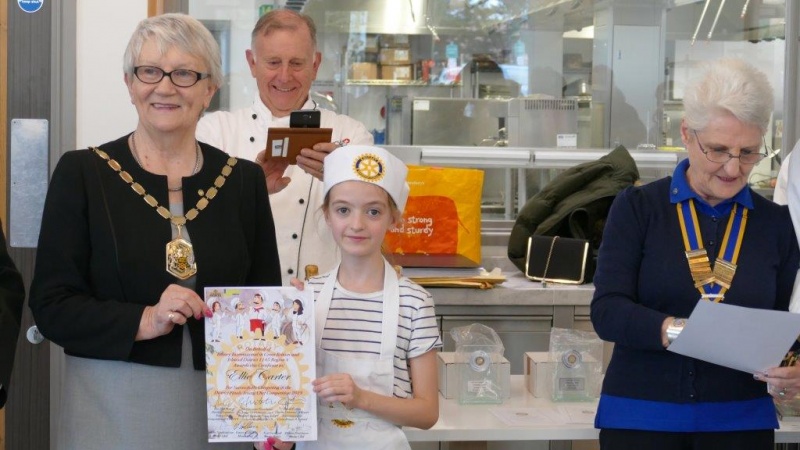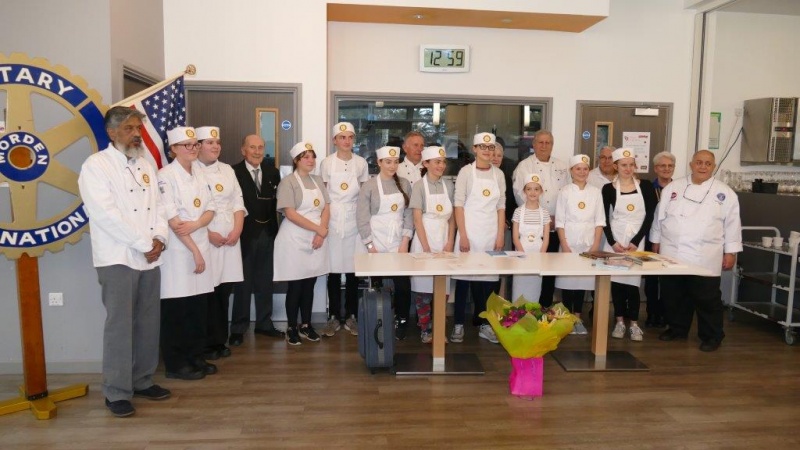 Message from the President, February 2019
The Young Chef District Semi Final took place on 26th January at Merton Technical College. A big 'Thank You' to all of you who helped with this event. Special thanks to Brian, Tony and Joss who endured the cold wind to put up banners and organise the car parking. Thank you also to Stan for taking some great photographs. The competition winners were Florence Pattenden, sponsored by Rotary Club of Fleet, and Oliver Trowell sponsored by Rotary Club of Banstead. They now go on to District Final. This is our next challenge as we are hosting the District Final of Young Chef at Merton College on Saturday, 2nd March. Hopefully the weather will be a little better by then. Mark this date in your diaries now!

John Telford has organised a varied speaker's programme for us this year and hopefully we can take advantage of this to invite friends and colleagues to join us at club meetings. Our next speaker will be Gregory Alleyne from the Wimbledon Guild.

We are all aware that Faith in Action are always in need of blankets and sweaters etc. in this cold weather. However, they are also grateful for rucksacks or backpacks to carry belongings during the day.

It has been very nice to welcome our visiting Rotarian Hari Choudhary from the Rotary Club of Salford who has visited us regularly over the last few months whilst visiting his family.

Finally, looking forward to our purple crocuses appearing soon.

Margaret
Message from the President, January 2019
The weeks before Christmas are always busy for Rotarians fitting in collections with busy lifestyles. This year our number of collectors was increased by help from Wimbledon Park Sailing Club, Scouts and Little League which relieved some pressure on members. We also had four amazing Santas to help us. They all worked really hard and made lots of small children very happy.

I find on the rounds that so many people ask "What is Rotary? What do you do?" It is definitely time to address this and let people know who we are. Barry made a start organising the Rotary Open Evening which was quite a success and I am hoping we can repeat this Open Evening in 2019.

A big "Thank You" to the Santas and every one of you who helped with the collections – the effort we put in every year to do this is not only beneficial because of the income but it also shows Rotary at work in the community. A special thanks must go to Brian for towing the float on all our routes, a gallant effort! Also many thanks to John De Ronde for stepping in and organising collectors and counting money when Philip was sadly called away.

Rotary was certainly evident when Joss stepped in to organise a collection of food from Aldi on Christmas Eve and take this to' Faith in Action' to help feed the homeless. Well done Joss.

As we move into the New Year, we host the Young Chef Semi Final on 26th January. Hopefully several of you will be able to come along and give your support. The Mayor will be in attendance.

Thank you to John Telford for his work organising the speakers' schedule. We have several very interesting speakers lined up to talk to us this year and this offers us the opportunity to invite guests to join us.

Time now to move forward and enjoy the rest of our Rotary year. As we glide smoothly into the New Year I would like to take this opportunity of wishing everyone a wonderful 2019.

Margaret
---
---
Rotary News
Be part of a global network of volunteers, trying to make the world a better place. Please also see the 'links & news' page for information from the local district and live feeds from Rotary International and Rotary International in GB&I.
Family Rotary club use skills to kick-start local charities
---
Rotary members unite to tackle world hunger
---
---
Meetings & Venue
Where and when:
We meet on Thursdays at 6.30 for 7.00pm
(
5th Thursday with partners. Contact Sec. 02083956766 for venue and time.
)
The Morden Brook
Lower Morden Lane
Morden
Surrey SM4 4SS
0208 337 3071