Featured pages
Rotary Club of Turton - welcome! Please scroll/swipe down through this page to find out more about us, in addition to the pages linked in the menu, top-left.
---
About us
Peter takes the Turton hot seat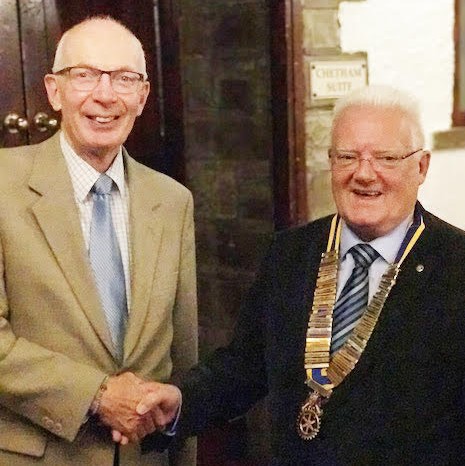 Peter Gaskell (right) takes over as President of Turton
Rotary Club from Andrew Waller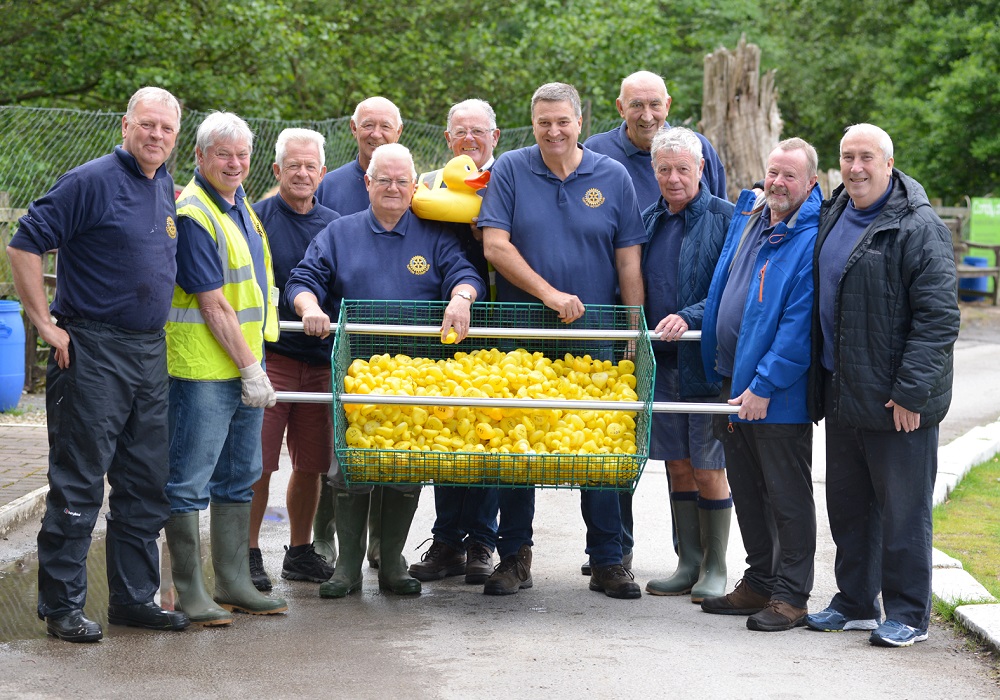 TURTON Rotary Club members pictured with their basket of ducks just prior to the big race. (Picture courtesy The Bolton News)
Big finish sees another duck race success
IT was a photo finish at this year's Turton Rotary Club duck race when thousands of pounds were raised for 35 local charities.
The final stretch saw a group of a dozen ducks all bunched together as they bobbed their way down the fast-flowing Bradshaw Brook, cheered on by a large crowd who had come out to support the annual event.
It was an exciting finale to another successful day at Bradshaw Cricket Club, with families lining the route.
The final figure of £7,500 was not as high as in recent years but organisers were still delighted with the outcome.
The competition sees 2000 numbered plastic ducks, which all correspond to tickets sold, released into the brook over two heats with each of the winners going into a grand final. First duck home wins the £1,000 first prize with four more cash prizes. There is also a children's race, with tickets bought on the day, which was won by Shannon Parkinson.
Race organiser Jim Turner was delighted with the response.
"It was perfect duck racing weather as we had a fast-flowing stream that kept the ducks moving," he said. "Thanks must be given to our sponsors and everyone who helped make it another successful day and all the hard work worthwhile."
Some of the many charities to benefit this year include Lagan's Foundation, Walmsley Unitarian Church, Griffin Explorers and Derian House.
Mr Turner added: "The duck race has probably been going now for 25 years and it has grown over the years.
"It has become a part of the social calender.
"A number of charities sell tickets to raise money and we and other rotary clubs sell tickets too.
"This year we have had a lot of local businesses support the duck race and from that alone we have raised £3,000 for which we are very grateful."
The first prize of £1,000 went to Jon Makin from Little Lever, second prize of £200 to Edith Pierce from Horwich, third prize of £100 won by Graham Howarth, fourth prize of £75 by Joy Sherlock and fifth prize of £50 was won by Roy Edge.
Click on 'What We Do' at the top of the page and then Turton Duck race for more pictures.
Blooming succcess for Turton

TURTON is blooming thanks to more than 5000 bulbs planted by Turton Rotary Club to highlight their target of eliminating polio worldwide.
The club planted the bulbs at the entrance to Egerton Park, on Darwen Road, Bromley Cross and opposite The Barlow at Edgworth.
This year is the centenary of the Rotary's own charity, called the Rotary Foundation, which since 1985, has spent almost one billion pounds on a worldwide campaign of polio eradication, which has seen 2.5 billion children vaccinated.
The Rotary symbol for the campaign is a purple crocus, purple being the colour of the dye used on childrens' fingers around the world, to signify that they have been immunised.
The planting will form an attractive floral display for years to come and of course, promote and support the ongoing campaign for the total elimination of polio.
Business appeal to back duck race
TURTON Rotary Club are looking for local businesses to help them raise a bumper amount of cash for charity by sponsoring their annual duck race.

This year's event takes place on June 11

, at Bradshaw Brook

and Turton hope that local businesses will step forward with a minimum donation of £50. This entitles

the business to its name on the back of the tickets and the equivalent in tickets to use as they wish.

The tickets get entered into the race with a top prize of £1000.

Anyone wishing to contribute email

Community Service chairman Jim Turner at

jim@jktdesign.co.uk

or ring him on

01204 853363 or

07976 395157.
Sleigh is back in time for Christmas
TURTON Rotary Club's Christmas sleigh is back in business after being taken off the road last year over safety fears, just days before its first planned outing.
Repairs have now been completed and the sleigh is as good as new, to allow Santa and his snowmen to once again tour the streets of north Bolton raising money for charity.
The first outing is at Edgworth, on Friday, November 25, for the lights switch on and a delighted President Andrew Waller said it was wonderful to see the sleigh back in operation.
He said: "It was heartbreaking that the sleigh had to be taken out of service just before Christmas last year, but the previous president Mike McNicholas stepped in with his 1968 shiny red MGC classic red sports car to enable us to at least make our street collection.
"The sleigh is always popular as much with adults as the children and it is great to see it back in action. Our members, along with Bolton le Moors Rotary Club, will once again be on the streets and at local supermarkets raising money.
""The club's Christmas Sleigh Appeal has been in operation for many years, and we are very proud of the fact that nearly £270,000 has been raised in that time and we are hoping for another bumper year again.
"We must also thank RRG Bolton Toyota for the loan of their liveried car, plus local supermarkets Asda, Morrisons and the Co-op for allowing us to collect outside their stores.
"I must also give a secial mention
to structural steel specialists Severfield UK Limited who carried out the necessary repairs free of charge."
When Santa and his sleigh will be in your area
Friday St Anne"™s Church Chapeltown Lights Switch On and
Edgworth Barlow Institute
Saturday December 3rd Morrisons Harwood 10am to 6pm
Sunday December 4th Co Op Bromley Cross 11am to 5pm
Monday December 5th Egerton Area 5.30pm to 8pm approx.
Tuesday December 6th Oldhams Estate Area 5.30pm to 8pm approx.
Wednesday December 7th Templecombe Drive Area (off Belmont Road) 5.30pm to 8pm approx.
Saturday December 10th Asda Astley Bridge 10am to 4pm
Sunday December 11th Morrisons Harwood 11am to 5pm
Monday December 12th Hall "˜ith Wood Estate 5.30pm to 8pm approx.
Tuesday December 13th Turton Heights Area Bromley Cross 5.30pm to 8pm approx.
Wednesday December 14th Bradshaw Meadows, Bradshaw Hall Drive Areas 5.30pm to 8pm approx.
Monday December 19th Bromley Cross Area 5.30pm to 8pm approx.
Tuesday December 20th Sharples, Holden Avenue Area 5.30pm to 8pm approx.
Wednesday December 21st Morrisons Harwood 10am to 6pm.
Who we are
The Rotary Club of Turton is in District 1285 in the North West of England. Turton is one of the seven Rotary clubs in Bolton and was chartered in 1968.
As well as enjoying fellowship at our weekly meetings and other social events we raise much-needed funds for local and international charities and groups.
One of our present Rotarians was among the founding members forty four years ago and the Club is proud to have had 17 Paul Harris Fellows awarded to past and present members.
Today the Club has more than 20 active members representing a broad spectrum of business activities, professions and vocations drawn from the local community.
Turton lies on the northern edge of Bolton and grew up around the textile industry. The village is surrounded by outstanding natural beauty.
Club Brochure
A new Rotary Club of Turton is available to view or download in .pdf format. Click below to view/download:
Want to know how Rotary got started?
Happening soon...
Meetings and events happening soon
Thursday 24th August 18.15
Club meeting - The Iditerod Trail - Max Hall
---
Thursday 31st August 18.15
Club meeting - She's Airborn - She flies - Gordon Bartley
---
Thursday 7th September 18.15
Club meeting - How stress can be controlled - Celia Gaze
---
Thursday 14th September 18.15
Club meeting - free
---
future events completed calendar district events local events
---
---
---
Rotary News
Be part of a global network of volunteers, trying to make the world a better place. Please also see the 'links & news' page for information from the local district and live feeds from Rotary International and Rotary International in GB&I.
Rotary Young Citizen Awards
---
Watch coverage of the 2017 'Rotary Young Citizen Awards', highlighting outstanding young people.
Details on RotaryGBI.org
How Rotary is Funding Polio Immunization in 2017
---
Find out more about Rotary fighting disease
Details on Rotary.org
---
Meetings & Venue
Where and when:
We meet on Thursdays at 18:15
(
No meeting first 2 weeks in August and Thursday between Xmas & New Year. Breakfast meeting (08:00) Maundy Thursday of each year
)
Last Drop Village Spa and Hotel,
Hospital Road,
Bromley Cross,
Bolton, BL7 9PZ
01204 852426