Welcome to the Rotary Club of Swindon Phoenix
Featured pages:
Dragon Boat Racing Event 2017
Our 5th Dragon Boat Event at Coate Water will be held on Sunday 25th June and after previous years of success and funds raised by this event for charitable causes, we are inviting teams to take part in this amazing fun and exciting day. As well as the racing there will be trade and charity stalls, food, bar, Ice Cream, Hourly Draw and much more for all ages, its a truly amazing family event. Team entries are in advance via the website, and each team can nominate a charity of their choice to raise sponsorship for.

Don't delay, go to the website www.swindondragonboat.org.uk and register a team or reserve a charity or trade stall. Our deicated event team will then make contact with you.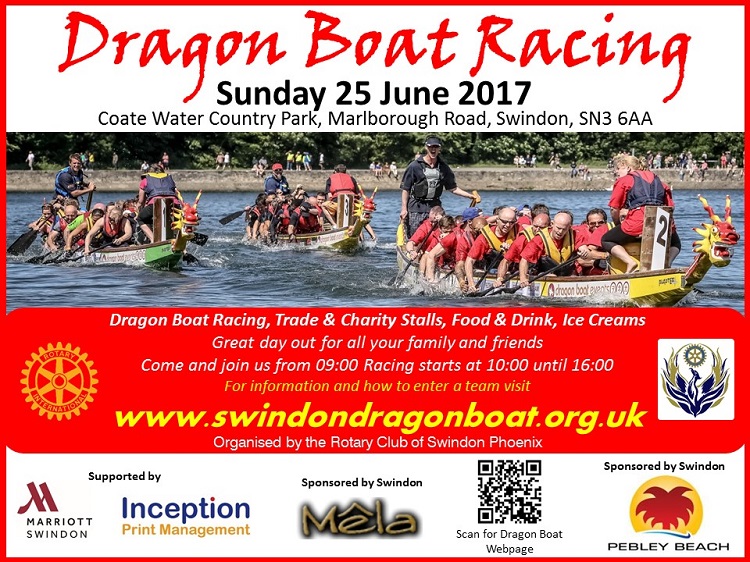 The 4 Boat Final crossing the Finish Line in 2016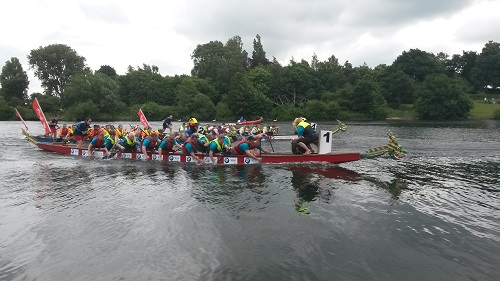 Hyundai Affinity Scheme for Rotary
Swindon's Pebley Beach Hyundai Dealership have an "Affinity" scheme where most relatives of a rotary member can get preferential prices on a new car

Below is a link to a tailor made Affinity brochure for Swindon Rotary clubs.

You must login as per the 1st page to display the discounted prices.

On these schemes, Pebley Beach make a minimal handling fee, but have committed to £50 from each sale to go to the relevant club.

ALL MAKES of CARS maintenance

On the normal maintenance/repair/MOT Pebley Beach have extensive workshops in Swindon and Cirencester and are recognised as one of the best garages in the UK, winning numerous awards over the last few years.

Discounted price Service Saver Vouchers are available, of which Pebley Beach have sold 1000s to customers whose car warranty has expired (ie 3/5 yr+ cars)

http://www.pebley.co.uk/exclusive/rotary-aftersales-offer/36632
Hindu Temple Event in aid of our Jaipur Limb International Project
This event raised an amazing £2,263.29. The Swindon Phoenix Rotary Club thanks everyone who supported the event and in particular the Hindu Community who faciilitated all the activities and provided the facilities and food.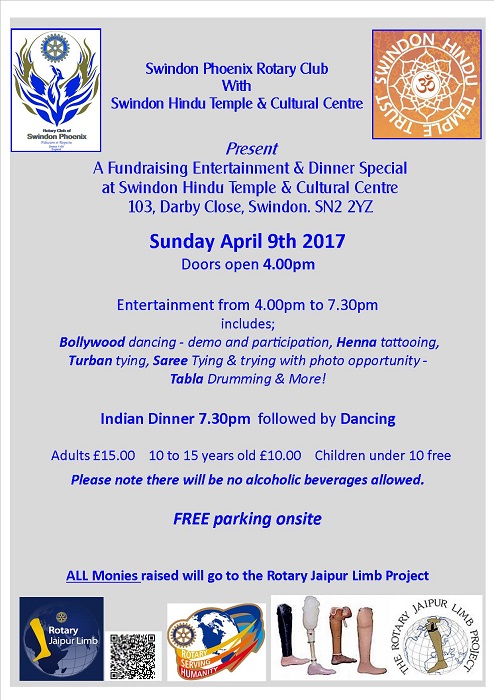 CILLA our 6th Guide Dog
The latest Swindon Phoenix sponsored Guide Dog, 'Cilla' named after the late Cilla Slipper, was born on 12th December 2016. Cilla is a real beauty as you can see and we all look forward to watching her progress as she is trained to become a successful Guide Dog for the Blind. The £5,000 raised will provide the cost of training and food for the next 12 months. Previous Guid Dogs that Swindon Phoenix have sponsored include Stanley, Ella, Rory, Jodi and Phoenix.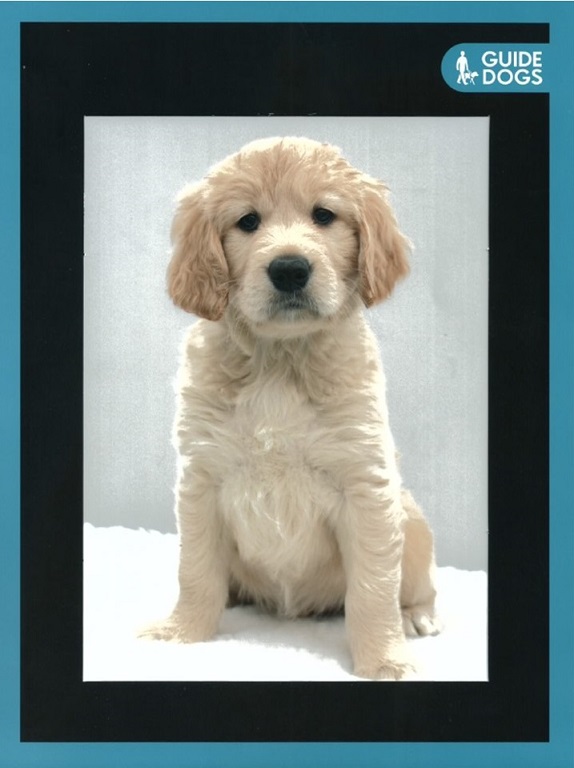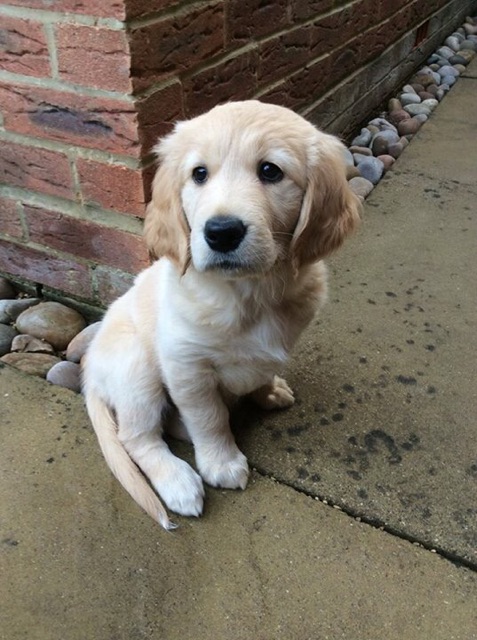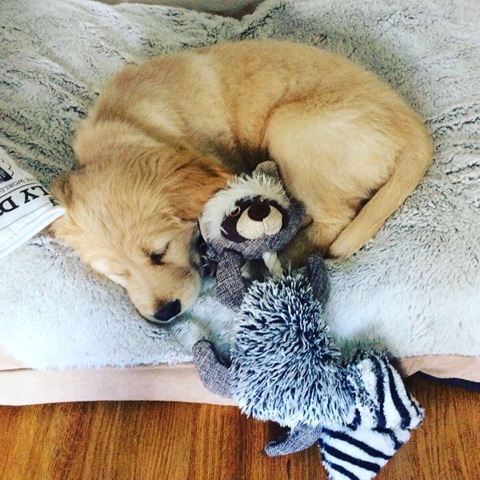 We are a Pride of Swindon........
Swindon Phoenix Rotary Club was nominated for the 2016 Pride of Swindon Awards and on Thursday 17th March were awarded a Team Award in recognition of the work and committment to supporting the community of Swindon...........President Geoff Beale accompanied by three members and the nominee along with Gina Beale, collected the award with much pride.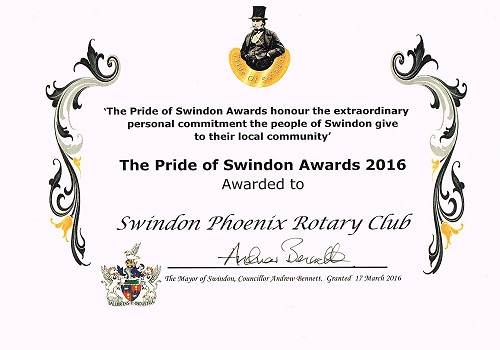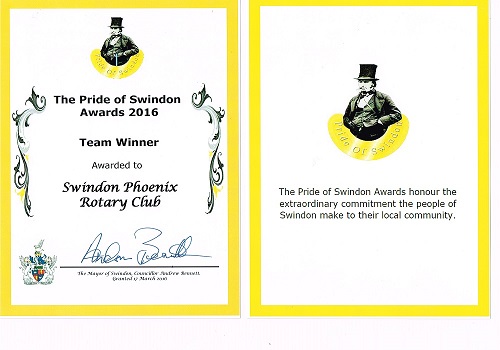 Meeting Details
Interested in joining Rotary
In the next 30 days...
Meeting Information...
We meet on Wednesdays at 19:30 (Club Council and B&F meetings are on the 4th Wednesday of each month) Marriott Hotel, Pipers Way, Swindon SN1 2NG