Danetre collects for Marie Curie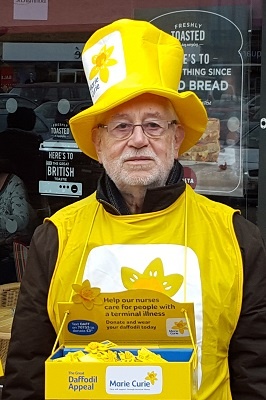 Wearing silly hats, bibs and giving out plastic Daffodils
Danetre Rotarians collected £997 for the cancer charity
Marie Curie.
Afternoon Tea raises £550 for Polio
The Afternoon was sponsored by both The Mercure Hotel and Waitrose which means all proceeds from the event are being sent to the Purple4Polio fund administered by Rotary International and means 1200 plus children will be vacinated against Polio helping to rid the world of this dreadful virus.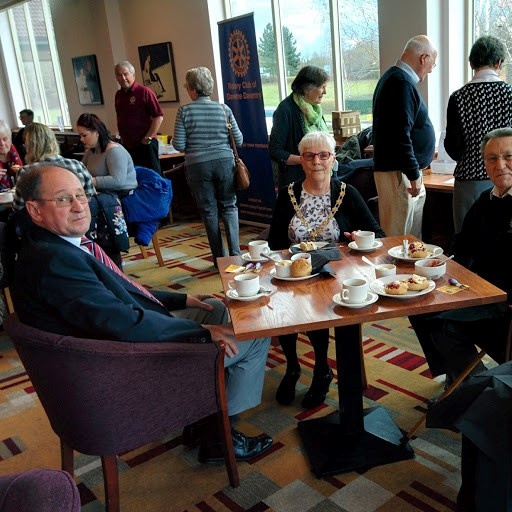 The recent Purple4Polio "Tea Party" organised by 'Danetre' Rotary Club was a resounding success.
As Guests arrived at the Mercure Hotel for the Event, they were greeted by a large bed of Purple Crocuses in full Bloom at the right hand side of the main entrance.
These were planted by 'Danetre' Rotary Club Members in the autumn of last year.
The purple crocus is a symbol of Rotary's worldwide campaign to eradicate polio; with its colour representing the purple dye used to mark the finger of a child who has been immunised against Polio.
'Danetre' Rotary Club President, Jim Shoesmith, welcomed all the families, friends and guests who attended.
Including the Mayor and Leader of Daventry Town Council, Cllr. Glenda Simmonds.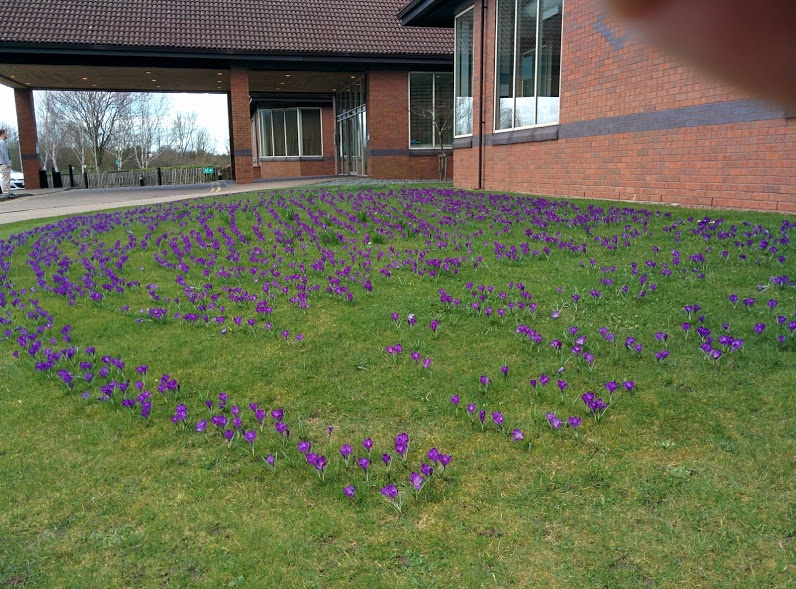 Who said Rotarian's don't drink?
Danetre Rotary visit a brewery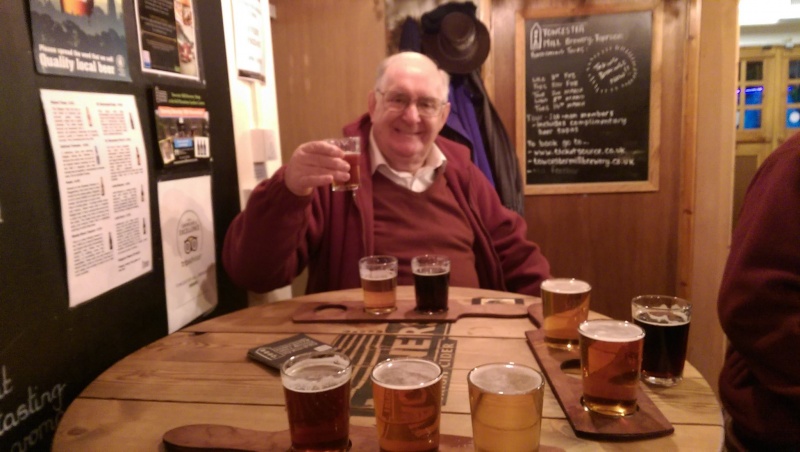 The weekly meeting of Danetre Rotary was a little trip to Towcester to visit the "Towcester Mill Brewery" and, as can be seen, beer was in plentiful supply. The following is a comment from a guest at the meeting posted on our Facebook page "Thank you Ian and Helen for inviting us I real enjoyed it sorry I had to rush of at the end. Hope you enjoyed your different types of beers!"
Rotary Against Polio
Since 1985 Rotary International has been working the World Health Organisation (WHO) to eradicate the world of Polio. Danetre Rotary Club have been involved and to see how click here to see the latest information.
Birthday Celebration
| | |
| --- | --- |
| | Nick is a Founder Member of Danetre Rotary hence his birthday deserves to be highlighted. This photograph featured in the Cobblers Programme for the match on 2nd January 2017. Happy Birthday Nick |


Christmas 2016 Latest News
The 2016, the 52nd, Father Christmas Collection is completed without any accidents but with many happy faces.
At the start of November 2016 we had enormous problems regarding a home for the sleighs during December but, thanks to

these were overcome.
Then we had problems with Transport resolved with help of
Having overcome these problems and with the help of 26 partner organisations we have raised
£14,172 in 2016
In 2015 we raised£13,360.24
In 2014 we raised £11,940
ALL monies raised has been used to the benefit of Local Charities and good causes.
---------------------------------------------------------------------------------
We have made it easy for you to donate to the Danetre Rotary Charity. Just click anywhere on the box below.
Don't forget Gift Aid as you process your donation. For UK Tax Payers this will add 25% to any donation.
----------------------------------------------------------------------------------------------------------------------------------------------
Welcome to Danetre Rotary Club!
Charity Registration Number: 1094595
Rotary is all about "Service above Self".
We provide resources and support for local community groups.

We organise events and competitions that embrace the young, and the not so young, around Daventry.

We provide local fundraising and awareness creation support for global health, social welfare and disaster response campaigns such as End Polio Now, Rotary Shoebox Scheme and Water Survival boxes.

And we have fun and fellowship doing it!
Danetre Rotary is an open and friendly club, currently with 24 members representing all ages from 30's upwards, from all walks of life and living in and around Daventry.
The one thing we all have in common is our wish to offer our skills and some of our spare time and energy to help others.
Contact us if you are interested in getting involved and joining us at Danetre Rotary.
You will be most welcome!
To email the Club please use the following address

danetre.rotary@gmail.com
Meeting Details
Interested in joining Rotary
In the next 30 days...
Social Media...
Danetre Rotary
Create your badge
Meeting Information...
We meet on Mondays at 1930 (No meetings when the Monday is a Bank Holiday.) THE MERCURE HOTEL
Sedgemoor Way
Daventry
Northants
NN11 0SG tel: 01327 307000