The Newcastle upon Tyne Rotary Club, was the first Rotary club to be established in the north-east of England and only the tenth in RIBI. We celebrated our centenary last year.
Founded on 20th August 1915 with an initial membership of 50 local business men, the club went on to sponsor 25 more clubs in the north of England. Paul Harris, the founder of Rotary International, visited the Rotary Club of Newcastle upon Tyne in 1928 and 1937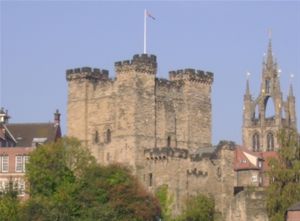 Today the Rotary Club of Newcastle upon Tyne has an active social programme combined with fund-raising activities and opportunities for service. We are the only Rotary Club in Newcastle that continues to meet on a lunchtime and we extend a welcome to Rotarians who are visiting the city to enjoy fellowship with us.
Please note Adobe Reader is needed to read these documents: a free copy of this software may be downloaded from http://get.adobe.com/uk/reader/
Meeting Details
Interested in joining Rotary
In the next 30 days...

After lunch today, the Club will hold its Annual General Meeting

We meet as usual for lunch. After Lunch, Dr James Derrick will bring us an update of the excellent work that is being done by the Bigogwe Health Centre in Rwanda, which this Club has supported with grants in recent years.
Social Media...
Rotary Newcastle upon Tyne
Promote Your Page Too
Tweets by NewcastleRotary
Meeting Information...
We meet on Fridays at 12.45 pm New Kent Hotel,
127 Osborne Road,
Jesmond,
Newcastle upon Tyne NE2 2TB tel: 0191 281 7711