Welcome to the website of The Rotary Club of Ingatestone
(including our Satellite Club - Kelvedon Hatch & Villages)

We're a small, friendly club of enthusiastic and active volunteers who want to enjoy ourselves and give our time and talents to help others both locally and overseas. We have been serving the local community for a little under 40 years which is something that we are all justifiably proud of. The Christmas Collections quietly illustrate the way we go about raising the funds that allow us to continue our support of worthwhile local community projects. The Rotary motto is '
Service above Self'
, and we are people from all walks of life who share a common interest in helping others.
-----------------------------------------------------------------------------------------------------------------------------------
If you are like us, and want to enjoy yourselves, make new friends, listen to interesting speakers, and at the same time, give something back to the community, then you can join us in making this happen.
If you live in the Ingatestone area and you have been considering widening your circle of friends while giving support to the local community and to needy causes overseas, we could be the friends you haven't yet met.
Would you like to join our club
? We're looking for more men and women of all ages and backgrounds to join us and use their time, talents, professional skills and energy to improving the lives of people in their local communities and others around the world. Our membership represents our community with the main requirement for a Rotarian being enthusiasm and a willingness to help others, perhaps less fortunate than him or herself.
Here are two videos which probably explain just what it is all about - see what you think?

What is Rotary you ask? Watch this short video for an explanation..[in simple terms]

Interested? - a quick email using the Contact form will do just fine. We look forward to hearing from you. You can expect a friendly welcome and an enjoyable evening.
-------------------------------------------------------------------------------------------------------

Friends of Ingatestone Rotary: If you would like to be involved in some of our activities but are perhaps unable to commit to a regular involvement, you can apply to join as a 'Friend of Ingatestone Rotary'. For more information, see the 'Friends of Ingatestone Rotary' page.


---
| | | |
| --- | --- | --- |
| | | Find us on Facebook |


Latest News

St. George's Day Breakfast - 23rd April 2017
- see Club News page
INDUCTION OF NEW MEMBER - MARK ALLEN
At the Ladies Night on 16th March 2017, the club were delighted to welcome Mark Allen as a new member of The Rotarians of Kelvedon Hatch & Villages. President John Metcalfe performed the Induction Ceremony and Alan Buckley introduced Mark , pinning on his Rotary Badge - a very welcome addition to RKHV and to Ingatestone.
-----------------------------------------------------------------------------------------------------------------
| | |
| --- | --- |
| | |
| CREAM TEA PARTY | Wednesday 8th March 2017 |
When we heard about this initiative the members thought it was a great idea and provisionally booked the Ingatestone Community Centre; with some persuasion the ladies agreed to help ( well – actually do it!!). RIBI President Eve Conway decided to make a Tea Party Event not just for polio but a celebration of International Women's Day - with parties across the nation on 8th March.

The day arrived and, armed with jam from Wilkin & Sons Ltd, tea bags from Typhoo and cream from Rodda

(thanks to Gill for some persuasion here as they agreed to supply for charity – we had the impression they were asked quite a few times) plus an absolute deluge of cakes from the cooks, the event was ready to go.




The Community Centre was set out with tablecloths, flowers and crockery raided from everyone's cupboards and so we hoped for a few attendees.

The response was overwhelming despite a gloomy afternoon we were very pleased to get about 70 people attending, one or two Rotarians but a lot of villagers.

At its height we were really busy with treasurer Peter collecting cash at the door and ladies dressed as nippy's – and your scribe washing up. Well I know my place. Some pull-ups screens from District helped to explain the event and mid-afternoon we were graced with Mayor of Brentwood Noelle and consort John.

We raised about £300.00; everyone had a great time – no-one left early and it helped put the club on the Ingatestone map. I still have plenty of jars of jam spare....


Correspondent Roger Harste






----------------------



Feb. 2017 Dictionaries4Life

Rotarian Alan Pudney recently presented dictionaries to 6th year pupils at Ingatestone & Mountnessing Junior Schools

.
Feb. 2017 Rotary Shoeboxes
Pupils from the Ingatestone Anglo-European School have filled over 100 Rotary Shoeboxes, which along with the 70 boxes filled by club members, will soon be forwarded to The Balkans.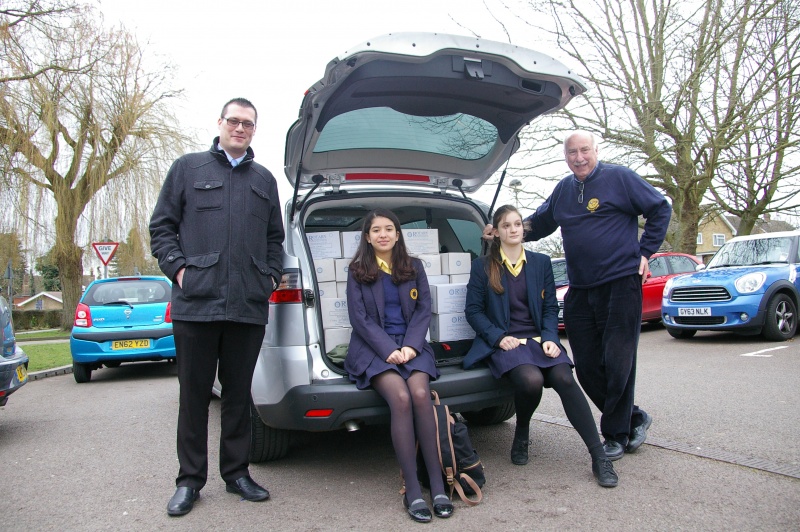 ------------------


Feb. 2017 Donations
From monies raised from various events, including the Christmas House-to-House collection, the club have just distributed cheques in support to the following:-
Caribbean Hurricane Trust - £500; RYLA - £100; Kimuuni Primary School, Kenya - £200; Sand Dams Project, Africa - £500; Brentwood Community Transport - £250; Citizens Advice Bureau - £500; Opportunity International, Africa - £500,
the total amounting to £2,550
.................see Club News for amounts donated 1/1/16 - 3/2/17
1st Dec 2016 - Induction of New Member - Paul Yarwood

(scroll down for photos)
18th Sept 2016 - Ingatestone 5 Mile Road Race - see photo gallery

15th Sept 2016 - Cheque Presentation Evening - see photo gallery
tional in Great Britain and Ireland President 2016/17
---
Each month the Brentwood Gazette publishes a page of Rotary News, with a news round-up and reports submitted by the local clubs

CC
Miscellaneous Items
wC
Akshay visits his dad's club, R C Khadki, India
In January 2017, club member Akshay Kapoor and his wife Melissa received a warm and gracious welcome from his dad's club, R.C. of Khadki - see for full report
Sainsburys' Customers give generously at Springfield - 17th December 2016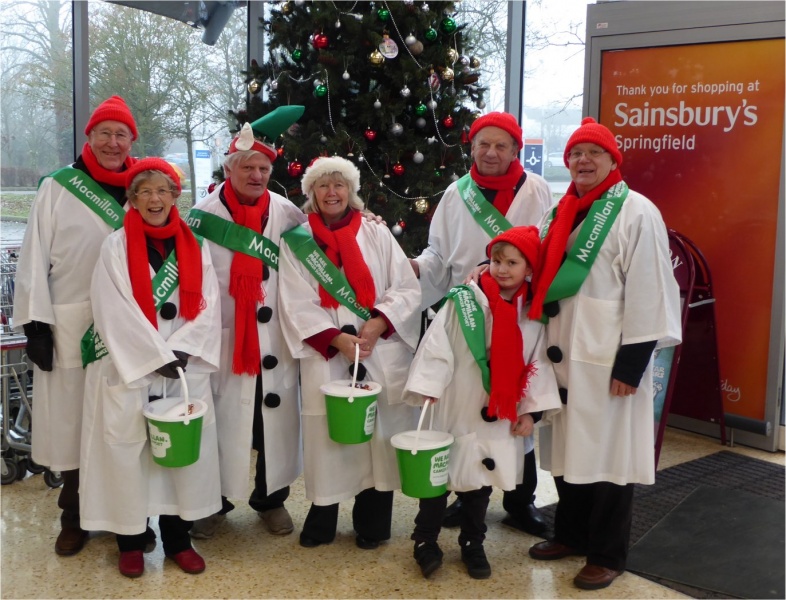 With thanks to Sainsburys, Springfield store for the use of their foyer, the Rotary Club of Ingatestone were pleased to once again raise funds for Macmillan Cancer Support on Saturday 17th December.
Despite an apparently lower footfall this year and
with Santa unfortunately not able to make it as he was busy elsewhere, over the course of the day around 25 volunteers made up of Rotarians, Wrings and friends raised a total of £2,213.00; t
his makes a total of £20,452.00 over the 9 years the club has been doing this.
The club have asked Sainsburys to pass on their thanks to their generous customers for this great amount, which we are sure Macmillan will be pleased to receive
Christmas Collection gets under way - 5th December 2016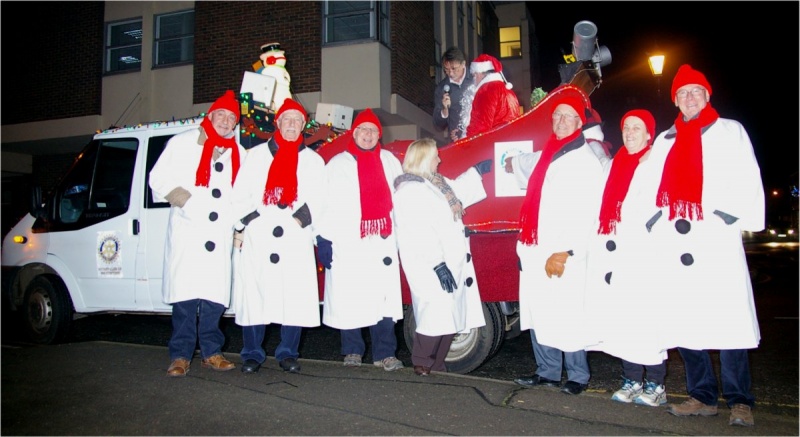 ---
Club welcomes new member - 1st December 2016


At the meeting on Thursday 1st December 2016, members were delighted to witness the induction of Paul Yarwood.
After an introduction by his proposer, Neil Macalister, President John Metcalfe then performed the formal ceremony of induction for a new member, after which Paul said a few words. He'll be a very welcome addition to our membership.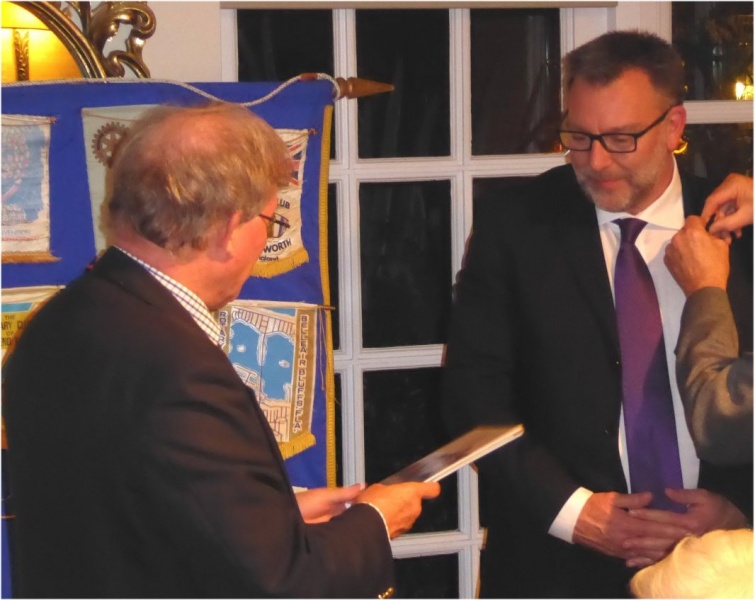 Scatter Visit to R.C. of Chelmsford Phoenix - 10/11/2016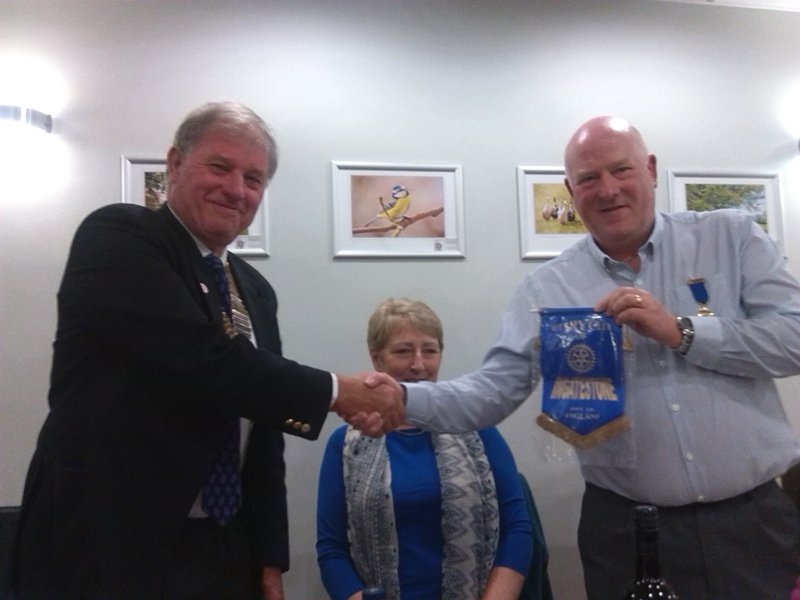 On Thursday 10th November, eight members 'scattered' to the R.C. of Chelmsford Phoenix. The meeting was held at Princes Room, Chelmsford College, where a wonderful 3 course meal - cooked by the students - was enjoyed.
We were warmly welcomed by the members and heard a very interesting presentation by Karen Edwards on CLIC Sargent ~ Cancer Support for the Young.
In the photo Karen Edwards is in the middle watching President John Metcalfe presenting the club's pennant to John Booth of Chelmsford Phoenix.
The visit was arranged by Ian Churley; also attending were Barry Turner, Stefan Bokos, Roger harste, Alan Pudney, Helder Lemos, Neil Macalister - eight of us in all. An interesting visit.
-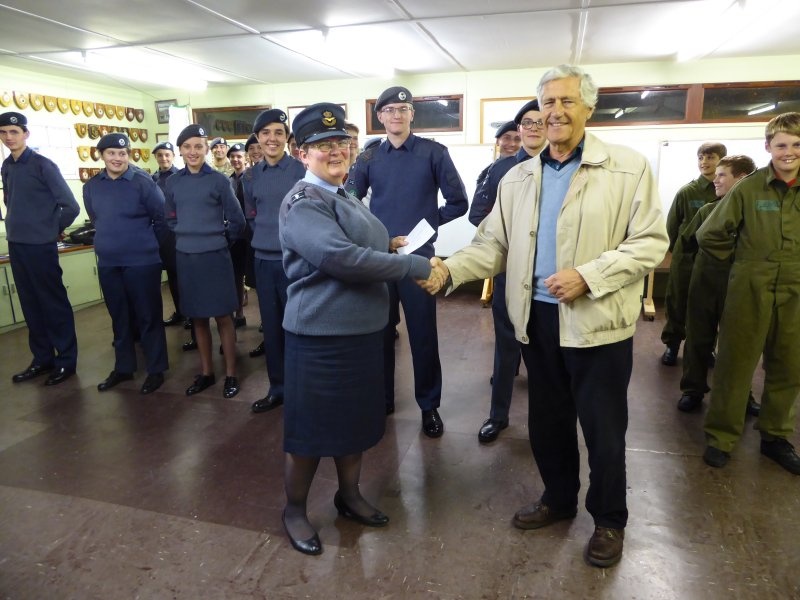 On Monday 10th October, Stefan Bokos and Neil Macalister visited 2476 (Hutton) Squadron A.T.C and presented a cheque to C.O Claire Penn in recognition and thanks to the group for their help with car park control at the "Summer Evening Jazz" Concert.
-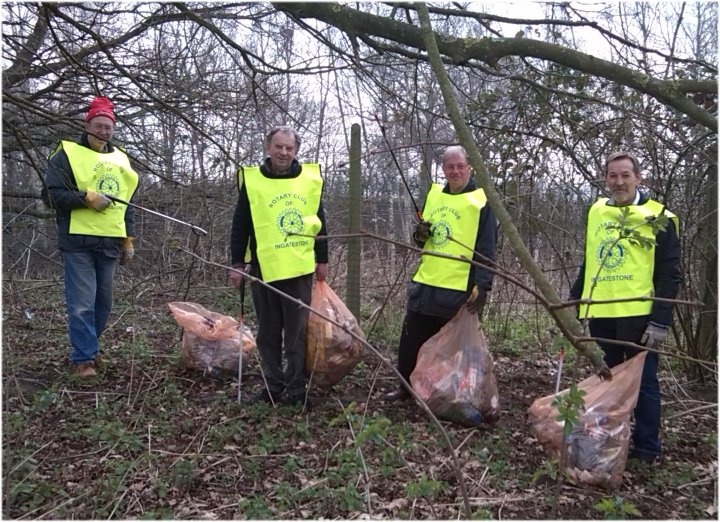 Four of the eight Rotary Club volunteers - Roger Harste, Alan Pudney, John Metcalfe and John Doughty who supported the Parish Council's "Village Litter Pick" on Saturday 12th March 2016.
About 25 volunteers filled over 25 black bags of litter, cans, crisp bags, etc. Also helping were Andrew, Neil and Friend of Ingatestone Rotary, Trevor Hoskin. Our group cleared the churchyard and Fairfield.
----------------------------------------------------------------------



Christmas 2015 The Rotary Club wishes to thank everyone who gave so generously to their 'House-to-House' Collection in Ingatestone, Fryerning, Margaretting & Mountnessing and at the Station.

Between the 7th and the 16th of December, £2,262 was donated by the residents of Ingatestone , Margaretting and Mountnessing villages over six evenings, when our Santa's Sleigh and his helpers performed a door to door collection.
WRINGS (The wives of Rotarians of Ingatestone) raised £890 from their sales at the Ingatestone Victorian Evening.
The Rotarians of Kelvedon Hatch and Villages collected £586 for Multiple Sclerosis outside Tesco's in Chelmsford, plus £253 outside Budgens, Doddinhurst for Rotary charities , and also raised £404 for Shelterbox at Billericay Christmas Market on Saturday 12th December
On Saturday 19th Dec., the club collected a record net total of £3007 from shoppers at Sainsburys,Springfield on behalf of Macmillan Cancer Support

- with the result that a magnificent total of £7,402 has been raised from all our December collections.

Over the past 12 months we have:

Made charitable donations totalling over £20,718.

Held fundraising events including:

Charity Golf Day; Summer Evening Jazz Event;

Music in the Church; Quiz Night; Door-to-Door Christmas Collection

Collected for Macmillan Cancer Support - £2700

We have donated £742 to Rotary's own charity, Rotary Foundation; to S.N.A.P.[Special Needs] - £500; Helen Rollason Fund - £4500; Farleigh Hospice - £3000;
Saint Francis Hospice - £3000; 2476 Hutton A.T.C. - £275; Essex St. Johns Ambulance - £325;
Little Haven's Hospice - £500; Ingatestone Boys Club Road Race - £140;
given out Dictionaries 4 Life to local schoolchildren - £336; Royal British Legion - £100;
Essex Air Ambulance - £500; Flood Relief U.K. [RIBI] - £500; Prostate Cancer U.K. - £500;
On Thursday 19th November 2015, President John Metcalfe presented the club's cheque for £500 towards the Ingatestone & Fryerning C of E (A) Junior School Minibus Fund.
Pictured with John are Headteacher Neil Taggart and members of the School Council. The plan is for a 17 seater minibus, which will take 15 pupils, a teacher and driver and to use it in many ways. The school have all but reached their target, but still need a little help before they can go ahead. The club are pleased to support a cause which is both local and for the children.





On Sunday 8th November, President John Metcalfe laid a wreath on behalf of the club during the Annual Remembrance Service

On Thursday 17th September 2015 at Ivy Hill Hotel, the Cheque Presentation Evening took place, with £14,100 being awarded to various charities.

2nd July 2015
President John Metcalfe inducts two new members in to the club;

Akshaya Kapoor (left) and John Doughty (right)

18th June 2015


David Fincham hands over to President John Metcalfe

Club Assembly - 18.06.15



ADG Mike Griffin with Col(Retd)V K Kapoor of RC Khadki in Pune India, President John Metcalfe with immediate Past President David Fincham

Rotarian Col (Retd) V K Kapoor gives a short talk on the activities of his Rotary club in India

Photo gallery of dinner guests




Rotary Club – Nepal Earthquake Collection
You will be pleased to learn that from our Station & High Street collections we have raised £553.00 plus two additional donations of £25 and £7.00 to give a total of £585.00 (includes £20 Peter Larcombe donation).
The photo shows Akshaya Kapoor collecting with Helder Lemos at Ingatestone Station




Whilst our original intention was to raise money for Shelter Boxes at £590, we have learned from District that the most pressing need is currently 'Shelter Kits' which are a DIY tent kit plus tools; these cost £230.00 each and we propose sending a cheque for two of these and also for one 'Aquabox Gold' costing £125.00 - covered by the £585 raised.
However, it is proposed that the club itself should buy a further 'Shelter Kit', at a cost of £230.00, from our Charity Account funds
As a result of our appeal, we have received a private donation by Mr Pabari of £715 to cover 1 Shelterbox (£590) + 1 Aquabox Gold (£125).
The total amount collected (£1300) + our own RCOI Club Charity contribution (£230) now stands at a total of £1530 for the Nepal Earthquake Appeal - which enabled us to send to Nepal:-
1 Shelterbox
3 Shelter Kits


2 Aquabox Gold




For more information on Shelter Kits, go to http://www.shelterbox.org/news_global.php?id=1352

For more information on Aquabox Gold, go to http://www.aquabox.org/aquabox-gold.html

Meeting Details
Interested in joining Rotary
In the next 30 days...
Social Media...
Follow @RC_Ingatestone on twitter "

Meeting Information...
We meet on Thursdays at 19.00 for 19.30 (We meet on 1st, 2nd & 3rd Thursdays each month at Ivy Hill; in 4th week ~ Committees will meet - Venue tba* 5th Thursday in month ~ Venue ~ tba* - see Programme* Visitors: To book, please contact Alan Pudney on 01277 352410) Best Western Ivy Hill Hotel, Writtle Road, Margaretting, Ingatestone, Essex CM4 0EH tel: 01277 353040