About us
Rotary Club of Ingatestone including
Kelvedon Hatch & Villages - our Satellite Club



Welcome
If you are like us, and want to enjoy yourselves, make new friends, listen to interesting speakers, and at the same time, give something back to the community, then you can join us in making this happen.
If you live in the Ingatestone or Kelvedon Hatch area and you have been considering widening your circle of friends while giving support to the local community and to support needy causes overseas, we could be the friends you haven't yet met.
The Rotary motto is "Service above Self" and we are folk from all walks of life who share a common interest in helping others less fortunate than ourselves.
--------------------------------------------------------------------------------


----------------------------------------------------------------


Sleigh House to House Collection has finished for another season

Report and photographs Thanks for all your donations
---
| | | |
| --- | --- | --- |
| Find us on Facebook | | |
----------------------------------------------------------------------------------------------------------------------
-------------------------------------------------------------------------------------------
Latest News
Rotarians of Kelvedon Hatch & Villages Wine Event
The 20th October saw the 6th running of RKHV'S "Who's Wine is it Anyway?" Some 60 plus souls gathered at Mountnessing Village Hall on the pretext of giving their considered opinion on 6 selected wines. Thanks to their support some £700 was raised for Rotary Charities.
This year the panel comprised Andrew Clarkson, resplendent in top hat and tails, of a flamboyant hue; Nigel Hawkins who managed to find a suitable curry from his favourite Indian Take Away to complement each wine and Christine Blackie who brought balance and charm to proceedings on stage.
RKHV were supported magnificently by the ladies of Ingatestone who provided nourishment and helped with the setting up. An M&S prize raffle, donated by Mark Allen and a well run, low cost bar added to the evening's entertainment and everybody went home happy, if a little the worse for wear.
---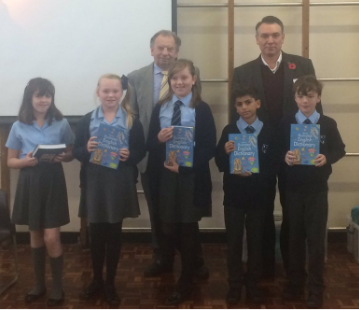 November 2017

Helder & Alan present Dictionaries 4 Life to I & F Junior School


---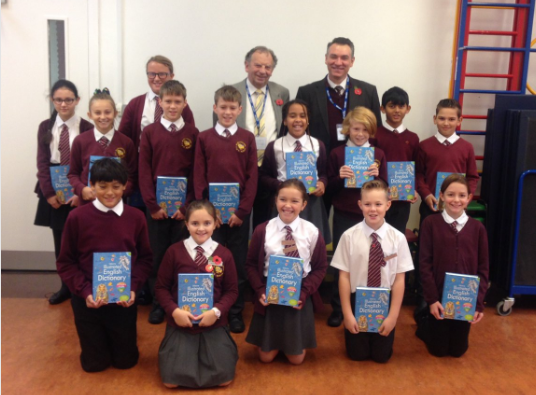 November 2017
Helder & Alan present Dictionaries 4 Life to Margaretting Primary


---
---
New Member Induction - Thursday 19th October 2017


At our partner's evening, President Helder Lemos had the pleasure of inducting Nigel Wagland as a new member of the club. Roger Harste said a few words in proposing him, before President Helder pinned on his badge. Nigel, in turn, responded and is now committed to 'Service above Self'!

Roger
says a few words


Helder says a few words


Nigel with his Rotary Pin


A Warm Welcome to another New Member
---
2nd Village Litter Pick Day - Saturday 14th October 2017

3 bags full - pictured are Alan Pudney, Barbara & Peter Phillips

The club was well represented with 12 volunteers for the Ingatestone & Fryerning Parish Council's annual drive against Litter.
Also in our squad were Noelle & Jon Cloke, Andrew Clarkson, Roger Harste , Stefan Bokos, Neil Macalister, John & Lindesay Metcalfe and prospective member, Nigel Wagland
All necessary equipment was supplied - we spent about 2 - 2/12 hours picking-up litter & plastic bottles around the parish - followed by tea/coffee and biscuits provided by the Community Centre......good for the club to be of help in our Community.

18th Oct 2017
Dear Mr Macalister
On behalf of Ingatestone and Fryerning Parish Council, I would like to thank the Rotary Club of Ingatestone sincerely for the support given to us at the recent Litter Pick Day. Without your help the day would not have been as successful. I would be grateful if you could please pass this message onto your members and I hope that your organisation would be willing to attend the next event when it is organised.
With kindest regards and best wishes
Abi
Abigail Wood CiLCA
Parish Clerk and Responsible Financial Officer
Ingatestone and Fryerning Parish Council

---
Ch

Cheque Presentation to A.T. C. - 9th October 2017
On the 9th of October Stefan and I had the pleasure of presenting a cheque for £500 to the local branch of the Air Training Corps. This was in appreciation of their assistance with the car parking and lake patrol at our annual Jazz Concert in the grounds of Ingatestone Hall, and will be used to help finance their many activities. I mentioned at the presentation that nobody who attended the Concert could have failed to be impressed by their smart appearance and the efficiency with which they undertook their tasks. I also told them that it was thought appropriate for me to make the presentation as I was the only member of our Club who had actually served in the RAF, albeit about sixty years ago when aircraft were somewhat different to what they are now. I also thought it necessary to explain what National Service was, in view of their age, and the fact that we used to have bases all over the world following the end of the war.
We learnt a little about the extensive range of activities enjoyed by the members and were very impressed by the general discipline.
David Fincham


Stefan presents the cheque to Claire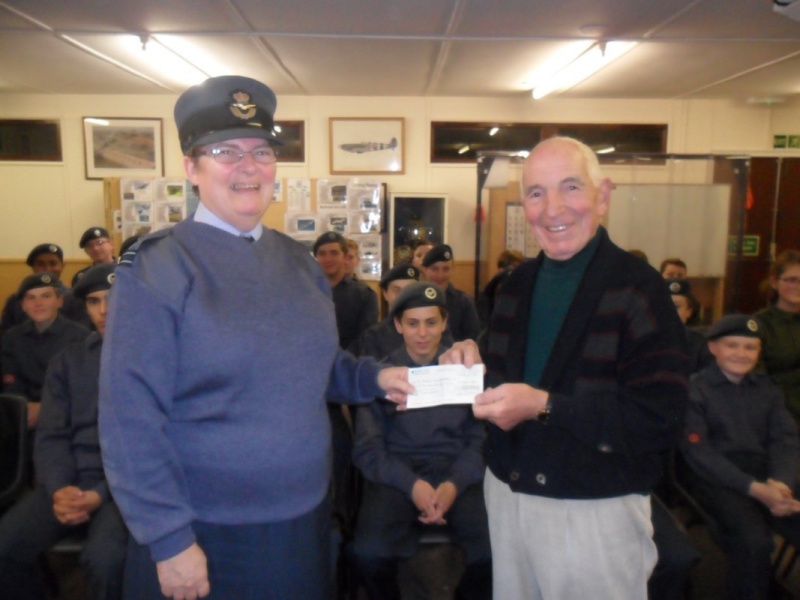 David pictured with Claire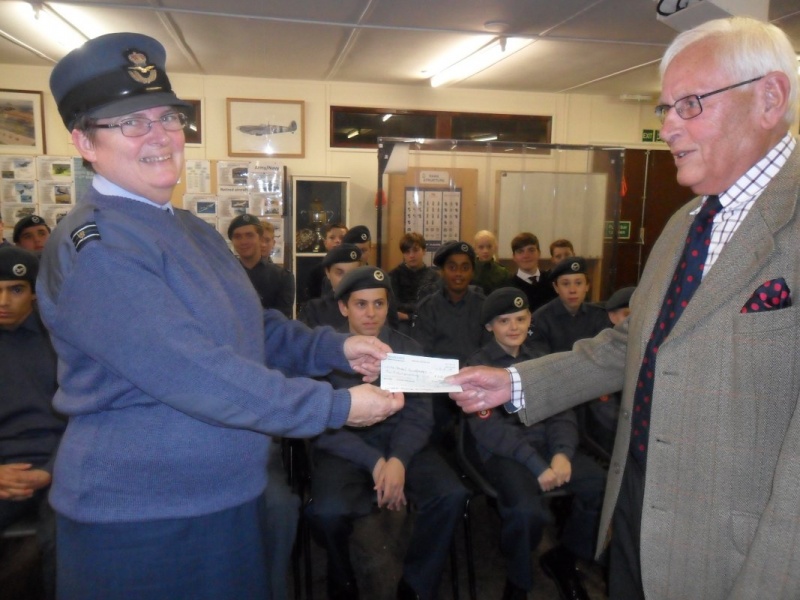 A group of A.T.C cadets at the presentation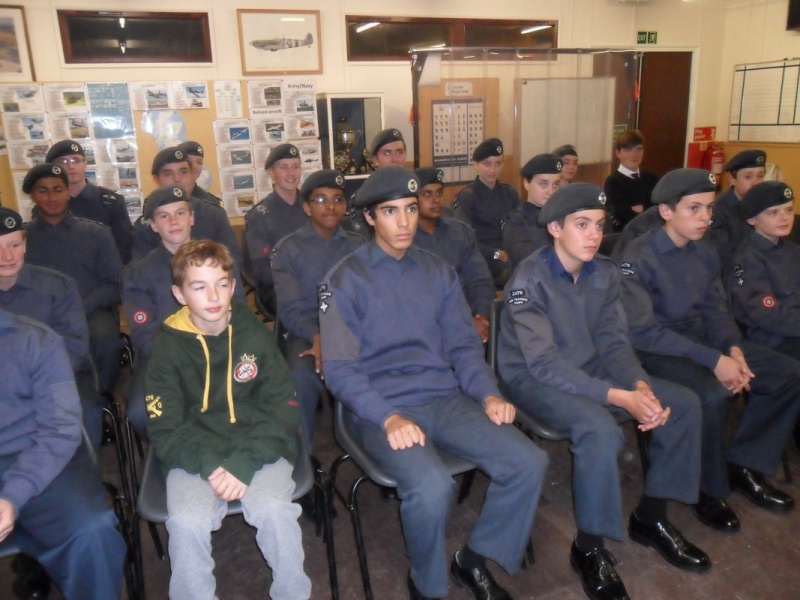 ---
28th September 2017
INDUCTION OF NEW MEMBER

At our partner's evening, President Helder Lemos had the pleasure of inducting Noelle Hones-Cloke as a new member of the club. Alan Pudney said a few words in proposing her and pinned on her badge. Noelle , in turn, responded and is now committed to 'Service above Self'! Her husband John, a member of Brentwood R C was present to witness the ceremony. As was Lord Petre, our guest and Honorary Member.

Dr Peter Kennison gave an illustrated talk on "Ingatestone at War" - pictures of Ingatestone circa 1914 and the 4 hospitals serving the soldiers who were being treated here.
| | |
| --- | --- |
| President Helder Lemos inducts Noelle Hones-Cloke as a new member | |
| Proposer Alan Pudney with Noelle - suitably 'pinned' | |
---
27th September 2017
Visit to The Clink Restaurant at HMP Brixton - for lunch

Organised by Ian Churley, a group of members, 41 club members and partners, travelled to S.E London - some by minibus, others by train.
It was a special event to support The Clink Charity. More information at http://theclinkcharity.org/the-clink-restaurants/brixton-london/"

A bit daunting to be 'locked-in', but we enjoyed very good food, well-presented and served by inmates in a friendly manner.
No photographs were permitted at all - Ian was nearly kept inside for attempting one of the gate. You can view photos by Management as displayed in Trip Advisor's gallery

It was a good experience and such a worthwhile project - lowering released prisoners re-offending through gaining catering qualifications prior to their release. Well done, Ian, for an interesting and well-planned event.


| | |
| --- | --- |
| | 10 of us went by minibus |
| | The full group of 20 outside the prison |
| | Waiting for our transport home - and enjoying a drink. |
---
---
On 21st September, four club golfers played for the Annual Champion's Trophy.
Organised by Barry Turner and contested at Maylands Golf Club, Barry Turner, Martin Lister, Dennis Nicol and Neil Macalister enjoyed a social afternoon's golf.
Congratulations to Dennis! Dennis outplayed the field and has the privilege of organising next's year's competition.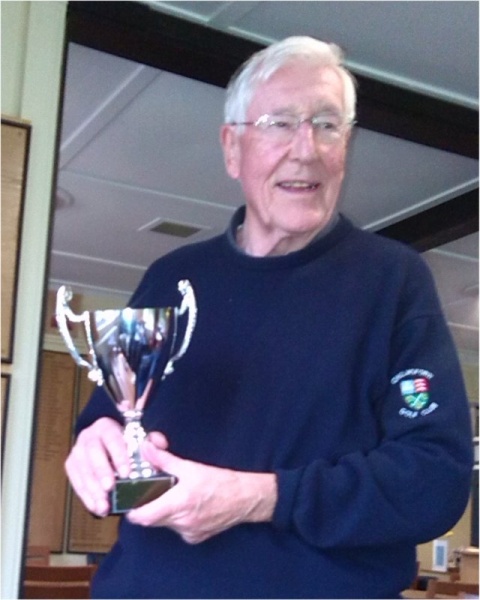 ---
---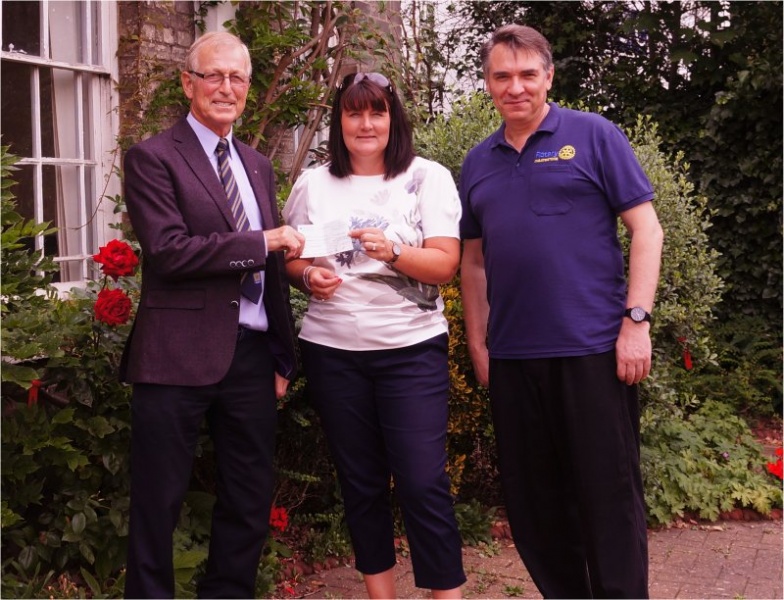 Wednesday 23rd August 2017
Helder Lemos and Barry Turner give a £4000 cheque to Lindsay Hurrell of CHESS in Chelmsford.
- our profits from the Charity Golf Day in May.
---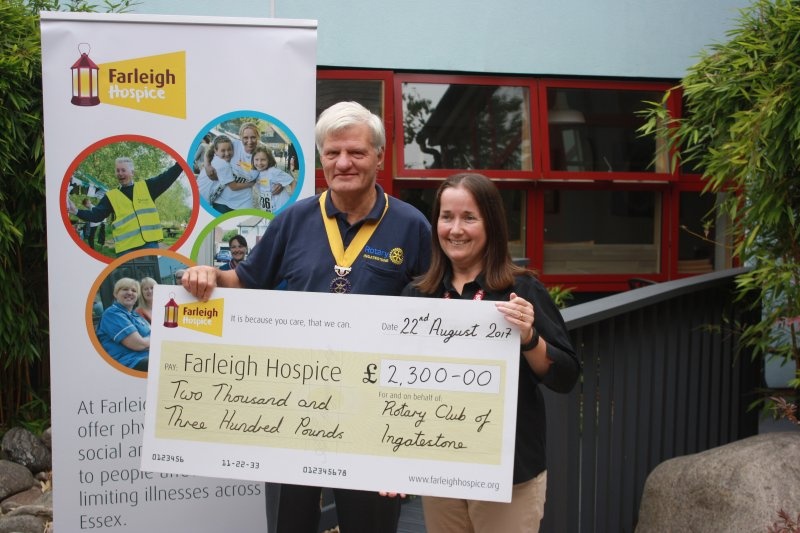 Tuesday 22nd August 2017
Photo of cheque presentation by Ian Churley of Rotary Club of Ingatestone to Maz Keenan of Farleigh Hospice
with Debbie de Boltz in attendance - profits from Jazz Concert in July.
---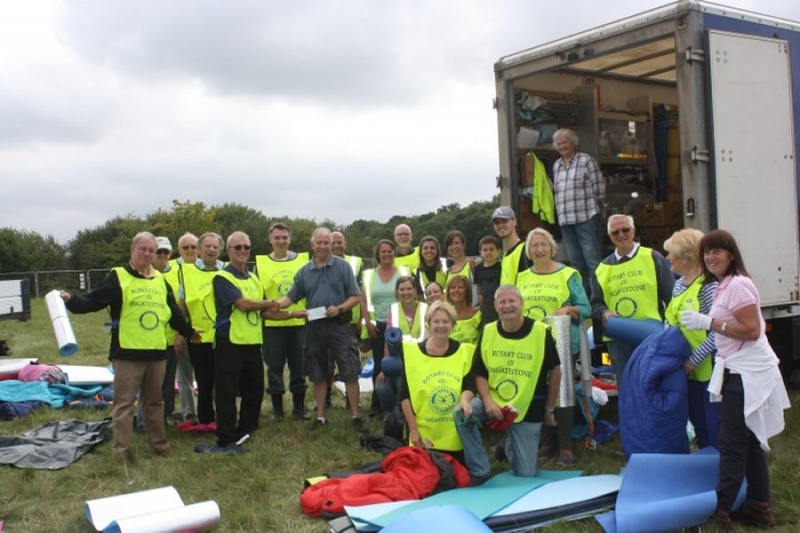 Monday 21st August 2017
The photo of the V festival collection group when Barry Turner presented a £1500 cheque
to Charles Storer of Hope and Aid Direct - profits from Charity Golf Day in May
---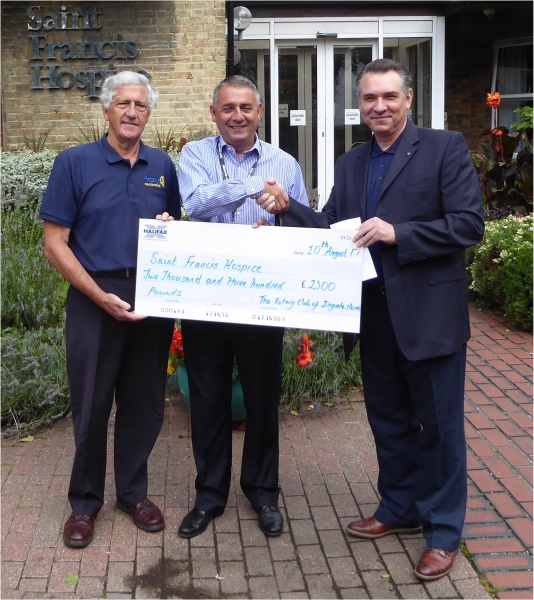 CHEQUE PRESENTATION 10th August 2017
President Helder Lemos presents a cheque for £2,300 to Mike Allen of Saint Francis Hospice - part of the proceeds from the Summer Evening Jazz Concert on 1st July
- profits from Jazz Concert in July. Neil Macalister in attendance


St. George's Day Breakfast - 23rd April 2017
-

see Club News page
--------------------------------------------------------------------------------------------------------------
INDUCTION OF NEW MEMBER - MARK ALLEN
At the Ladies Night on 16th March 2017, the club were delighted to welcome Mark Allen as a new member of The Rotarians of Kelvedon Hatch & Villages. President John Metcalfe performed the Induction Ceremony and Alan Buckley introduced Mark , pinning on his Rotary Badge - a very welcome addition to RKHV and to Ingatestone
see Induction of New Members.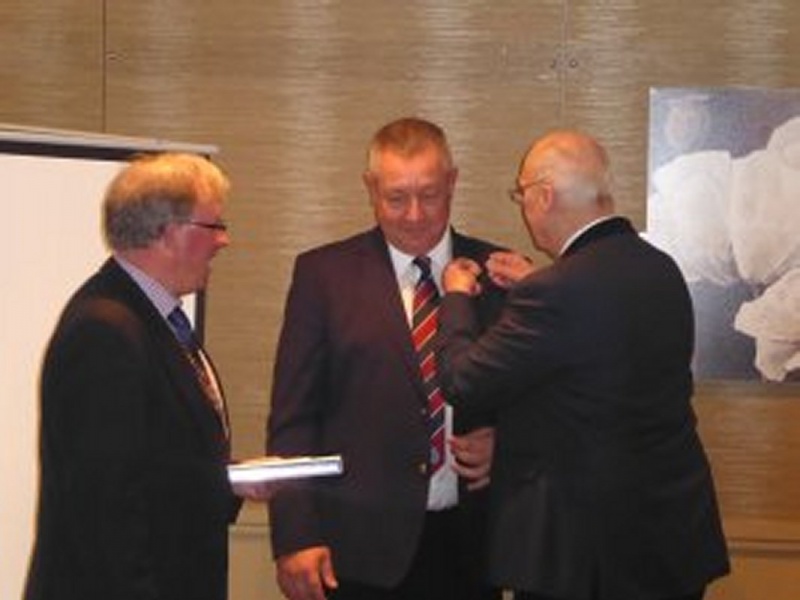 ---
CREAM TEA PARTY



Wednesday 8th March 2017



When we heard about this initiative the members thought it was a great idea and provisionally booked the Ingatestone Community Centre; with some persuasion the ladies agreed to help ( well – actually do it!!). RIBI President Eve Conway decided to make a Tea Party Event not just for polio but a celebration of International Women's Day - with parties across the nation on 8th March.

The day arrived and, armed with jam from Wilkin & Sons Ltd, tea bags from Typhoo and cream from Rodda

(thanks to Gill for some persuasion here as they agreed to supply for charity – we had the impression they were asked quite a few times) plus an absolute deluge of cakes from the cooks, the event was ready to go.




The Community Centre was set out with tablecloths, flowers and crockery raided from everyone's cupboards and so we hoped for a few attendees.

The response was overwhelming despite a gloomy afternoon we were very pleased to get about 70 people attending, one or two Rotarians but a lot of villagers.

At its height we were really busy with treasurer Peter collecting cash at the door and ladies dressed as nippy's – and your scribe washing up. Well I know my place. Some pull-ups screens from District helped to explain the event and mid-afternoon we were graced with Mayor of Brentwood Noelle and consort John.

We raised about £300.00; everyone had a great time – no-one left early and it helped put the club on the Ingatestone map. I still have plenty of jars of jam spare....

Correspondent Roger Harste






----------------------



Feb. 2017 Dictionaries4Life

Rotarian Alan Pudney recently presented dictionaries to 6th year pupils at Ingatestone & Mountnessing Junior Schools.
Feb. 2017 Rotary Shoeboxes
Pupils from the Ingatestone Anglo-European School have filled over 100 Rotary Shoeboxes, which along with the 70 boxes filled by club members, will soon be forwarded to The Balkans.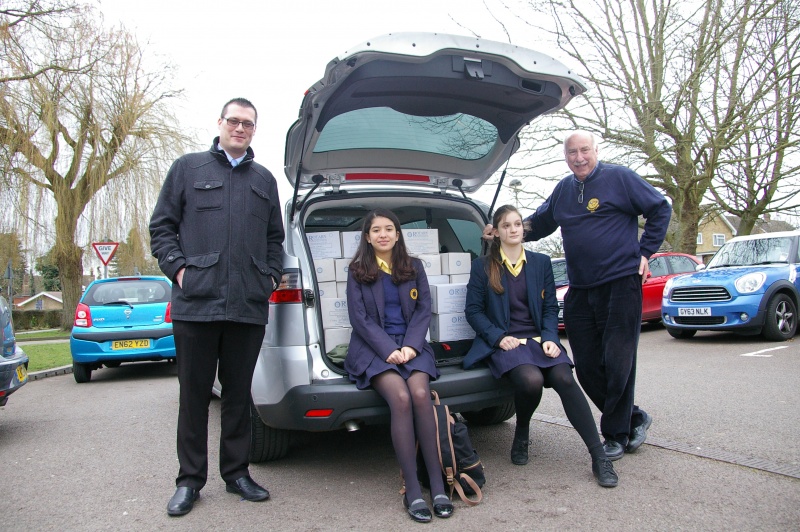 ------------------


Feb. 2017 Donations
From monies raised from various events, including the Christmas House-to-House collection, the club have just distributed cheques in support to the following:-
Caribbean Hurricane Trust - £500; RYLA - £100; Kimuuni Primary School, Kenya - £200; Sand Dams Project, Africa - £500; Brentwood Community Transport - £250; Citizens Advice Bureau - £500; Opportunity International, Africa - £500,
the total amounting to £2,550
.................see Club News for amounts donated 1/1/16 - 3/2/17
nal in Great Britain and Ireland President 2016/17


Miscellaneous Items
wC
Akshay visits his dad's club, R C Khadki, India
In January 2017, club member Akshay Kapoor and his wife Melissa received a warm and gracious welcome from his dad's club, R.C. of Khadki - see for full report
Sainsburys' Customers give generously at Springfield - 17th December 2016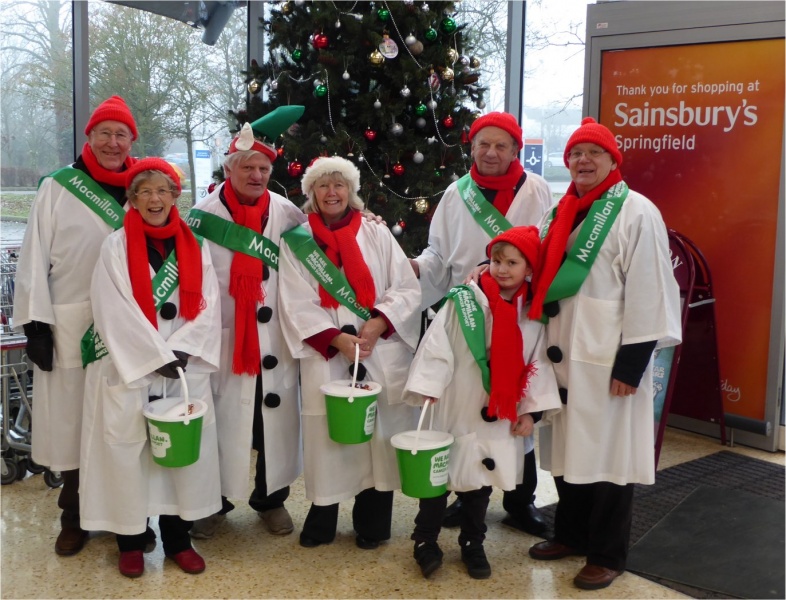 With thanks to Sainsburys, Springfield store for the use of their foyer, the Rotary Club of Ingatestone were pleased to once again raise funds for Macmillan Cancer Support on Saturday 17th December.
Despite an apparently lower footfall this year and
with Santa unfortunately not able to make it as he was busy elsewhere, over the course of the day around 25 volunteers made up of Rotarians, Wrings and friends raised a total of £2,213.00; t
his makes a total of £20,452.00 over the 9 years the club has been doing this.
The club have asked Sainsburys to pass on their thanks to their generous customers for this great amount, which we are sure Macmillan will be pleased to receive
Christmas Collection gets under way - 5th December 2016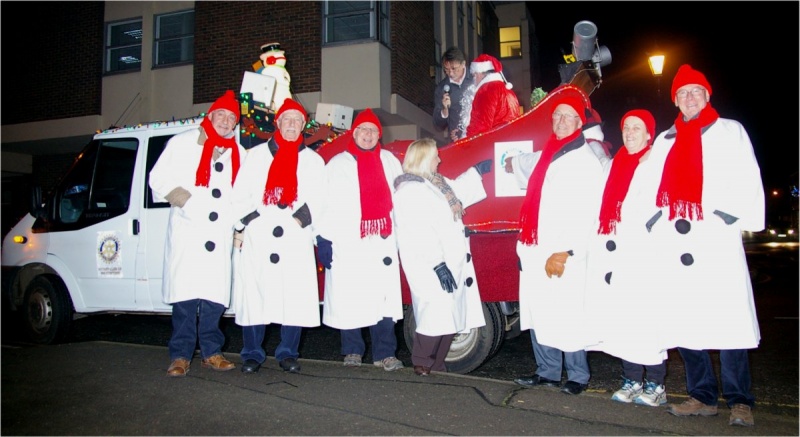 Scatter Visit to R.C. of Chelmsford Phoenix - 10/11/2016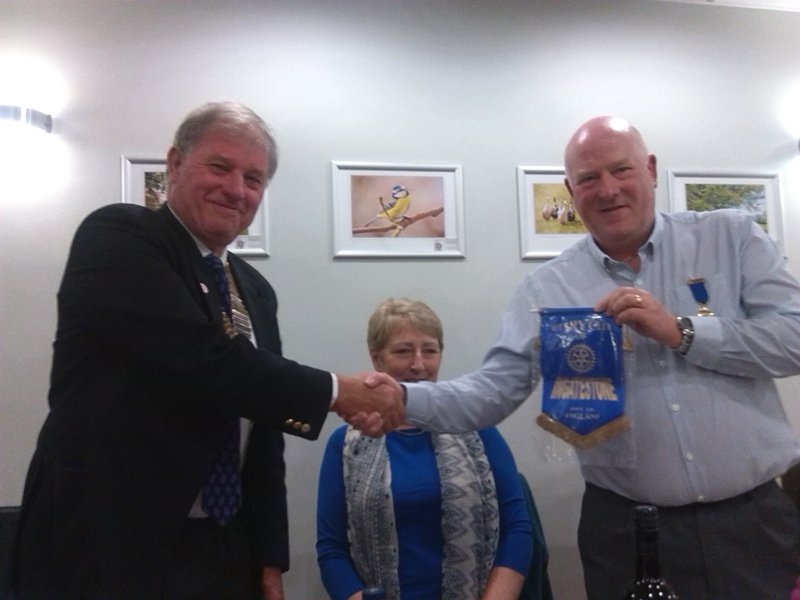 On Thursday 10th November, eight members 'scattered' to the R.C. of Chelmsford Phoenix. The meeting was held at Princes Room, Chelmsford College, where a wonderful 3 course meal - cooked by the students - was enjoyed.
We were warmly welcomed by the members and heard a very interesting presentation by Karen Edwards on CLIC Sargent ~ Cancer Support for the Young.
In the photo Karen Edwards is in the middle watching President John Metcalfe presenting the club's pennant to John Booth of Chelmsford Phoenix.
The visit was arranged by Ian Churley; also attending were Barry Turner, Stefan Bokos, Roger harste, Alan Pudney, Helder Lemos, Neil Macalister - eight of us in all. An interesting visit.


-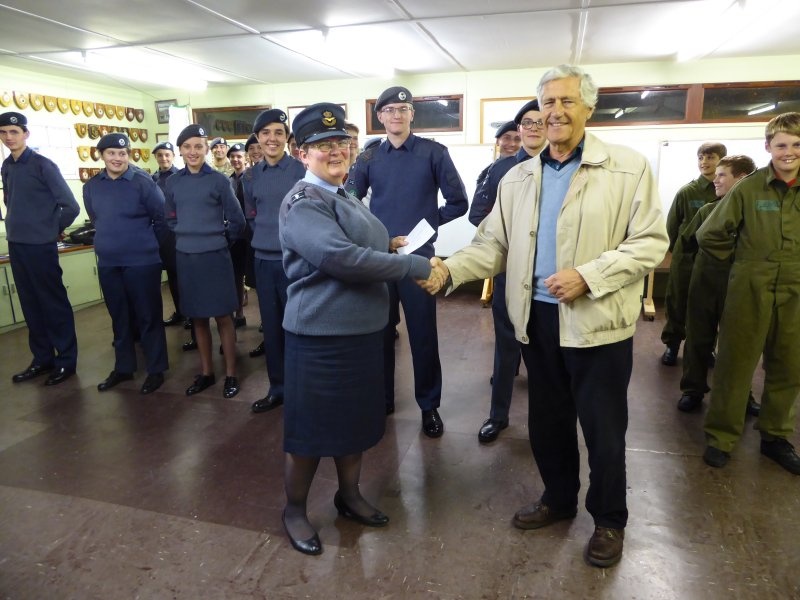 On Monday 10th October, Stefan Bokos and Neil Macalister visited 2476 (Hutton) Squadron A.T.C and presented a cheque to C.O Claire Penn in recognition and thanks to the group for their help with car park control at the "Summer Evening Jazz" Concert.
-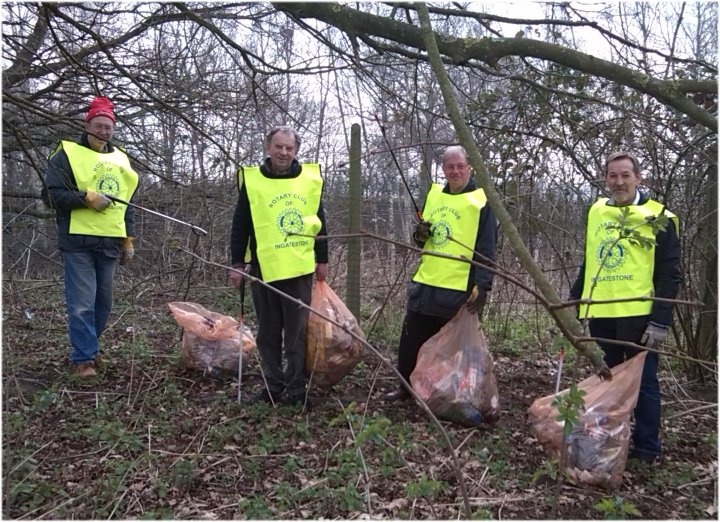 Fou

r of the eight Rotary Club volunteers - Roger Harste, Alan Pudney, John Metcalfe and John Doughty who supported the Parish Council's "Village Litter Pick" on Saturday 12th March 2016.


   About 25 volunteers filled over 25 black bags of litter, cans, crisp bags, etc. Also helping were Andrew, Neil and Friend of Ingatestone Rotary, Trevor Hoskin.  Our group cleared the churchyard and Fairfield.
-----------
-----
On Thursday 19th November 2015, President John Metcalfe presented the club's cheque for £500 towards the Ingatestone & Fryerning C of E (A) Junior School Minibus Fund.
Pictured with John are Headteacher Neil Taggart and members of the School Council. The plan is for a 17 seater minibus, which will take 15 pupils, a teacher and driver and to use it in many ways. The school have all but reached their target, but still need a little help before they can go ahead. The club are pleased to support a cause which is both local and for the children.



On Sunday 8th November, President John Metcalfe laid a wreath on behalf of the club during the Annual Remembrance Service

-------------------------------------------------

On Thursday 17th September 2015 at Ivy Hill Hotel, the Cheque Presentation Evening took place, with £14,100 being awarded to various charities.

---------------------












Happening soon...
Meetings and events happening soon
Thursday 2nd August 19.30 -
Business Meeting
---
Saturday 4th August 10.00 -
Toot Hill Show
---
RKHV running the Bar - helpers required
Thursday 16th August 19.30 -
Partner's Evening
---
Speaker: Stuart Baldwin: "The Evolution of the Pyramids"
(Note - He may give this talk in September)
future events completed calendar district events local events
---
---
---
Rotary News
Be part of a global network of volunteers, trying to make the world a better place. Please also see the 'links & news' page for information from the local district and live feeds from Rotary International and Rotary International in GB&I.
Family Rotary club use skills to kick-start local charities
---
Rotary members unite to tackle world hunger
---
---
Meetings & Venue
Where and when:
We meet on Thursdays at 19.00 for 19.30
(
We meet on 1st, 2nd & 3rd Thursdays each month at Ivy Hill; in 4th week ~ Committees will meet - Venue tba* 5th Thursday in month ~ Venue ~ tba* - see Programme* Visitors: To book, please contact Alan Pudney on 01277 352410
)
Best Western Ivy Hill Hotel, Writtle Road, Margaretting, Ingatestone, Essex CM4 0EH
01277 353040