The Rotary Club of The Wrekin, although small in numbers, is friendly and extremely active, focussing on the Youth in our Community. The Club has strong links with schools and other youth groups such as Scouting and Sea Cadets and it supports and takes part in most of the RIBI Youth Competitions and Projects. Having stated that Youth is a focus, one project this year is the refurbishment of the Summer House at Wellington Cottage Care.
We meet every week on a Thursday evening and the last meeting of each month is a social evening where we arrange visits to theatres and concerts, play skittles or ten pin and of course the meals out are a regular feature of these social events.
Meeting Information...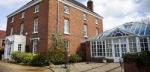 We meet on Thursdays at 1930 (Last Thursday each month - social evening. Please check) Hadley Park House Hotel, Hadley Park Road, Telford TF1 6QJ tel: 01952 677269
Meeting Details
Interested in joining Rotary
In the next 30 days...
Social Media...
Rotary Club of the Wrekin
Promote Your Page Too