Welcome to Bathavon Rotary Club
WELCOME TO BATHAVON ROTARY CLUB
Bathavon Rotary Club is one of three clubs in Bath, one of over 1800 in the UK and Ireland and one of over 33,000 in the world with over a million members.
We are a club with over 40 members, who enjoy meeting, having fun and helping charitable causes both locally and internationally.
We are a friendly and open club which normally meets at The Hilton Hotel in Walcot Street in the glorious city of Bath on Thursday evenings at 6.45 for 7.00pm. We welcome guests interested in learning more about Rotary or those who would like to join us. Just let us know by midday on Monday if you would like to attend on the Thursday.
During a typical month, we have an entertaining, after dinner speaker on a couple of occasions, a business meeting on another and an activity away from the Hilton on another week.
Our chosen local charity for 2016/2017 Rotary year is Bath Rugby Foundation. The charity is rooted in the community and associated with Bath Rugby Club. It uses the power of sport to develop vulnerable people – to build their confidence and help them to live successful, happy and healthy lives. The Foundation helps people tackle challenges as wide ranging as unemployment to social isolation and is currently working with 3,500 people in the local area.
Once a year we combine with other local clubs to take over 800 children with special needs to Longleat Safari and Adventure Park for a day of fun. If you would like to help us by sponsoring this event we would love to hear from you.
Internationally we are helping people in Sri Lanka and through Rotary International we are supporting efforts to eradicate Polio worldwide.
If you find the above of interest we would love to hear from you.
Tim Westbrook and Andrew Bragg
Joint Presidents 2016/2017.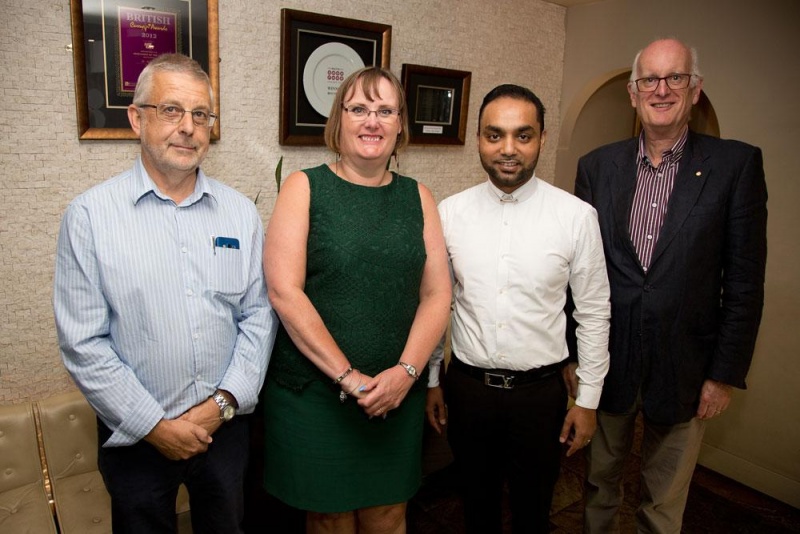 Joint Presidents Andrew Bragg and Tim Westbrook with Mandy Gardner of Bath Rugby Foundation, our nominated charity for 2016/17 and Moe Rahman owner of the Mint Room who hosted our Quiz night, an important fundraising event.

Meeting Information...
We meet on Thursdays at 19.00 Hilton Hotel,
Walcot Street,
Bath, BA1 5BJ tel: 01225 463411
Meeting Details
Interested in joining Rotary
In the next 30 days...

Tim and Andrew handing over to the new team, Partners and guests welcome.

Your opportunity to take part, on a sponsored bike ride in Bike Bath. Come and Join our team. Learn more about the event here's the web address www.iconiccyclingevents.co.uk

A follow up on what's been happening in Nepal
Social Media...
Rotary Club of Bathavon
Promote your Page too