Welcome to The Rotary Club of Willaston & South Wirral
The club meet at the Nags Head, Willaston, on the second and fourth Wednesday in each month (except December when there are no meetings), starting at 7.30 pm. We are very informal and our aim is to enjoy ourselves whilst raising funds for various good causes.
We welcome visitors and potential new members to our gatherings to "test the water" and hopefully add their ideas for our fundraising extravaganzas!
Members of the club, of both sexes and mixed ages, generally live in or near the village. We link with other groups and Rotary Clubs for mutual benefit and to foster Community spirit. Our events to date have included inaugurating an official switch-on of the Christmas Lights and recommencing the Santa Sleigh in the village, completing the Wirral Coastal Walk, organising a Barn Dance with fish & chips supper for our "Birthday Bash" and running a Horse Race Night. We have also assisted other groups and clubs with Beer Festivals, a Dragon Boat Race, the Disabled Fun Games and by staging a "Human Fruit Machine"!
Our activities have allowed us to raise donations for the Willaston Playground Appeal, the local Riding for the Disabled Association, Clatterbridge Cancer Unit and Building Together in Cambodia..
Interested? Then come along to the Nags Head to meet us.... and learn about the "Human Fruit Machine"!
Meeting Information...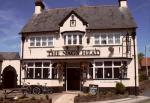 We meet on Wednesdays at 19.30 (Willaston & South Wirral Rotary Club meets every second and fourth Wednesday of the month... Everyone is welcome!) After extensive refurbishment the Nags Head re-opened in July 2011. Under new ownership the Nags Head is now a well established village pub. Whether you like a quiet drink, a sociable night out or a quality meal in warm and relaxing surroundings. CH64 1SJ tel: 0151 328 0808