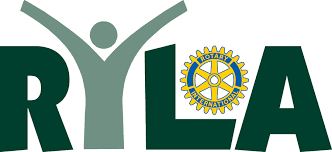 Exciting opportunity for local youth
The Rotary club of Neston is looking for a young person in the local area to go on fully sponsored weeks leadership training.
The Rotary Youth Leadership award is a programme that started in Australia in the 1960"™s and the local Rotary district has been running the course in Wales for local young people for many years.
The principle aims of RYLA is to provide an effective learning experience for selected young people who have already shown embrionic leaderdship skills, to encourage leadership of young people by young people and to recognize publicly young people who are rendering service to their communities.

In our area the RYLA event takes the format of an activity training course for selected young people aged 16-18 at the Arthog Activity centre near Barmouth in North Wales. This next course is from Sunday 20 to Friday 25 August 2017. 40 places are available
RYLA gives a fantastic opportunity to young people. Anyone interested should contact the ROTARY CLUB OF NESTON
So What can you expect?
By giving the opportunity of experiencing practical learning combined with current best practice in leadership training. Delivered by specialist tutors the candidates gain benefit by
"¢ building confidence through presentation skills, working and cooperating together
"¢ learning new skills utilising outdoor and water activities
"¢ working effectively as a team in difficult situations
"¢ experiencing how to make effective decisions using challenging exercises
"¢ recognising and utilise skills in others
"¢ working to tight deadlines
"¢ understanding the problems of leadership
"¢ learning from their own mistakes in a friendly atmosphere
Who runs RYLA?
The week is organised in partnership with Arthog activity centre which has over 30 years experience of providing world class outdoor activity training. The outdoor activities are delivered by qualified staff
The Centre is beautifully situated on the slopes of Cader Idris overlooking the sea. It has purpose built and recently redeveloped accommodation, with its own laboratory, library and extensive grounds which include a high ropes course.
The course content is delivered by a team of Experienced Rotary members from the District under the supervision of an Internationally renowned corporate training organisation.
How to apply to "get on board"
The Rotary Club of Neston will sponsor one person for the event at a cost of £420. This sponsorship covers the cost of the week"™s accommodation, food and activities.


This is a superb opportunity to enhance your CV or University application
And at the same time have some fun and make some great new friends. Every candidate we have sent on this experience in the past has returned with great memories and stories !! All we ask is that the candidate returns and tells us all about it !
There will be an interview process for prospective candidates and all applications must be in by 1st March. Your application should include a cv and a one page description of how you think you would benefit from the experience.
Applications to Steve Martin on steve.martin30@btopenworld.com

The Rotary Club Of Neston Invites you to an open evening To see what we do and maybe see if you would like to become involved in some way
At Neston Rotary club we are concious that the people of Neston may not know what we do and why we do it !! Therefore we are holding an open evening on TUESDAY 7 TH FEBRUARY at 7pm. It will be held at the HInderton Arms public house on the Chester High Road which is our normal meeting venue. Please come along as we are looking for new members or people who would just like to get involaved in their local community. Neston Rotary club welcomes Women and Men of all age groups over the age of 18 yrs.
So come along and find out more about
Our work with the Local schools
Shelterbox
Our work in Brazil
Northern lights charity sending sick children to Lapland
This years charity RNIB and Guide dogs for the blind
Find out about our Social programme ( we do like to have a good time !)
Cultural and theatre visits etc
Find out what a huge worldwide oragnisation Rotary International really is !!
So please come along, you never know it might just be the thing you have been looking for !
contact Steve Martin on 07825373045 for more detail
One of those difficult tasks for a Rotarian to Perform, Eating Cake !!
Woodfall primary Rotakids held a cakesale today and raised £80 for End Polio Now ! This will be trebled by the Bill and Melinda Gates Foundation. This was arranged in conjunction with the worlds greatest meal to end Polio !
Well Done wood fall Rotakids

Meeting Details
Interested in joining Rotary
In the next 30 days...

Youth services team at Neston actively organises events for the youth in our area

read more »
Social Media...
neston rotary club
Meeting Information...
We meet on Tuesdays at 1800 for 1830 (No Meeting after a bank holiday. Please contact secretary if you wish to visit. All are welcome! We have our meeting first and eat later.) The Hinderton Arms
Chester High Road
Neston CH63 7TA tel: 0151 336 1085