The Rotary Ramble
A Sponsored Walk where anyone can raise funds for any recognised Community Cause or Charity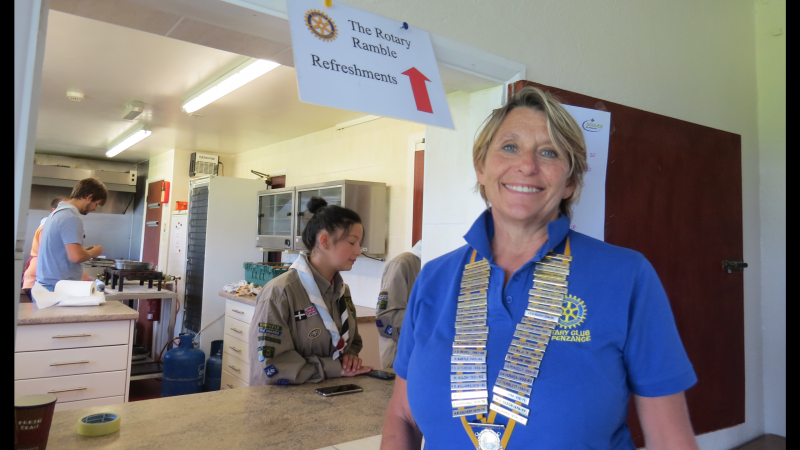 Seen here, Club President Prue Willday at the 2016 Sponsored Walk HQ.
The annual Rotary Ramble takes place on the last Sunday in September. As a participant you can raise funds for any recognised good cause of your own choice. After the event the Rotary Club of Penzance will ask for a share (25%) of your pledges so that we can donate it to Rotary's own chosen causes. This year the club's causes include:
St Julia's Hospice and Cornwall Air Ambulance.
Register your name and the names of any others walking with you and we'll send you personalised Sponsor Forms so that you can to start collecting pledges from sponsors now.
Sunday
24th
Sept. 2017

Registration Forms can be downloaded here . . .

Registration_Form_-_2017_Ramble.pdf

Sponsored by
Chris Nicholls Motors
---
Have you considered joining Rotary? You will make lifelong friends and at the same time you will help us to make a difference in communities near and far. We are ordinary people with a track record of achievement. Working together, donating time, skills, experience and fundraising for communities everywhere.

The Rotary Club of Penzance, the most westerly in mainland England & Wales, draws membership from Penzance and West Penwith. The club is always on the look for new members - women or men, working or recently retired, usually with leadership experience from their business or community work.

Rotarians volunteer a little of their time, talents & resources to address community needs. Rotary Clubs mobilise members and with community support reach their goals. New members enjoy new friendships, bring new energy and fresh ideas and help the Club achieve much more.

Contact us to find out more
admin@penzance.rotary1175.org
---
End Polio - Donate now!
Rotary's priority project internationally is the eradication of polio. In 1985 Rotary launched PolioPlus, a multi-million dollar initiative to immunise all the world's children against polio. Since then more than two billion children have received the oral polio vaccine.

ROTARY RELEASES $35 MILLION TO END POLIO WORLDWIDE
January 13, 2016
Rotary announces $35 million in grants to support the global effort to end polio.
In 2015, the world saw historic progress against the paralysing disease, with just two countries – Afghanistan and Pakistan – reporting a single strain of the wild virus. If the current momentum is strengthened, this year may mark the last case of wild poliovirus.
Meeting Information...
We meet on Fridays at 12.45 (Lunchtime Meetings on the first four Fridays of each month, 5th Friday details on request.) Lunch meetings are held at The Queens Hotel, The Promenade, Penzance. TR18 4HG tel: 01736 362371