Welcome to the web site of The Rotary Club of Exeter Eastgate. We are a small, very friendly, and very active Club. We meet at The Buckerell Lodge Hotel on Topsham Road Exeter. We are an evening Club meeting at 6.15pm on Mondays with the exception of one partners meeting a month when we meet at 7.15pm, please refer to the Club Home page programme for further details.
Our Club was formed in 1976 and comprises of members from a wide variety of professions.
A warm welcome is extended to all Rotarians visiting Exeter.
If you live in or around the Exeter area and you are interested in enjoying and contributing to the Rotary ideals of Service and Fellowship then please do not hesitate to contact us. Whilst we are not a Social Club as such we do have many social events, including a Partners Evening every month, in addition to our fundraising activities.
Monthly News
Important Announcement
The photo below shows Livingstone Bear the mascot of the Royal Livingstone Hotel in Zambia. He is seen training over the Victoria Falls for his jump at the Exeter Rotary Clubs event being held on the Cathedral Green on the 11th June 2016.
He has now travelled over 6,000 miles to take part in the event!
December 2015
Our month commenced with our Christmas Meal. Once again the Red Lion at Broadclyst was the chosen venue where we were looked after very well with excellent food, and plenty of it, drinks and service. Everyone enjoyed their evening.
A collection was held at Tesco in Exe Vale which proved to be successful and thankfully not as cold for those collecting and in other years.
Some members also volunteered to help with the car raffle ticket sales for Age UK in Southernhay as we had in October, unfortunately none of our members won the car!
We also had a Club Council towards the end of the month which was the last meeting of a successful year.
November 2015
November proved to be a much more active month commencing with an interesting and informative talk by Martin Rogers of Age UK when he outlined the aims and aspirations of this local charity. Age UK were trying to raise money for their charity by auctioning a framed England Rugby Shirt. Rotarian Adrian P had been asked to frame this shirt for Age UK but the club decided to pay for the framing from their funds so that Age UK had no cost charged to them. The framed shirt was presented to Marting Rogers by President Alan at the end of the evening.
At our last meeting in the month Rotarian Adrian Pike, as the club Webmaster, gave an interesting illustrated talk on using the club and RIBI websites. It was felt that perhaps members do not use the websites quite as much as they could but after this talk it is hoped that more members would use it. The talk raised many questions and proved to be very interesting.
October 2015
October proved to be a very quiet month, however we had two Fellowship meetings at Georges Meeting House and our Monthly Club Council at the City Gate.Some members helped our Presidents Charity Age UK by assisting with the sales of Car Raffle tickets in Southernhay, which turned out to be a quite chilly experience.
September 2015
September also started with a Fellowship meeting at Georges Meeting House which was well attended.The District Governor of our new District paid us a visit, it was good of him to fit in a small club, such as ours, into his very busy schedule. The club made him most welcome and he made an excellent speech which was enjoyed by all those who attended.Immediate Past President of the Exeter club, John Greenfield, paid us a visit to explain how he and others have set up a Meet and Remember Club in the City. He outlined that this was a new venture which aims to combine combating the onset of memory problems with community social activity and the awareness of local and personal history.It was a most informative talk which raised great interest from those who attended.
August 2015
August commenced with a Fellowship evening at Georges meeting House where we all enjoyed the very competitively priced food and drink and the excellent company.The following week was Peter & Pat's BBQ or Brai as in previous years we all had a most enjoyable time and the weather was good.We helped our Presidents charity Age UK by running the Barnfield Crescent Car Park on their behalf.President Alan held his Presidents at Home to which all members were invited together with their partners. It was a refreshing change to have an excellent Cream Tea.
July 2015
The first month of our new President Alan Williamson was very busy and started with the club helping our new President's charity Age UK when some members assisted at their fundraising Summer Fete. The way we helped was to set up a golf putting competition stall, on extremely bumpy grass where the idea was to putt balls through holes cut into a wide board with holes of different sizes which scored different amounts. Thanks go to Adrian H for making the boards and for setting them up and for those members who helped out on the day. It was a shame the grass was not a bit flatter, however those taking part seemed to have a good time.
Our first Partners evening was a most entertaining talk by our new president Alan on the Exeter Canal & Quay Trust where he is the Chairperson. The event was well attended by members and their partners.
The club was invited to take part in Southernhays annual Croquet competition. Some members and their partners attended and had a most enjoyably evening unfortunately Eastgate did not win any prizes.
We had a second Partners evening with a Red Coat tour by Rotarian and Red Coat Richard Dyke starting at the Cathedral and ending up on the Quay. This was a very informative tour enjoyed by all who attended. We ended up the evening with an excellent meal at the Samuel Jones Restaurant.
June 2015
June began with a Business meeting at the City Gate in preparation for the following weeks Presidents Night.
Presidents Night was held at the Abode Restaurant and was well attended with club members together with guests ADG's Gordon and Christine Peacock, President John Greenfield from the Exeter Club, President Flick Evans from the Exeter Enterprise Club, Honorary Member and Past President Ron Coleman, Past President of the Exeter Club Robert Drewe Williams and Roger Johnson at that time from the Sherborne Club soon to be welcomed into Exeter Eastgate together with wife Eduardo. We all had a wonderful evening with excellent food, conversation and fellowship. ADG Gordon Peacock made a speech outlining the achievements of the club over the past year which was followed by a speech by President Nicola who enlarged on the achievements. She also thanked the club for their help and support during her year. President Elect Alan presented President Nicola and ADG Christine each with a large bouquet of flowers.
However the year was not over by any means and an interesting and informative Partners Evening was spent at the Topsham Museum followed by a meal at the Globe Inn.
Handover was held at the City Gate but before it took place new member Ailsa Buxton was inducted into the club together with Roger Johnson after his transfer from Sherborne. President Nicola then presented President Elect Alan with his Chain of Office and he in turn presented incoming Vice President Peter with his chain.
May 2015
May was due to commence with the combined Exeter clubs fund raising "Teddy Bear Drop" where Childrens Teddy Bears are dropped by parachute from an aerial platform which was due to be held on the Cathedral Green. The children, or more likely their parents, pay a donation to our charity to be able to take part in the drop. A photo below shows a teddy bear practicing for the event!
Unfortunately on the chosen day the weather was so bad that the event had to be cancelled at the last minute on safety grounds, which was such a disappointment to all concerned especially the Committee member who included our President Nicola and Secretary John.
Our Partners evening this month was a Walking Quiz around parts of Exeter followed by a meal at the Samuel Jones pub on the Quayside, as last year this was won by President Nicola and her husband Mike!
Being a very short month due to Bank Holidays we only held one Business / Council meeting at the city gate.
April 2015
April commenced with a very interesting, illustrated talk by Peter Cusa on his trip earlier in the year to the Rwenzori Mountains of Western Uganda entitled "The Mountains of the Moon" the source of the Nile in which he told us about his very strenuous walking trip into the mountains, followed by a less strenuous holiday with his wife Pat who had flown out a to join him for a further week where they went on a Safari trip. This was a most informative evening made even more entertaining by Peter's humour.
We held a Business meeting in the City Gate and a Fellowship meeting in Georges Meeting House
March 2015
March commenced with a talk in the Buckerell Lodge Hotel which was a Partners evening attended by other Exeter club members. After a good meal the speaker Simon Dell, an ex Policeman gave a most entertaining talk on "Three Murders and a Suicide" where he gave an interesting, but disturbing, insight of his involvement in solving the three murders, with a dramatic twist at the end regarding the suicide. Luckily he did not go into too much gory detail but enough to highlight the awful crimes. President Nicola thanked him very much for such an entertaining evening which was enjoyed by all who attended.
We held our usual fundraising Coffee morning in St Stephens church which proved quite successful, thanks were paid by President Nicola to all who supplied cakes especially those made by Members partners.
Some members helped out by marshalling at the Age UK Run, a yearly event run around various routes around Exeter. Luckily we were placed towards the start of the race, so our involvement was soon over without any incidents.
February 2015
By comparison with January February was a quiet month. The highlight was the Radway Cup our regular yearly club skittles night held at the Lamb in Silverton. This is always a fun event apart from the skittles which is very serious for some with last years winner Secretary John doing his utmost to retain the cup. In the end our President Elect Alan who turned out to be the victor and was handed the cup by a delighted President Nicola.
We held a normal Business meeting in the City Gate, a Club Council and a Fellowship Meeting at Georges Meeting House.
January 2015
The first month of the New Year was very busy. It commenced with a visit to the Panto Cinderella at the Barnfield Theatre, quite a few members attended and had a good time.
Our DG Peter Bennet was made his first visit to our club and was warmly welcomed by President Nicola. his speech was both entertaining and interesting. The meeting was well attended.
President Nicola and some of the members helped out at the Youth Speaks competition which was enjoyed by those who attended. It was amazing to hear how well the children, especially the juniors, spoke with authority on their chosen subjects.
The Highlight of the month was a fundraising concert by local musician Steve Knightley. President Nicola and her husband Mike did a great job in organising the event which was a sell out. All members were involved making it a most successful evening enjoyed by all who attended which made a good sum of money for the Devon Air Ambulance Trust.
We had a visit by a student from Rennes studying at the University, sponsored by the Rennes Rotary clubs. He told us about his life in France and how their education system worked.
December 2014
We held our Christmas Meal at the Lazy Toad Pub in Brampton Speke which was a huge success with excellent food and entertaining company. Thanks to President Nicola for undertaking the arrangements.
With the Christmas holiday restricting the number of meetings in December it was decided that we should hold our normal Council meeting and that it should be an Open/Social meeting. Sallyanne kindly offered to have the meeting at her house and kindly laid on wonderful food and wine which we all enjoyed. All members would like to thank Sallyanne for her generosity.
November 2014>
President Nicola had arranged to visit the St Davids C of E Primary School to plant purple crocus bulbs in various flower beds throughout the school to help promote the worldwide Rotary End Polio Now initiative with the help of some of the children. Her husband Michael and three other club Rotarians attended and all got their hands dirty! Nicola commenced by explaining the reason for the bulbs being purple to the children and explained that this was the colour that was put on the finger of those throughout the world to prove that they had been immunised. The children were very enthusiastic and were planting bulbs as fast as we could get them out of the bags, whether they were the right way up and planted to the correct depth remains to be seen!
We held our Business meeting as ever in the City Gate Hotel but since the Hotel was not available to us for our Fellowship meeting we decided to hold it in the Georges Meeting House which proved to be most enjoyable by all who attended. It raised the thought that perhaps we could meet there for future Fellowship meetings which would be raised at our next Council meeting.
October 2014
The Partners evening in October was an illustrated talk by Chris Lee of the RSPB which proved to be very interesting.
The District Conference was held from the 9th to the 12th at the Woodbury Golf and Country Club. Two of our members attended, with their partners, and found the theme of the conference, Food for Change, to be interesting and thought provoking. Some of the social functions were attended and were, as ever when Rotarians get together, most entertaining.
We held our normal Business, Fellowship and Council meetings during the month together with the District Council Meeting held at Tiverton attended by our President Nicola and Adrian P.
September 2014
September commenced with a Partners evening at Killerton House where we had one of their monthly Dine Out meals. The food and company were excellent and was enjoyed by all who attended.
The Lord Mayor of Exeter Percy Prowse holds a monthly fundraising Coffee Morning where the Exeter Rotary Clubs were granted the opportunity of presenting Rotary to those who attended by allocating a table where we could advertise and discuss our services to anyone who was interested. It was the turn of Eastgate to man the event this month.
An illustrated talk on Clapper Bridges of Dartmoor by John Stewart was held in Topsham as a fundraising event for the Exeter Rotary Environmental Committee to spend on Tree Planting in Exeter in the near future. The evening was a great success and proved to be very interesting to all who attended. A copy of a Clapper Bridge painting by Mary Pike was entered into the raffle and was gratefully received by the winner.
At our monthly Partners evening held in the City Gate Hotel John Sparks gave an interesting illustrated talk on his visit to the Outer Hebrides earlier in the year. Because of changes in the operating system John was unable to use his iPad to show his photos via the hotel projection system and had to revert to his iPhone photos, thank goodness it worked very well which added to an enjoyable evening.
August 2014
August was going to be a busy month. The club had been invited to attend the Long Goodbye, an event being held at the Reed Hall at the University of Exeter to commemorate the First World War. It was attended by our President Nicola and other members of Eastgate, who all had an interesting evening.
Peter and Pat held their fundraising BBQ, as they do every year, to raise money for the Club which is then donated to the Exeter Toy Library. The event was well attended and as ever great food was laid on which we all cooked on a braai which was unusual.
A trip to the Norman Lockyer Observatory had been arranged which was well attended by members. We started with an excellent meal at the Blue Ball Pub and then made our way to the Observatory. It proved to be a very interesting, but long evening culminating in a Plenetarium display. The only problem with the evening was that it was cloudy so we were unable to do any star gazing which was very unfortunate.
July 2014
Nicola Baker welcomed all members to her first meeting as our new President . She outlined her exciting proposals for her Presidential year. The first of these events was a trip along the Jurassic coast from Exmouth to Seaton Council was held at Rockbeare and since the weather was good was held outside which was unusual although it did get a bit chilly by the end of the meeting. Great amusement was caused by one of Adrians cats, Chloe, demanding attention throughout the evening!
The club was invited to the Southernhay Croquet evening at the Budleigh Croquet Club, an event they hold every year. A good number of Eastgate members attended and had a most entertaining evening with the wife of Adrian P, Mary, winning a bottle of wine for her high score
The end of the Rotary year has arrived, and how fast this year has gone, (or do we always say that!). The Club gave President Adrian a wonderful Presidents Night at Reed Hall in Exeter as thanks for his year of Rotary Service. Adrian and Mary were joined by their son and his wife, Jon and Lisa, plus two of their good friends. All Exeter clubs joined in the celebration as well as District Governor Barry Rendall-Jones and Wendy, and ADG�s Gordon and Christine Peacock. One of President Adrian�s last tasks was to announce that the Club had awarded two Paul Harris Fellowship Awards to Rtn Celia Smith and Rtn Adrian Hewitt. D.G. Barry presented the Awards to two very surprised Rotarians for their service to our Club.
Another major fundraising event took place during June, and that was the Concert by Torbay Police Choir, which took place in St Michael and All Angels, Mount Dinham in Exeter. The Choir sang a very varied programme of popular songs and the event was well attended. It was fitting that the event took place during the Music Festival at St Michaels. Afterwards we all enjoyed refreshments and caught up with our Rotary friends from other Clubs.
This was a quiet month for us with two of our usual Monday meetings being taken up by Bank Holidays. However President Adrian was delighted to be able to induct a new member, and welcomed Jan Jones to our Club. Jan has recently retired from Exeter University, and is very active in local community events. President Adrian commented that new members are the life blood of Rotary, and although it can be difficult recruiting, this is one area we must concentrate on in the future.
2013 - 2014 President Adrian welcoming new member Jan Jones into Rotary
We have had a busy spring this year. Our Partners Evening was a very fun event when Bob Price came along and gave a talk on this participation in the Monte Carlo Classic Car Rally. He has a vintage Volvo Amazon car and gave us a slide show on his exploits in snow and very bad weather conditions. We all enjoyed the evening and Bob gave us a very good insight into rallying and the technical points of navigating a course, which he says his wife does for him, and they are still happily married!
The Exmoor Challenge took place again this April, and Nicola Baker was the sole Eastgate representative, along with husband Michael and friends. Their team made very good time, and Nicola collected a good amount of sponsorship for the cause. Next year Nicola, maybe some others will join you!
Eastgate again sent a full team to the Southernhay annual Quiz held in Woodbury Village Hall, and we made a very good total � well we were not last. This is always a fun event and always for a good cause.
March 2014
Our month started with our social Partners event being a talk on our twinned city, by Peter Barker. Peter has learnt the Russian language, made many trip to Yaroslavl and has studied their culture and way of life, rather than being just a normal tourist. He gave us a good insight into life in Yaroslavl and explained how he always stays with local families and avoids hotels and the usual holiday trappings.
The Youth Speaks competition took place during February and March this year, and Eastgate played a good part in this. President Adrian officiated during one of the heats and presented the certificates to all participants. Two of our club members acted as Questioners, and the partner of one of our members also sat on the Panel of Judges for the final event. Everyone who gets involved in Youth Speaks in any way leaves the Competition full of admiration for these youngsters who put some much time and effort into this wonderful event.
The Club annual skittle event, the Radway Cup, was held again this year at The Lamb in Silverton. We all tried very hard to stop John Sparks from winning it once again, but to no avail. His name must be on that Cup more than anyone else. We tried some dubious mathematics to alter the result, but John always corrected us! As a Club our skittles is improving and we are doing well, so far, in the District Challenge, so let�s hope the year continues in this way.
One event which now seems to be firmly on our list of activities is the annual Coffee Morning at St Stephens Church on the High Street. This is always a happy event where all members get involved in some way or other. It is a good opportunity to catch up with old friends and maybe meet some new ones.
February 2014
One of the highlight events we have all been looking forward to for some time was the social evening when the Brothers on Bikes spoke to us all. President Adrian knows the boys and their family and was so impressed with their fundraising bike ride from John O'Groats to Land End that he invited District Governor Barry and Wendy and AGD�s Gordon and Christine to the evening. The boys really inspired us with their presentation and the way they handled the Q & A�s afterwards. It was unanimously agreed by the whole meeting that Eastgate should put the Boys forward for the Rotary Young Citizen Award.
A large contingent of members and guests supported Southernhay's event when they had the cricketer Henry Olonga to speak in Topsham. We went along expecting to hear all about cricket, but this fascinating young man took us on a journey of his life from Zimbabwe boarding school to playing cricket for his country and his eventual arrival in UK. He also sings really well and he entertained us with a song or three.
President Adrian has a well-known love of photography, and because of this he decided to run the Young Photographer Competition for the Exeter schools. As this was the first year this has taken place in Exeter and lot of ground work had to be put in place, but we have had submissions from St James School and five youngsters put forward their portfolio of images.We were fortunate to be able to have Professor Liz Nicol from Plymouth University judge the entries, and the winning submissions have this month been sent to the Regional Competition.
January 2014
Welcome to 2014. Our year and month started with the annual President at Home, and President Adrian and Mary welcomed us to their home in Rockbeare. Mary put on a fabulous spread for us all, and Adrian had a screening of his travel photographs on his new computer through his television. All very technical!
Our social evening this month was 'My Life in Crime' by Peter Boeuf. Peter has recently retired from his position as head of the Crown Prosecution Service in London where he was involved with some extremely high profile cases. He kept us well entertained with anecdotes from 'behind the bench' so to speak. He was a most amusing speaker and we all thoroughly enjoyed his talk.
Meeting Details
Interested in joining Rotary?
Meeting Information...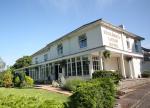 We meet on Mondays at 6.15pm (Partners Evening normally once a month at 7.15pm. Regular meetings at 6.15pm. . Contact the Secretary to confirm venue & details.) The Buckerell Lodge Hotel
Topsham Road
Exeter

EX2 4SQ tel: 01392 221111