Future meetings and events
Mon 29th April 2019 at 19.30 - 21.30 Partners Evening - Visit by The Lord Mayor of Birmingham, Coucillor Yvonne Mosquito and speaker, Nura Ali Luhul
The Lord Mayor of Birmingham, Councillor Yvonne Mosquito will give us an insight into her career leading to becoming Lord Mayor.
Nura Ali Luhul will speak to us about Female Genital Mutilation.
C= Basil Dewing GV= Chris Corrin H=Martin Burton
Mon 6th May 2019 - Bank Holiday - no meeting
Mon 13th May 2019 at 19.30 - 21.30 Dinner - Speaker - Richard Fellows - Therapeutic Skills
Tue 14th May 2019 at 19.00 - 21.00 Council Meeting
Fri 17th May 2019 at 08.30 - 18.00 Charity Golf Day - 17th May 2019 - Download your entry form or contact us to register your team.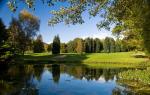 In 2018 golfers played at The Worcestershire Golf Club, raising over £2000 for Acorns Children's Hospice & other local good causes in a 4 Person Team Alliance Stableford where the best 2 scores on each hole counted. Download the entry form below for 2019.
Sat 18th May 2019 at 19.00 - President's Night at The Mount Pleasant Hotel
The three-course meal will be followed by Frank Sinatra – or at least an excellent Tribute Act. Please make sure past members, partners and inner wheel members are aware of the event. Cost is £35 per ticket.
Mon 20th May 2019 at 19.30 - 21.30 Buffet - Business Meeting
Mon 27th May 2019 - Bank Holiday
Mon 3rd June 2019 at 18.30 - 21.30 Treasure Hunt
Mon 10th June 2019 at 19.30 - 21.30 Dinner- Club Assembly
Tue 11th June 2019 at 19.00 - 21.00 Council Meeting
Mon 17th June 2019 at 19.30 - 21.30 Buffet - Speaker
Mon 24th June 2019 at 19.30 - 21.30 Dinner - Handover