Future meetings and events
Wed 27th June 2018 at 18.30 - 22.30 President's Night & New President's Installation
To be held at the Riverside Restaurant. Further details to follow.
Sun 8th July 2018 at 14.00 - 17.30 President Robert's Garden Party

Held at Beach House, Holme-Next-The-Sea. Proceeds in aid of the President's charity - Headway. If wet, we'll be in the Holme Village Hall.
Wed 11th July 2018 at 18.00 - 20.30 The Way Forward Workshop
The Way Forward Questionnaire Workshop will be held in the Leziate Room at KLGC. A light buffet with coffee will be served (£7/head). Further details below.
Wed 25th July 2018 at 09.00 - 17.00 Sandringham Flower Show

Our International/Foundation Committee have a stand to raise money for our Rotary Foundation Charity. Please let Peter T know if you can help.
Sat 18th August 2018 at 13.30 - 18.00 Shakespeare's Merry Wives of Windsor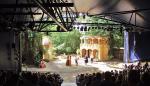 Day trip to Rutland Open Air Theatre at Tolethorpe Hall to see Shakespeare's Merry Wives of Windsor. Bring a picnic to have before the play, which starts at 13:30.
Wed 26th September 2018 at 18.30 - 21.00 Social evening visit to Clifton House, King's Lynn

Visit this former merchants house including the Elizabethan 5 story tower, which is arguably the most important house in King's Lynn.
Wed 31st October 2018 at 19.00 - 22.00 Social Evening
Details to follow.
Tue 18th December 2018 at 18.00 - 22.00 Carol service followed by Christmas meal

The carol service will be at St Mary's Church, Holme next the Sea. The meal will be at a local restaurant. Details to follow.
Thu 28th February 2019 at 19.00 - 19.00 Social evening meal,

The meal will be held at the College of West Anglia Restaurant to raise funds for Shelter Box.
Sun 19th May 2019 at 13.00 - 17.00 Car Treasure Hunt
In aid of Headway, President Robert's chosen charity.